To better the patient experience, hospitals and healthcare clinics depend on clear, accessible communication, which also promotes more positive health outcomes and improves visibility for the organization's brand. In the digital age, the best way to communicate important, real-time information is on a screen.
But hospitals and healthcare clinics face a difficult challenge — how can you provide an immediately welcoming, comforting atmosphere in a place where many people arrive in pain or feeling anxious?
Digital signage can do a lot toward achieving that goal. Here are some benefits and applications of using digital signage in hospitals:
1. Guide guests to their destinations
Hospitals are big, busy places, and they can be intimidating to navigate, especially when a patient's trying to get to an appointment on time. Healthcare providers know the maze-like designs of modern medical complexes are frustrating — if only because they're often stopped and asked, "Can you help me? I'm lost."
Wayfinding interruptions cost hospitals approximately $220,000 per year, not including the negative effects on the patient experience. Digital wayfinding signage with touchscreen capabilities allows visitors to find customized directions to exactly where they need to go. These digital wayfinding screens also free up hospital staff from directing traffic — and reduce up-close interactions in hallways, which is a particular concern amid the COVID-19 pandemic and accompanying importance of social distancing.
Optimize healthcare with digital signage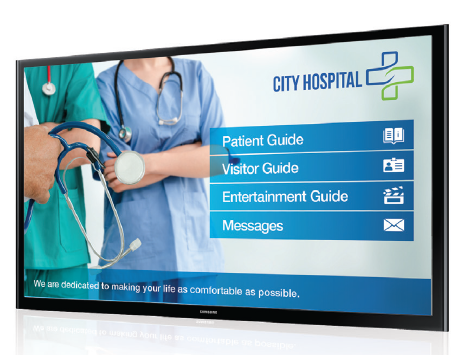 Learn how displays are easing pain points and transforming clinician and patient experiences. Download Now
Samsung's PM55F-BC displays can deliver clear information to visitors with a bright, responsive interactive screen. These displays act as beacons for patients and staff alike. Paired with a dynamic content management system (CMS) like MagicINFO, hospital staff can instantly update content with the most accurate information.
2. Deliver personalized patient care
Patient education and engagement are top priorities for hospitals. The better patients understand their condition and the more they take responsibility for getting well, the better health outcomes their care team can deliver. In recent years, hospitals have also placed greater emphasis on patient-centered care and shared decision-making, thus improving the patient experience and reducing readmissions.
Bedside digital signage reimagines the traditional patient bulletin or whiteboard — which requires constant updates during the patient's stay — and replaces it with personalized, always up-to-date information such as their room phone number, most recent vital signs and the names and photos of their care team.
Combining those digital whiteboards with tablets and TVs, such as the NT690U with pillow speakers, allows patients to easily and comfortably watch educational medical videos relevant to their conditions, as well as learn about any surgeries or procedures they have scheduled. By integrating the hospital's electronic health record (EHR) system, many digital whiteboard solutions also provide patients access to their test results, treatment plans, daily schedules and other medical data.
3. Reduce waiting room anxiety
No one likes to wait, but it's even harder when you're feeling ill or waiting for a loved one to come out of surgery. Digital signage in the waiting room alleviates some of that anxiety by announcing the average wait time or providing engaging health content to distract patients from their stress.
In surgical waiting rooms, digital signage can share status updates with family, using assigned numbers rather than names to protect patient privacy. Family members can see exactly when their loved one goes into the operating room, how long they're in there and when they've been moved to recovery. This eases anxiety for the patient's family and takes the burden off staff to keep everyone up to date.
With the Samsung QMR-T and QBR Series, guests can track their loved ones' status and location with the help of a crystal-clear display. Signage within waiting rooms can also connect visitors to the outside world by displaying information about local restaurants, news, traffic and weather.
4. Communicate with visitors in real-time
Hospitals have important information to communicate to patients and visitors. Along with promoting hospital services and events, there are public safety announcements, patient safety recommendations, workplace safety tips, wellness awareness content and much more.
The old-fashioned way — paper fliers stapled to cluttered bulletin boards or taped to walls — is messy and ineffective. Information quickly becomes outdated, and the most important announcements often go unnoticed in a sea of fliers.
With digital signage, hospitals can be more strategic about what information they share, as well as when and where they share it. Information is easy to update, and system administrators can push real-time alerts in emergency situations. The COVID-19 pandemic demonstrated how this use case works in action. As the Centers for Disease Control and Prevention updated their safety protocols and guidelines, hospitals and clinics needed a way to quickly communicate this information with visitors and staff. Healthcare digital signage was an effective and safe solution.
Digital signage can also modernize hospital cafeterias. Rather than writing daily menus on chalkboards or printing more fliers, staff can quickly update the daily specials, remove sold-out items, alter prices and make other adjustments on the fly.
5. Celebrate your donors and increase revenue
Hospitals can use digital signs to recognize donors and solicit more donations. Samsung's The Wall, a modular microLED display, can showcase the top donors in a larger-than-life banner as soon as guests walk into the hospital. This type of immersive display commands attention while honoring and celebrating the people who make the hospital's work possible.
There are other monetary benefits of digital signage in hospitals. Displays can promote hospital services or affiliate clinics, entice visitors to visit the cafeteria with today's lunch special or advertise sales in the gift shop. Hospitals can build brand visibility by announcing recent awards that the care team has won or profiling top doctors on staff. Some hospitals could even rent advertising space on digital displays.
6. Share information across hospital staff
Healthcare digital signage can also be a powerful tool for hospital staff, enabling doctors and nurses to quickly share critical information without the need for paper charts or bulky folders. A display located outside of a patient room, for instance, may list the patient's allergies, if they're at risk of a fall or if they're in isolation or quarantined.
The nurses' stations can also make use of digital signage, informing staff about which nurses are on duty, the upcoming shift schedules and even which nurses should be matched with certain patients based on language preferences.
7. Increase the speed of diagnosis
One of the best benefits of digital signage in hospitals is the ability to enhance the efficiency of diagnoses. With a high-resolution widescreen monitor, doctors and nurses can display more information at once, quickly viewing everything from X-rays to a patient's EHRs with a glance. Enhanced resolution helps physicians review X-rays, CT scans and other charts with accuracy and precision. Displays save physicians time by removing the need to switch between windows and various notes, thereby increasing the speed of diagnosis and improving the overall patient experience.
These are just some potential use cases and benefits of digital signage in hospitals. As more hospitals invest in digital signage, such as digital wayfinding screens, the possibilities will only be limited by the creativity of technology vendors and healthcare IT teams.
As you plan a digital signage rollout for your hospital, you have an array of options for Samsung healthcare technology solutions, all of which can improve your patient experience. And if you're on the fence about deploying displays, learn how they're easing pain points and transforming clinician and patient experiences.