Mobility. Flexibility. Productivity. These words weave through every discussion about the workplace of the future, but their meanings and implications have subtle differences.
Workplace mobility speaks to the freedom and technology that allow employees to work from anywhere. Flexibility comes from an organization's willingness to embrace new ways of working. Productivity is, well, getting work done.
So, here we are in the hybrid workplace of 2021 and beyond, needing all of the above. The world has changed dramatically. Businesses have adapted impressively. Employees — including my own team at Samsung — have adjusted phenomenally. Where do we go from here?
With mobility, flexibility and productivity at the center of workplace strategy, leaders and employees alike need mobile devices that enable them to work effectively in the office, at home and everywhere in between. It's not a question of going back to the office or staying remote. We are officially in what I'm calling the And Era. We work in offices and remotely. We need mobility and flexibility — and, of course, productivity.
Listening to our business customers, learning from their journey and using that knowledge to develop innovative mobile solutions, Samsung is delivering the ultimate "and" devices with our newest foldables, the Galaxy Z Fold3 5G and Galaxy Z Flip3 5G, which were unveiled at our August 2021 Galaxy Unpacked event.
In the lead-up to Unpacked, I canvased three of the most insightful experts on workplace mobility to hear their perspectives on how foldables are making the mobile landscape more flexible than ever. Here's some of the key themes from our virtual discussion:
1. More flow, less friction
The pandemic led to a dramatic acceleration in digital transformation efforts for businesses large and small. Effective digital workflows went from a competitive differentiator to a core requirement for business survival. As Microsoft CEO Satya Nadella said the end of April 2020, "We've seen two years of digital transformation in two months." For customers like Walmart, who we recently partnered with to roll out 740,000 smartphones to their associates, the leap forward may have been more like half a decade.
Shop special offers
Find out about offers on the latest Samsung technology.
see deals
Speak to a solutions expert
Get expert advice from a solutions consultant.
Talk to an expert
In unimaginable times, the goal was simply to get by with any tech necessary. Now, as we settle into the new normal of hybrid work, organizations can return to strategic, big-picture technology implementation. Carolina Milanesi, principal analyst at Creative Strategies, Inc. sees an opportunity for foldables to drive digital transformation and mobile computing forward by streamlining complex workflows that rely on the use of multiple apps at once.
"Foldables are not just about having a larger screen," Milanesi said. "They are about having the best smartphone technology to make us more productive and decrease friction in our workflows. With more workflows moving to the cloud, we need hardware that allows us to take full advantage of the data, apps and services we rely on every day."
2. Flexible choices for flexible work
I'm a firm believer that the latest smartphone technology should be available to all businesses and all their employees. When it comes to foldables, that means developing versatile devices that flex to fit different use cases.
The Galaxy Z Fold3, for example, is designed to provide an expansive, foldable workspace for entrepreneurs and business leaders who need more out of their smartphone at work and on the go. The Galaxy Z Flip3, on the other hand, is ultra-compact, with that cool flip factor that makes it an attractive Choose Your Own Device (CYOD) option for employees in a hybrid workspace.
Maribel Lopez of Lopez Research agrees with our two-pronged approach.
"There is no one-size-fits-all foldable," says Lopez. "Certain consumers want an ultraportable device, while others want foldability but value a device with the largest screen."
Lopez pointed out that smaller foldables support workers who are mobile most of the day, while larger ones bring portability to productivity. Foldables improve on the smartphone's original value proposition by offering devices that you can carry anywhere, with the flexibility of a phone, tablet and PC in your pocket.
Like Milanesi, Lopez ties the foldable value proposition back to workflow. "Many times, a person needs more than one app open to get the job done," Lopez says. "Having those apps visible simultaneously on a foldable gives the user the information they need to be productive without toggling back and forth between screens, lugging around a laptop or being reliant on a PC."
3. Simplifying IT
With remote and hybrid workplaces here to stay, cybersecurity concerns rise to the top of the list for business leaders. The shift in work style is simultaneously a window and, in many ways, a requirement to truly make cybersecurity a priority.
Can mobile devices, often thought to make enterprise cybersecurity more complex, actually flip the script and be used to simplify it? I asked Patrick Moorhead of Moor Insights and Strategy whether IT decision makers should consider consolidating computing to a single-device, dual-screen solution like Samsung DeX.
"From an infrastructure point of view, simplicity is the top IT driver to adopt a dual-screen device," Moorhead said. "All things equal, one device is simpler for IT to deploy, manage, update and monitor than are two."
Go mobile-only with Samsung DeX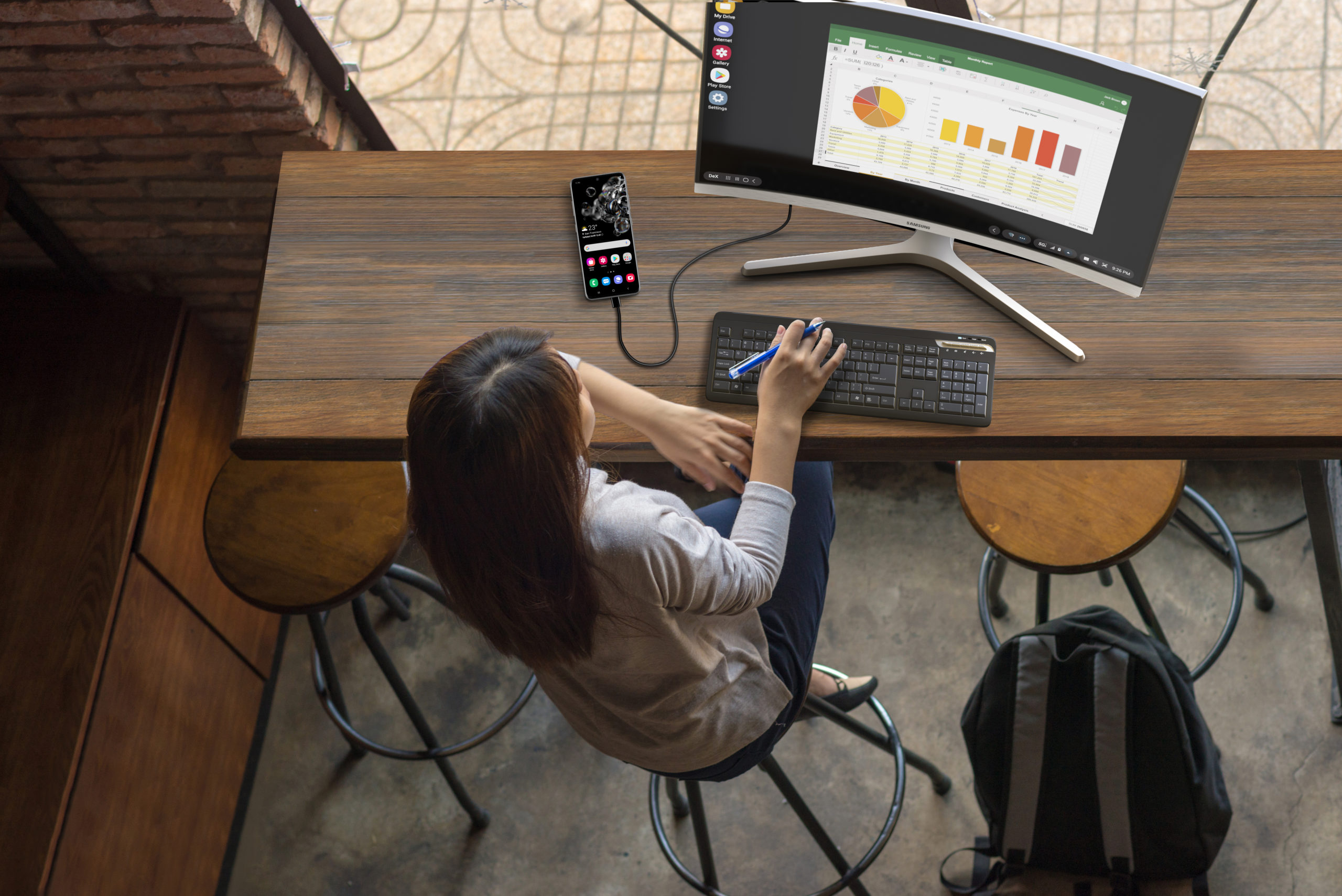 Your comprehensive guide to rolling out a mobile-only solution for your workers. Download Now
Whether a business is dealing with confidential contracts, patient data or financial information, security is always paramount. Samsung's signature defense-grade Knox security platform protects business users and their sensitive data from the chip up. Knox is built into our foldables as well.
4. Versatile workflows on a singular device
There was a time when owning more devices seemed to be the best way to multitask. However, more devices can give way to distraction — the thief of multitasking. App continuity has also proved challenging, with different devices supporting different degrees of functionality.
The answer to the struggles of a clunky work suite is a clean and compact one. Sleek yet sturdy foldables fit the profile for moving to a one-device workspace, with plenty of room for innovation as the foldable market takes shape.
"Different postures that accommodate a more versatile way of working will also mean that developers have the opportunity to make foldable-optimized apps that can replace analog workflow," says Milanesi. "The key is not necessarily to replicate a tablet mode or PC environment, but to really reimagine what's possible with a mobile device serving in those capacities. Early adopters will be open to experimenting with foldables and can create new, sticky workflows that drive high satisfaction in the workplace."
For all that business leaders and teams have been through — and all we continue to get through — it makes sense that smartphone technology and workplace technology are converging. We're on the move, as individuals and as a society. Samsung is embarking on its third generation of foldables — a form factor we have pioneered — that are thinner, lighter and more powerful than ever. We're doubling down on these devices for business because a new way of working calls for a new form factor that meets the need for mobility, flexibility and productivity.
I'm excited to see the future unfold — literally and figuratively.
Sign up for a Samsung Business Account to get exclusive offers, including volume pricing discounts, on Galaxy Z Fold3 5G and Galaxy Z Flip3 5G today. You can further expand your team's mobile capabilities with a DeX-enabled workspace — which allows their smartphone to function like a desktop computer — according to Samsung's free best practices guide.