For people with Samsung smartphones, the S Pen has become an essential tool for their day-to-day needs. Now, with the release of the Samsung Galaxy Z Fold3 5G, users have a pocket-sized mobile device that unfolds into a 7.6-inch tablet — fully compatible with the optional S Pen Fold Edition and S Pen Pro (sold separately). Galaxy Z Fold3 is Samsung's first foldable device that's compatible with the S Pen, refining and expanding the features that make the S Pen so powerful.
The S Pen is beloved by business users for its precision, versatility and mobile productivity benefits. Galaxy Z Fold3's expansive workspace gives users more room to get the most out of the S Pen with any and all of these tasks:
1. Take notes
For many people, writing by hand helps reinforce memory — or they find it more fluid and efficient than typing. With the S Pen, the natural feel of pen on paper meets the computing power of Galaxy Z Fold3. Flex it, place it on your desk and use Multi-Active Windows to take notes in the Samsung Notes app while you're on a video call. The S Pen for Galaxy Z Fold3 has a soft tip and spring to reduce the impact on the display, and it senses 4,096 levels of pressure so you can get right to writing — precisely and without latency.
Shop special offers
Find out about offers on the latest Samsung technology.
see deals
Speak to a solutions expert
Get expert advice from a solutions consultant.
Talk to an expert
2. Annotate PDFs
Collaborating and versioning are seamless when you use the S Pen to mark up documents. And while you're working in Samsung Notes, you can open PDFs without having to download them separately through a third-party app. When you're finished with your markup, save and share it in a couple of clicks. You and your team can take a document from first draft to final draft, remotely, without any messy emails or printouts. This functionality also makes it easy to capture, convert and share information from background resources as you compile a business presentation or proposal.
3. Show your creative side
Creative professionals are using tablets as sketchbooks, with a stylus as their preferred drawing instrument. From fashion and entertainment to architecture, interior design, graphic design and marketing, Galaxy Z Fold3 and S Pen combo is made for creativity. Even business professionals who don't usually doodle will find inspiration in a blank canvas to brainstorm and bring ideas to life by hand. Capture, store and share your creations digitally with just a few taps.
4. Write emails by hand
Whether you're working in Samsung Notes or composing an email, you can use the S Pen to handwrite a message and instantly convert it to text. Rather than finger-tapping the keyboard, you can use the more intuitive stylus to take quick notes; the device's AI capabilities instantly digitize your message. On Galaxy Z Fold3, the S Pen can be used to convert handwriting to text, whether the device is in Flex Mode or laid flat, on a tabletop or in the palm of your hand.
5. One-tap toolbar
The S Pen goes beyond writing and drawing, into a world of features that can reduce the number of steps required for common tasks. One of the simplest productivity tips for the S Pen is to access its toolbar, known as Air Command, with one motion. With the S Pen in hand, swipe up from the bottom of the display and the Air Command menu will pop up. Here you can choose the perfect option for your task, be it note taking, language translation or Smart Select to grab, move and share on-screen text or images.
Go mobile-only with Samsung DeX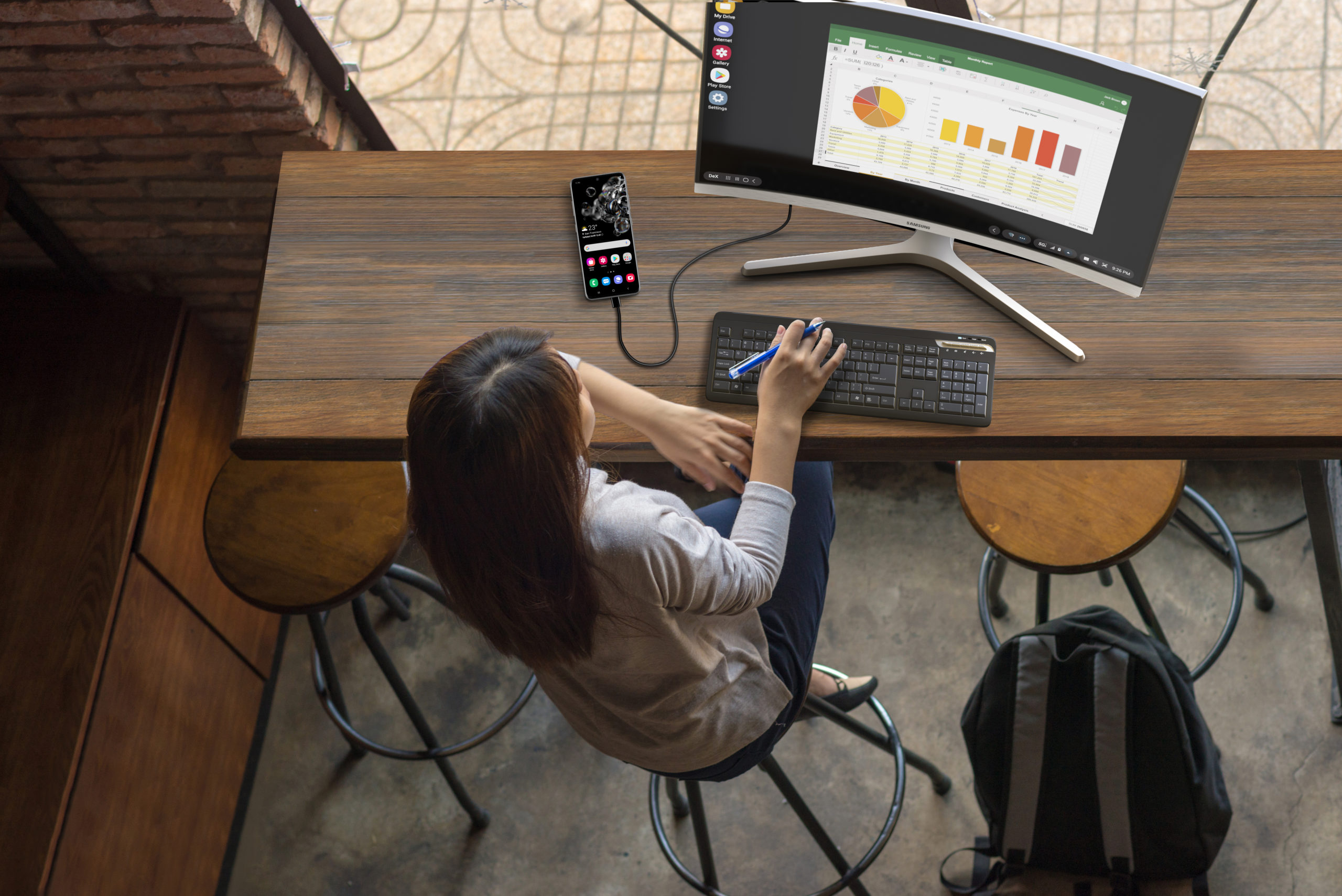 Your comprehensive guide to rolling out a mobile-only solution for your workers. Download Now
6. Work with precision
Galaxy Z Fold3 has PC-like capabilities, including Multi-Active Window, an Edge Panel and seamless drag and drop functionality. The S Pen complements and enhances Z Fold3's innovative user experience by helping you hit every button, resize every window, organize your apps and complete each task successfully on the first try. Use your S Pen to tap your way through the workday and take advantage of all Z Fold3 has to offer, while keeping your screen clean.
7. Use it as a remote control
Built-in Bluetooth turns the S Pen Pro into a remote control, allowing you to take photos, move slides, play music and more with a quick tap of the pen's control button. The S Pen Pro charges via USB-C and lasts up to 20 days between charges. Its size — slightly increased over the S Pen Fold edition — makes it more comfortable to grip, while remaining sleek and lightweight.
While Galaxy Z Fold3 unfolds a new way of working, the S Pen rewrites the definition of efficiency. Using them in tandem allows you to be more flexible in how you and where you create.
Sign up for a Samsung Business Account to get exclusive offers, including volume pricing discounts, on Galaxy Z Fold3 5G and Galaxy Z Flip3 5G today. And while you're planning your mobile upgrade, find out how Samsung DeX can give your team a desktop computing experience within a mobile-only solution in this free, comprehensive guide.