Businesses define digital transformation in many ways. Some view it as moving IT operations off premises and into the cloud. Others see a far more practical application of this transition to digital, one that improves workflow and operations inside a business.
For many independent, smaller businesses, the idea of digital transformation includes going paperless by using tablets and smartphones to process documents and relying on e-signature tools to digitally capture signatures on contracts and consent forms. These types of tools cut down time spent shuffling paper and help businesses concentrate on higher priorities and overall business strategy.
There are many reasons to consider implementing e-signature processes, but here's a closer look at the operational benefits of running a more digitized business.
Interactions match customers' changed expectations
Retail is the bellwether for how customers expect their interactions with businesses to go. In a retail setting, customers count on using mobile devices to gather information, process an order, learn more about an item, receive alerts about their interests and communicate with a business they patronize. Those customer expectations are spreading from personal sales transactions to any type of transaction, whether business or personal.
Shop special offers
Find out about offers on the latest Samsung technology.
see deals
Speak to a solutions expert
Get expert advice from a solutions consultant.
Talk to an expert
E-signature and other digital processes allow customers and clients to review and sign documents at their own convenience, in the setting of their choice, and then to sign and transmit those documents via their mobile devices. When a business chooses e-signature tools and processes, it's a recognition that processing paperwork shouldn't be disruptive, but rather something customers can easily accommodate into the flow of their already busy lives.
Recordkeeping and records management become streamlined
Using e-signature tools keeps business forms in a digital format. SignNow, for example, is an e-signature app that helps businesses manage and scale complicated document workflows. The files can be linked to a customer, vendor or patient record without the need to manually process or physically file paper. There's less likelihood that records will be lost or attached to the incorrect file. There's also less chance for errors to enter a record in an all-digital workflow.
Digitization simplifies workflows
Relying on paper documents requires printing them out, giving the printed documents to whomever needs them and waiting on required signatures on those documents. Once signed with pen and ink, papers must then be manually filed away or scanned into a digital form that can then be linked to a digital record. The e-signature process recaptures the hours spent on these processes. That time can be redirected to more important business goals, such as improving customer service and customer experience.
Physical paper storage becomes a thing of the past
A business that relies on a paper system rather than a digital one must also plan for either the physical storage of documents or on specialized shredding services to securely destroy them. By transitioning to a paperless, all-digital environment, a business can save storage, shredding and paper costs. Again, those funds can be redirected to the higher priority goals of the business.
Choose the right phone for your growing business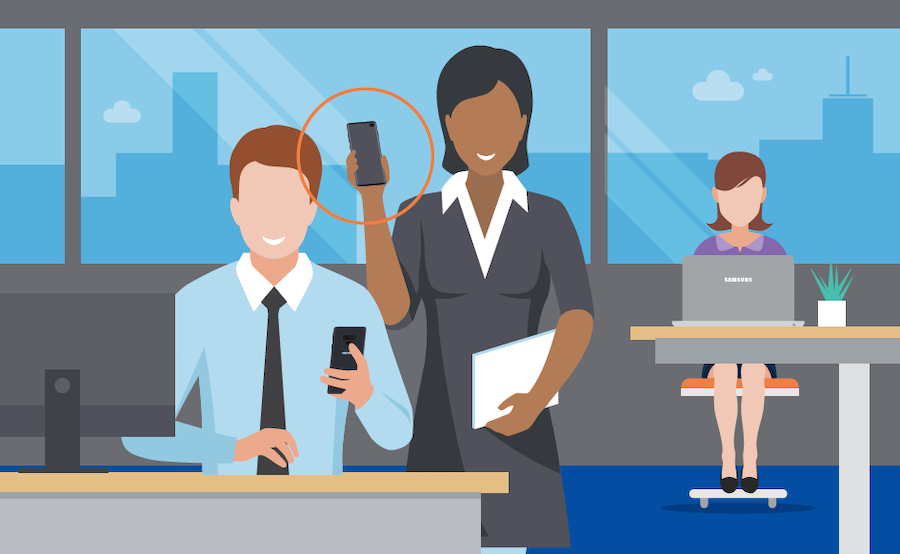 Get your free guide to matching the right smartphone with your business and employee needs. Download Now
Mobile technologies such as smartphones and tablets have become pervasive in the workplace. When a business is planning to move to digital processes with e-signature, it makes sense to choose devices compatible with digital pens, such as the Samsung Galaxy Tab Active3, Galaxy Tab S7 and S7+, Galaxy S21 Ultra 5G and the new Galaxy Z Fold3 5G. Not only is the S Pen attractive to customers for signing, it's a great tool for field workers to use when collecting data and completing forms. Combining these devices with e-signature tools and processes provides a simple first step towards digital transformation that a business of any size can take.
Explore Samsung's full range of mobile devices that are fully equipped to take your business paperless. Need help choosing between them? Take this quick assessment to discover the smartphone — or tablet — most tailored to your business needs.