When you upgrade to a foldable device like Galaxy Z Fold3 5G from a more traditional phone, you're effectively getting two productivity experiences. When the device is folded, it's a smartphone. Unfolded, it's a tablet that gives you more space to get more done.
To get the most out of your Galaxy Z Fold3, it's worth taking the time to personalize each home screen so you're ready to multiply your productivity, whether you're on the go using it as a phone, or immersed in the larger interior display.
Home screen customization 101
Whether you're in smartphone or tablet mode, the home screen is where efficiency begins. Access your home screen settings by touching and holding any empty space on either display. You'll then see shortcuts to Wallpapers, Themes, Widgets and Settings. Tap "Settings" to access the essentials of how your home screens will appear and operate. In tablet mode, you have more screen space to work with as you're exploring customization options.
Shop special offers
Find out about offers on the latest Samsung technology.
see deals
Speak to a solutions expert
Get expert advice from a solutions consultant.
Talk to an expert
On Galaxy Z Fold3, you can choose whether to have your two displays mirror each other or function separately. For greater personalization, we recommend turning off the cover screen mirroring feature, so you can independently adjust both your smartphone and tablet home screens. As you scroll down through the home screen settings, select your grid layouts for the home screen, the apps screen (the app tray that appears when you swipe up) and your folders (apps that you group together). The interior home screen allows you to comfortably fit up to 30 apps in a 6×5 grid, while the narrower cover screen works best with a 3×5 layout.
To move an app onto and around your home screen, hold down the app and tap "Add to Home" and/or drag it where you want to place it.
Widgets for business
For business users, widgets are much more than just a fun, convenient feature. They make information readily available without having to open an app, which saves time and provides a straightforward experience to find the information you need while on the go, or on a call.
To add a widget, once again, touch and hold any empty space on the home screen to quickly access your home screen settings. Now tap "Widgets." Search for your most-used apps and discover the best business widgets — or press and hold any app to see its associated widgets. The Microsoft Outlook widget, for example, shows your most recent emails and allows you to scroll through your inbox in a small window on the home screen. And with the Calendar widget, you can see the day's meetings and calls at a glance.
To move or remove a widget, hold down the widget's icon and drag it to your desired location on the home screen or tap "Remove."
Exploring options
Galaxy Z Fold3 is the ideal mobile device to balance work and life. You can even have separate home screens for each. To add new home screens, just hold down an empty space on your home screen and tap the plus sign. Swipe right and left to view your different home screens and tap the one you want to use at any given time.
This approach can help create unique spaces for the apps you use most for work, and those that get more usage while you're off the clock. You could even create a home screen specifically for winding down at the end of your day, with email and other work items less prominent.
You can also adjust your Z Fold3's display, wallpaper and theme to suit your style and preferences. In the Display settings, "Continue apps on cover screen" is another quick way to customize your home screens. Using this feature, select the apps that you'd like to carry over from tablet mode to smartphone mode when you fold the device.
In the Wallpaper settings, you'll be able to choose a background image for both the home and lock screens, or a different background for each. And in Themes, you'll find a world of content to modify your Z Fold3 displays visually.
Get ready for multitasking
With the Multi-Active Windows feature, you can work in up to three apps at once, for more efficient multitasking. It all starts with the Edge Panel, the tab on the right side of your home screen.
Go mobile-only with Samsung DeX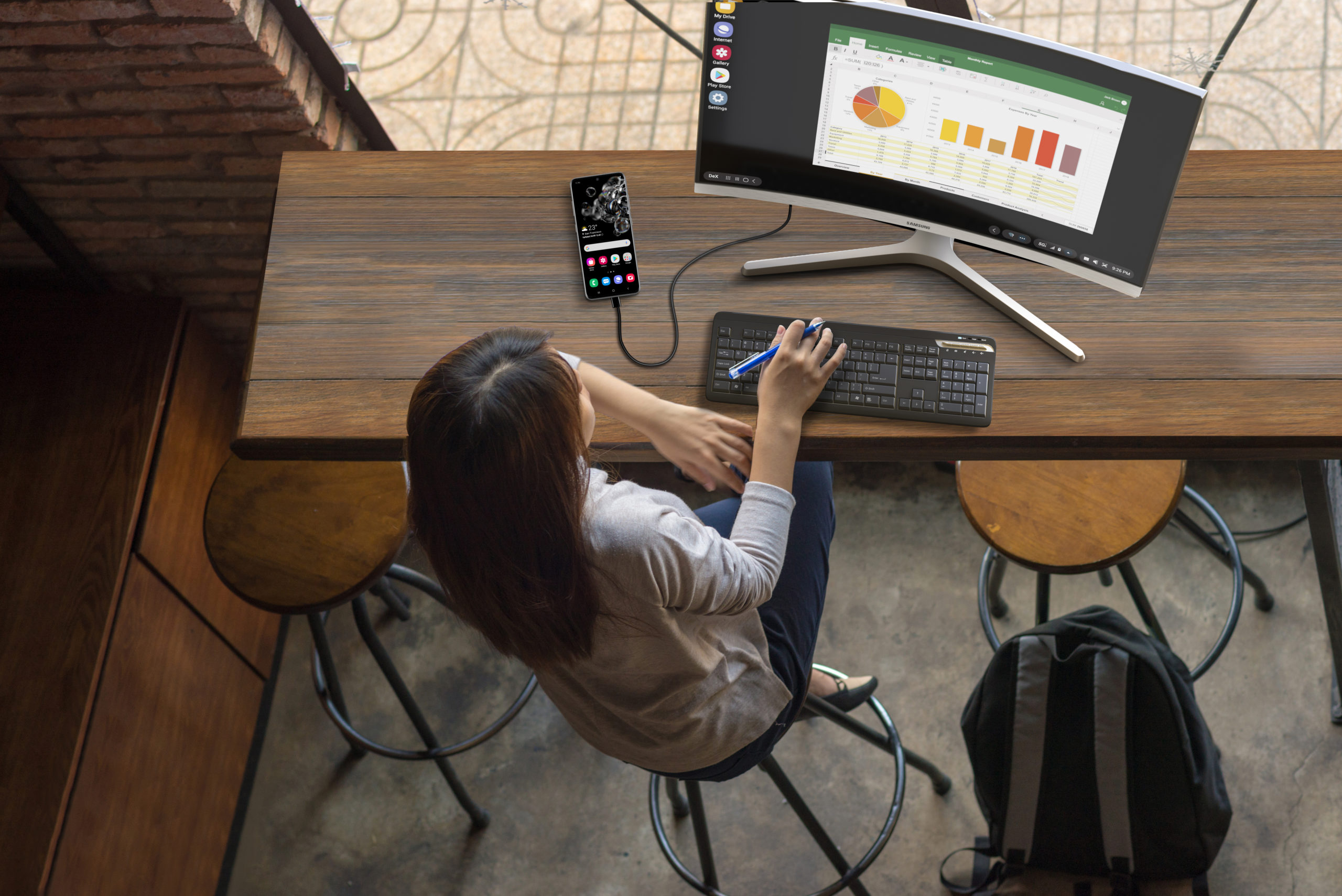 Your comprehensive guide to rolling out a mobile-only solution for your workers. Download Now
Customize the Edge Panel to show your most frequently used apps by tapping the three horizontal lines at the bottom of the panel, and then tapping "Edit." As you open apps from the Edge Panel, they'll appear as Multi-Active Windows. You can customize the size and positioning of how each Multi-Active Window quadrant appears — giving more space on the top half of the screen for a videoconference, while dividing the lower half of the screen between your calendar and a note-taking app, as one example. Save your favorite app pairings to the Edge Panel using the center dots in any given pairing. Now you can go from the home screen to two or three apps in just one tap.
3 quick tips for customizing your cover screen
Think on-the-go: The cover screen is great for on-the-go tasks, like making phone calls, sending messages, checking emails and browsing the web.
Use the cover to scroll: Alongside your go-to apps that keep you connected, the cover screen is also ideal for news, social media, online searches and other apps made to view on mobile. When you need to do some deeper reading, just unfold for app continuity from smartphone to tablet mode.
Keep it simple: Remember, you have the Edge Panel in addition to the home screen app slots and full app tray, so there's no need to cram a ton of apps onto the home screen. Take it easier on your eyes by moving your second tier of cover-screen apps to the Edge Panel.
3 quick tips for customizing your tablet mode home screen
Invest in the Edge Panel: In tablet mode, the Edge Panel is one of Galaxy Z Fold3's most powerful tools. It functions similarly to a PC taskbar or dock, always there for easy access and one-tap launches (including app pairings in Multi-Active Windows).
Go all in with video: Galaxy Z Fold3's expansive 7.6-inch screen is truly immersive, with an edge-to-edge display in vivid color and detail. In tablet mode, you can position your video apps prominently — from Google Duo and Microsoft Teams to YouTube and your preferred streaming platforms — so you can use the widescreen view to its full potential.
Make it your main workspace: By loading the tablet home screen and Edge Panel with all your productivity apps, you can get work done your way. Microsoft Office suite is optimized for the foldable form factor, allowing you to review, edit, share and collaborate on documents, all on your mobile device. With the optional S Pen, you can jot down thoughts by hand and convert your writing to text in Samsung Notes.
Make sure you make the most of display customization on Galaxy Z Fold3 — but don't worry about having it all nailed down from the start. With this whole new form factor, there's always something new to try.
Get exclusive discounts, financing and other deals on Samsung business solutions such as Galaxy Z Fold3 5G through Samsung Advantage. And discover how your organization can get started with mobile device management (MDM) to spend less and do more — securely and efficiently.