The healthcare industry is undertaking a widespread digital revolution, accelerated by COVID-19. Given the immense pressure on hospitals and health systems to support telehealth, some are struggling to keep up. But the technology is available. The right monitor makes telehealth more accessible to health systems, so they can provide better care more efficiently.
Telehealth: An old idea, here to stay
Telehealth isn't a new idea. In 1879, a Lancet article discussed how talking to patients over the phone could reduce unnecessary in-person visits. In 1924, a Radio News magazine cover illustration showed an imagined video call with a doctor.
Now, virtual appointments are the norm. According to McKinsey & Co. (though estimates vary), telehealth use has increased more than 30-fold compared to the pre-pandemic baseline. At the peak of telehealth use in April 2020, it was 78 times higher.
But what these numbers don't show is that telehealth has been growing steadily over the last few years. Roughly 65 percent of U.S. hospitals connected with patients and clinicians remotely in 2018, according to the American Hospital Association. This technology will remain a popular healthcare method long after we return to "normal." Frost & Sullivan forecasts sevenfold growth in telehealth by 2025.
Upgrade your monitor fleet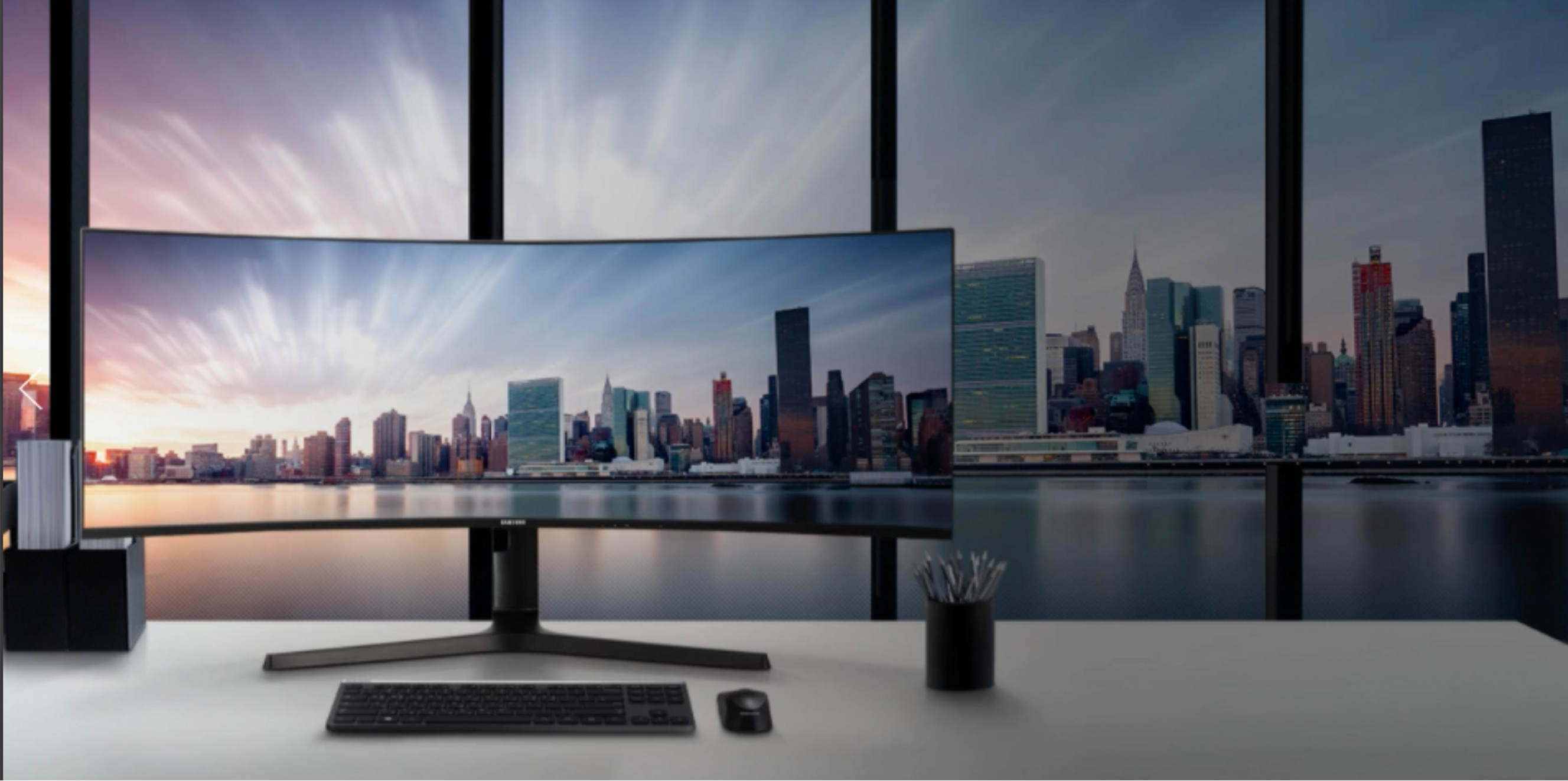 Calculate the total cost of ownership of upgrading your business's monitors with five easy questions. Download Now
Hospitals and healthcare systems need to support patients' telehealth needs today and for years to come. Clinicians who conduct video visits with patients and their caregivers can make use of Samsung's new S40VA Webcam Monitor, with its built-in HD camera, microphone and stereo speakers. The 24-inch display offers enough screen space to visit virtually with a patient and review their health records at the same time. It's compact enough for a tight workspace, and users easily adjust the stand to find their ideal viewing angle — even rotating it from landscape to portrait mode.
Remote location, immediate solution
Sometimes, doctors and nurses may be caring for many patients at once, requiring a more extensive setup. St. Luke's health system in Boise, Idaho, has developed a dedicated virtual care center, using Samsung's CJ890 Series 49-inch curved monitors as part of its 24/7 telehealth platform. Patients and intensive care providers use the platform to connect from smaller health centers around the state.
The widescreen monitors provide plenty of space for users to view multiple windows at a time, giving them simultaneous access to the remote camera view, patient records and any other health apps with relevant information. This means no more shrinking windows, minimizing them or switching between screens. Patient care is more efficient and less frustrating.
These USB-C monitors also feature a single port for digital display, data and power. With fewer cables to manage, you save space and time, and prevent frustration for users. And because the curved screen mimics the human eye's natural field of view, it decreases visual distortion, eye strain and fatigue.
Collaboration and coordination
Telehealth isn't just for connecting patients and providers; it also helps connect providers to each other. Doctors and other clinicians located at different sites across campus, across town or across the country can still coordinate patient care over videoconference. The S40VA webcam monitor was designed to facilitate virtual meetings.
On-site collaboration often requires sharing a monitor. For those situations, the ultrawide CJ890 Series of curved monitors is ideal for multiple viewers. But while most professional meetings remain virtual, webcam monitors make it easy for your clinical team to stay in top form and exchange ideas with colleagues.
Healthcare professionals can also use either of these monitors for training, certification and continuing education.
Accurate images
While delivering remote patient care, providers also need to review medical images. Samsung's S Series High Resolution monitors allow clinicians to review these images more easily and accurately — an essential in healthcare. These 10-bit monitors display more than 1 billion colors. The S Series also features Adaptive Picture Technology, which reduces eye and muscle strain. The DisplayPort Out feature on some S Series models enables daisy chaining, so users can connect a series of monitors from a single PC output for a streamlined desk setup. After all, not everyone's desk has room for a 49-inch curved monitor.
Transforming the nursing station
For all the advances in remote connectivity, a lot of patient care is still in person, especially in the hospital setting. The right monitor can be transformative here as well. Equipping nursing stations with large, centralized USB-C monitors improves efficiency with centralized information dashboards that update in real time, ensuring patient data is always accurate. Monitors that fully support USB-C can act as workstation hubs, and because they require fewer cables, they're well-suited for nursing carts, where there's no space to spare.
Future-proofing healthcare
Telehealth today requires hospital technology to step up. With the most innovative tools on hand, healthcare facilities will be ready for the expected and unexpected, supporting clinicians while ensuring everyone's safety, security and efficiency.
Explore Samsung's full range of cutting edge monitors designed to support business collaboration from near and far. Learn how USB-C, HDMI and Thunderbolt 3 enable complete workstations in this free guide.