Samsung has a long-standing heritage of customer-centric innovation. It's in our DNA, and it has led us to many firsts in flat-panel, ultra-high-definition (UHD), large-screen and LED technologies.
Innovation is about pushing boundaries. As we all know, 2020 was a banner year for unprecedented change, and organizations everywhere were forced to evolve. Companies quickly shifted business models, adapted to rapidly changing market landscapes and adopted new hybrid work styles to keep pace.
We learned to support our customers from a distance without losing the personal touch. Our teams worked remotely and collaborated virtually, tuning out distractions to stay focused on the job at hand. We transformed our homes into offices, customer service centers, classrooms, gyms and theaters as we sought to balance the overlap between work and life.
Screens became the critical connection point that powered new ways to work, live and connect. Samsung displays became the window that kept us connected to what mattered most in business — and in life.
Modernize your workplace with digital signage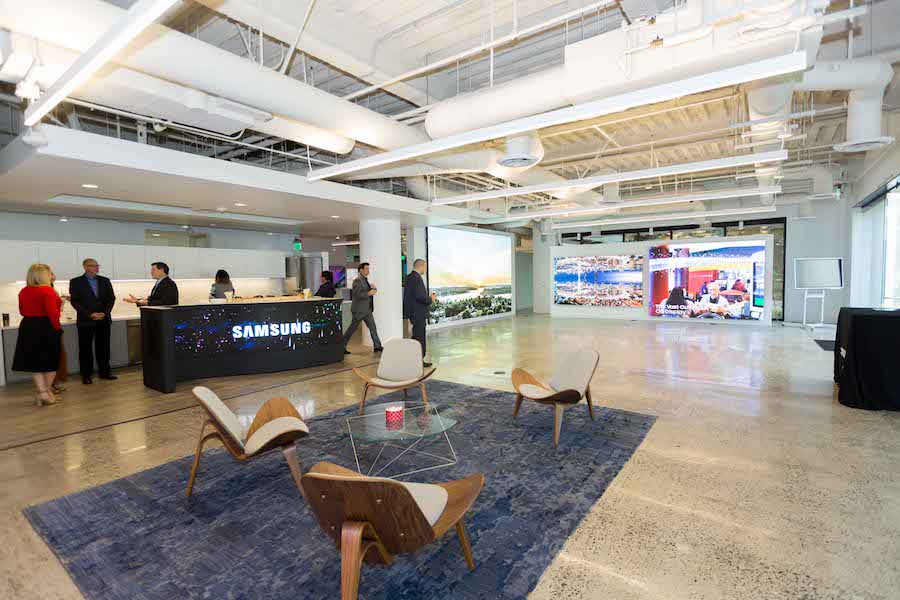 Explore how corporate offices are producing dynamic, engaging content for workers and clients alike. Download Now
Now, as the world slowly begins to regain its footing, your customers, employees and stakeholders will have new expectations. They'll expect more personalized experiences that blend the physical and digital worlds. They'll seek out new tools that bring greater flexibility and collaboration to their workplace, wherever they're working from. And they'll continue to blend work and life to maximize every moment and opportunity.
This is the promise presented by Business Reimagined, the theme of this year's Samsung Virtual Experience (V/X) event.
A portfolio of innovation
Our cutting-edge portfolio of Samsung business displays has always been at the forefront of digital transformation. As transformation continues to accelerate in 2021, displays will be more important than ever.
Our powerful new lineup of products and services will help you reimagine your customer experience, as well as where and how your work gets done. Here's a look at our exciting portfolio of Samsung business displays for 2021:
A new, digital outlook
There's a lot to get excited about this year. Let's start with Samsung's latest smart display. Our new 75-inch 4K interactive display expands on our UHD 4K interactive whiteboards, delivering higher standards of engagement, collaboration and learning with creative ways to collaborate in person — safely and intuitively.
Samsung is also expanding the industry's most diverse portfolio of LED solutions for business. Our new microLED for business breaks new ground in both design and usability. With true-to-life color and detail on our biggest displays, microLED delivers immersive experiences that will surpass your customers' greatest expectations. The energy-efficient microLED is thinner than a strand of hair, and longer lasting than the competition, maintaining picture quality for up to 100,000 hours. You can maximize return on investment (ROI) like never before — while using sustainable energy. Our microLED for business features a modular form, so you have complete flexibility in where and how you use it.
Samsung 4Vue makes it possible to see up to four screens at once, from a variety of sources, while built-in Samsung Arena Sound speakers complete the immersive viewing experience.
Beyond the office, our new XPR-B outdoor LED provides exceptional picture quality so you can digitally communicate outside, in any conditions. Tested to withstand the harshest environments, the XPR-B is a turnkey outdoor signage solution designed to help small and medium-sized businesses (SMBs), restaurants and schools quickly and easily communicate with passersby, sharing directions, advertisements and important safety information.
We call it "LED in a box" because its unique unibody cabinet makes it fast and easy to install, while its simple web-based content management solution lets you create, schedule and deploy content from anywhere, on any device. Backup power is built in, so your message will be seen from any distance, even when the power's out.
Samsung monitors for WFH
Remote work isn't going anywhere. According to Harvard Business Review, 72 percent of employees want the option of working within a hybrid remote office model. Samsung monitors have become a vital tool in connecting hybrid workforces. Our UHD monitors feature innovations like Samsung Quantum Dot technology, which lets you see more information in greater clarity than with conventional imaging technologies.
You can work more efficiently by viewing content in its totality, without unnecessary scrolling or resizing.
Our new Samsung Smart Monitors truly do it all, giving remote teams new ways to be productive at home with a familiar PC-like work experience — without a PC or laptop. With Smart Monitors, you have all the built-in features you need to make remote work simple, efficient and cost-effective, and all on a single screen. You can use Samsung Galaxy phones with DeX to access mobile productivity and videoconferencing apps on a larger screen. You can work on a Word document or PowerPoint presentation in the cloud with Office365. Or you can use Remote Access to connect to your office PC from afar.
And when it's time for a brain break, Samsung Smart Monitors give you access to your favorite TV apps so you can watch the show your colleagues are talking about in incredible quality, without a cable box.
Our 49-inch G9 Odyssey display is curved to match the curvature of the human eye, maximizing immersion and minimizing eye strain. Its quad high-definition (QHD) display has the screen real estate of two 27-inch panels, making it perfect for command centers, video monitoring hubs, multisourced data analysis or videoconferencing while multitasking.
And as travel begins to resurge, Samsung is making it easier for those in the hospitality sector to improve their guest experience with digital signage — with more flexibility and at a larger scale. Samsung's recently announced LYNK Cloud is a fully scalable, cloud-based solution for monitoring, managing and maintaining your entire fleet of guest room TVs. Spend less time configuring settings and updating firmware and focus more on creating personalized, interactive guest experiences. With LYNK Cloud's simplified HTML content management, you can provide rich information, tailored offers and booking options, both in rooms and based on customer profiles.
Our portfolio of Samsung displays for business is ready to help you reimagine the customer experience — and reimagine the way you'll do business in the year ahead.
Connecting at the speed of 5G
Of course, none of these connected experiences would be possible without the networks that support them. The United States' communications infrastructure was strained in 2020 as in-person meetings, conferences, training courses and happy hours all transitioned to digital venues.
As we look ahead to 2021, these demands on our network infrastructure will only increase. Hybrid workforces will require greater bandwidth to support emerging digital collaboration solutions for more widely distributed offices and remote workers.
Fortunately, the rapidly expanding footprint of next-generation 5G networks will power greater connectivity in our workplaces, wherever they are. 5G networks will become a critical factor for realizing the promise of Business Reimagined.
Offices of the future
The "workplace" has become a fluid concept. With employees spending larger portions of their workweek telecommuting from home, business leaders are rethinking how much physical meeting space they'll need going forward, as well as how best to organize that space.
Most hybrid work strategies aim to keep employees connected, ensure effective collaboration and maintain existing organizational culture — all of which have proven to be competitive advantages.
In short, the office of the future will:
Be vividly versatile with technologies that enable personalized productivity so employees can work seamlessly in the office, at home or wherever their work takes them.
Defy expectations of what modern work looks like, with intentionally designed office spaces that ensure employees' health and safety, while minimizing distractions and enhancing productivity and communication.
Upscale collaboration with intuitive, immersive experiences and technology investments that bridge the gap between in-person and and virtual participants so meetings run smoothly, ideas and insights are shared freely, and participation is frictionless.
Realize the vision
I hope this has given you a glimpse at how Samsung displays will help your organization realize its vision for Business Reimagined. We look forward to partnering with all of you to rethink the way our solutions can help you work, live and connect.
No matter where you work, you've had to evolve your workplace to meet your customers' and employees' evolving needs. Our guide to corporate digital signage solutions can make the job easier — for you and your team. If you're not sure how to get started, first make sure you've seen all the latest innovations in digital display technology.