As small and mid-sized businesses (SMBs) adapted to working remotely over the past two years, information technology has been a lifesaver. Some 70 percent of small businesses say technology has helped them stay productive in the new normal, and 31 percent say they would have had to close up shop without digital tools, according to a survey by the Connected Commerce Council.
Yet for those businesses with a limited IT staff, the cost and complexity of enterprise tech solutions pose a significant obstacle to success — especially for teams now working from home. SMBs may struggle to keep up with the demands of managing the devices their employees use at home.
Cloud-based Chromebooks offer a lower-cost alternative to traditional PCs. The Chrome OS-based laptops are simple and cost-effective to deploy, secure and manage. According to research by The Enterprise Strategy Group (ESG), businesses with 350 employees that deploy Chromebooks instead of PCs can save roughly $1.5 million over a three-year period. Here's a look at where those savings come from:
Hardware that's easy to budget
With Chromebooks, ESG estimates businesses can spend 43 percent less on hardware — and still get performance that matches higher-end laptops. For small businesses, those savings represent money that can be invested in other productivity tools to give their team a competitive edge.
Succeed on the path to mobility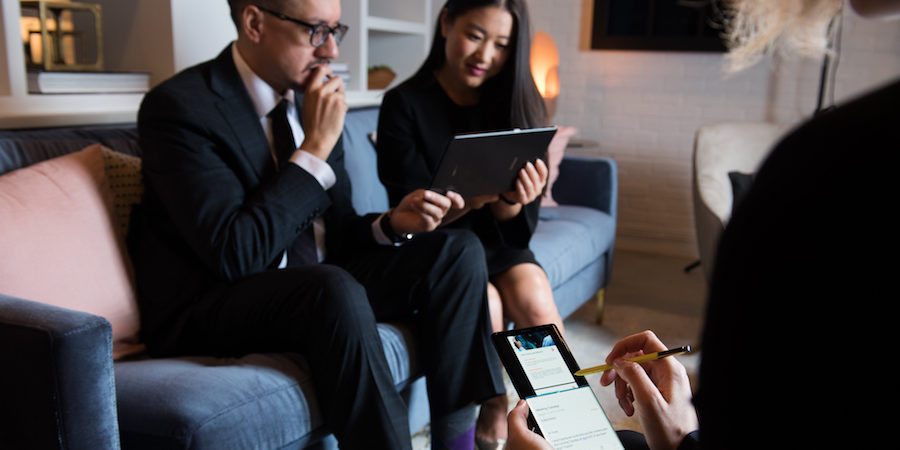 Get your guide on how to optimize mobile workflows for small and midsize businesses. Download Now
The education sector has been quick to seize on the benefits of Chromebooks. Where IT budgets are limited, ESG reports, Chromebooks are an accessible solution that meet remote workers' unique business needs.
Software and licenses at half the cost
Because they're cloud-based and intrinsically user-friendly, Chromebooks help SMBs make the most of their often scarce IT resources by trimming the expenses around software licensing. Businesses that use Chromebooks can save as much as 45 percent on licenses, ESG reports. Many SMBs transitioning to Chromebooks also adopt Google Workspace, gaining access to a full suite of productivity tools for a low monthly subscription.
With cloud-based security built in, Chromebooks spare you the fees typical of added security measures like antivirus and enterprise mobility management (EMM) solutions. And because Chromebooks update automatically, small-business owners can rest assured their workers' devices are protected against the latest threats.
Less power consumed
Browser-based work helps Chromebooks minimize power consumption, a not-insignificant cost driver for PCs and laptops in larger organizations. According to ESG, Chromebooks can consume 53 percent less power — even while running several applications simultaneously, supporting high CPU and memory needs, delivering advanced video capability and supporting touchscreen use.
Longer life cycle
With the current surge in remote work, employees are relying on their laptops more than usual. But while the increased usage taxes these devices' memory and hard drives, few SMBs can afford to regularly replace worn-out devices when they inevitably break down.
ESG reports Chromebooks cost businesses 24 percent less for maintenance, compared to other popular end-user devices. That extended life allows businesses to save on device replacement costs and eliminates the need to extend warranties and maintenance contracts.
Fewer administrative needs
For many SMBs, Chromebooks' lower administrative cost is a huge win. According to ESG, the cloud-based, user-friendly devices can lower admin expenses by as much as 63 percent.
Chromebooks offer rigorous security features that minimize the need for IT support and management. Key features include a built-in Google security chip to protect sensitive data, as well as automatic Chrome security updates. And Chromebooks' built-in sandboxing keeps functions separate on the hard drive, so if malware crops up in one program, the problem doesn't spread to the rest of the system.
Google's Chrome admin console, available with the Chromebook Enterprise Upgrade, allows companies to manage their Chromebook deployments from a centralized location. Google reports that recent upgrades to the console have resulted in 10 times faster load times compared to previous versions.
All of these savings can directly benefit SMBs' bottom line. ESG's research predicts that an average SMB could save $482 per device in annual operational costs.
Simple to secure, easy to manage and incomparably user-friendly, Chromebooks are an ideal solution for SMBs looking to make the most of their limited IT budget.
To take your device upgrade one step further, check out Samsung's Galaxy Chromebook lineup, including the Galaxy Chromebook2 featuring a stunning QLED display, fast processor and Wi-Fi 6 GIG+ connectivity, an ergonomic full-sized keyboard, as well as support for USI pens.
Sign up for a Samsung Business Direct account and explore exclusive business pricing, financing and trade-in options and other deals on everything from Chromebooks and laptops to mobile devices and monitors.