Knox Configure is a cloud-based service that can be used to customize Samsung Galaxy smartphones and tablets, transforming out-of-the-box devices into fully configured business tools.
When a Samsung device first boots up, it immediately reaches out to Samsung's Knox servers. If the device has been assigned a profile in a Knox Configure account, a custom profile is downloaded to the device, setting up the initial configuration and — with the free Knox Mobile Enrollment tool — completing the link to enterprise mobile device management (MDM) and enterprise mobility management (EMM) tools.
Using Knox Configure has many benefits for IT teams. It eliminates the need for time-consuming, manual device setup, enables more granular customization and ensures profiles take effect right out of the box. With Knox Configure, IT teams can drop-ship devices directly to end users, speeding up mobile deployment and avoiding the need to receive, configure and redistribute smartphones or tablets.
Knox Configure fills the gap between a factory fresh device and your MDM or EMM tool's configuration. But Knox Configure does more: It gives you control of hardware-specific features that Android can't see.
Knox Configure is also invaluable in kiosk environments where a device may need to be reset frequently, even multiple times a day, by automating configuration and ensuring a clean installation. Knox Configure's ProKiosk mode, used to tightly control Android devices used in locked-down settings, eliminates the need for specialized kiosk tools to define and manage configurations — and provides boot-time integration that can't be overridden.
Here's how to use Knox Configure to customize a mobile device, in eight easy steps.
1. Set up your Knox Configure portal
Getting Knox Configure going is easy, starting with your Samsung.com account. With a few clicks at samsungknox.com, you can enable Knox Configure for your account and launch the Knox Console to begin adding licenses. A key part of getting started is providing your Knox Configure identification to your Samsung reseller, so they can begin putting devices into your account. If you'd like to test Knox Configure, you can also request 90-day licenses for 30 devices right from the Knox Configure console.
Shop special offers
Find out about offers on the latest Samsung technology.
See Deals
Speak to a solutions expert
Get expert advice from a solutions consultant.
Talk to an Expert
2. Order devices from your Samsung reseller
When your Samsung reseller receives your order, while they are preparing your devices to be shipped, they also load them into your Knox Configure portal. Because every device starts by contacting Samsung's master Knox servers as it boots, no special configuration on the device is required — and Knox Configure can't be overridden. It's there out of the box, and every time the device is reinitialized.
3. Create profiles for your devices
Knox Configure uses profiles, a collection of settings that are maintained together and can be applied to groups of devices. Knox Configure profile configuration settings are grouped into ten areas and span:
Applications — such as preloaded applications, application allowlists or blocklists, preloaded application data and applets, and application store rules
Device branding, appearance and behavior — such as home and lock screens, Samsung DeX, sounds and display settings
Security settings — such as authentication, software updates, safe mode and restrictions on changing configurations
Network — such as Wi-Fi, Bluetooth, near-field communication (NFC) and Access Point Name (APN) settings
4. Select apps and content to preload
When selecting apps, Knox Configure allows for public and private app stores to be used within the profile of each device. During the setup phase, administrators can choose which business-specific or third-party apps are necessary for each device and preload them so users don't have to go through the process individually. Knox Configure doesn't cover Android Work Profile configuration — that's up to your MDM or EMM tool — so applications that are only loaded into the Work Profile are added later.
5. Customize with your company's branding
Devices can be customized to showcase your company's brand during boot-up, on the lock screen and wallpaper. This changes the device's look and feel from generic or foreign to resemble a personalized, branded experience for the company or event where it's being used. This feature is especially useful when Knox Configure is used to manage kiosk-style devices, such as tablets dedicated to a single application in a retail environment.
6. Establish connectivity settings
Connectivity settings within Knox Configure profiles are a perfect place to simplify connecting to corporate networks, making it easier to get started out of the box and with less user interaction required. Knox Configure profiles control Wi-Fi, Bluetooth, NFC, mobile data and USB connections but also can be used to preset airplane mode and location settings. For example, it's easy to preconfigure a local Wi-Fi network set up for guests or provisioning devices that is password protected but speeds up deployment by shifting from mobile cellular to faster Wi-Fi on a corporate campus.
Get your ultimate guide to Knox Configure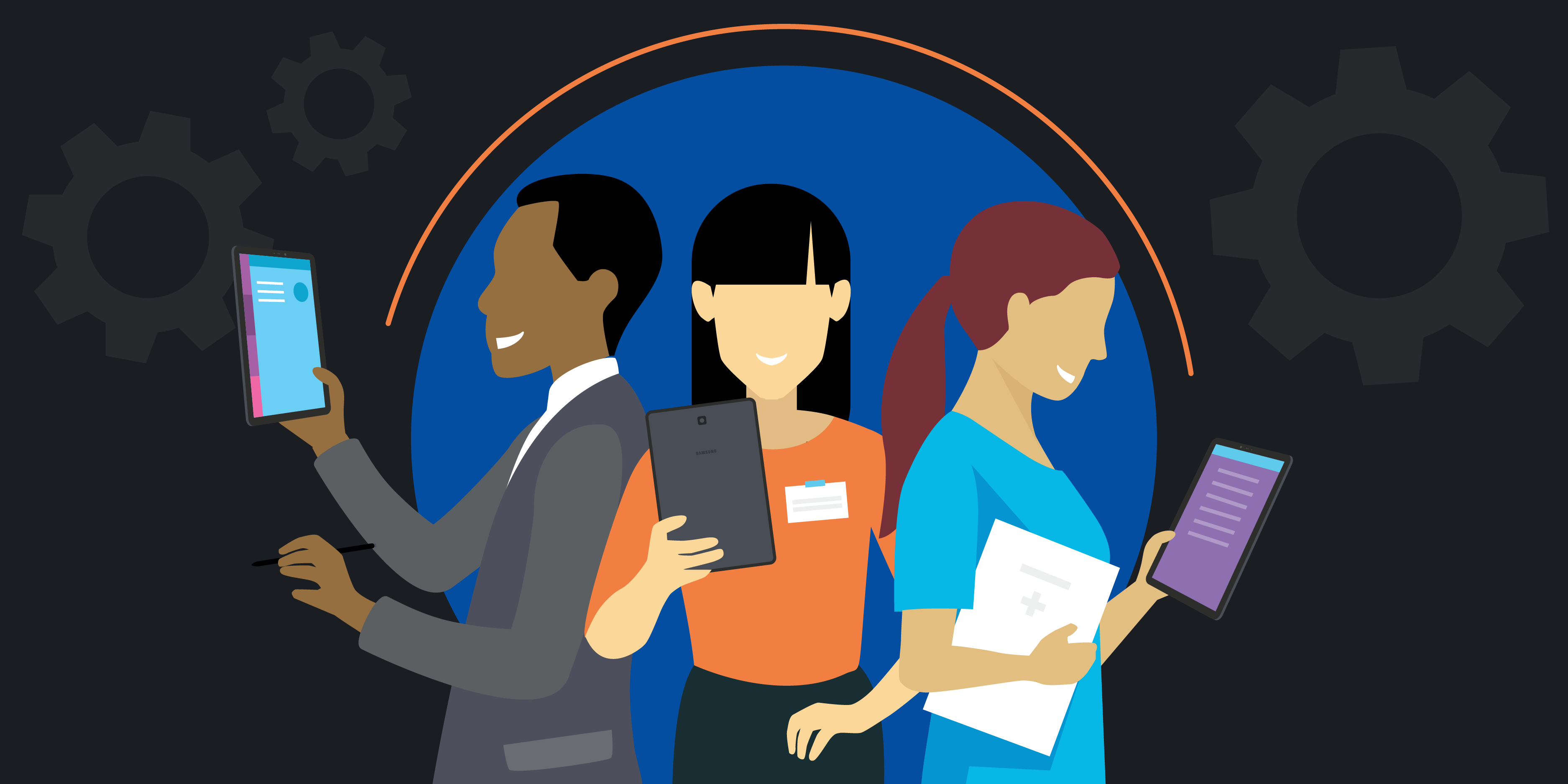 Learn how to optimize tablets for your unique business needs using Samsung Knox Configure. Download Now
7. Set security policies
Knox Configure also has some device-focused granular security settings, such as disabling factory resets, SD card access and features such as roaming and tethering. Android security features, such as password lengths, lock rules and biometric access controls, will come from the enterprise MDM or EMM configurations. Fortunately, Knox Configure complements and speeds enrollment in your enterprise MDM or EMM by jumping directly to MDM/EMM enrollment once basic configuration is done. With Samsung's free Knox Mobile Enrollment tool, devices can be quickly installed from scratch and connected to your MDM with minimum end-user input — or frustration.
8. Assign devices to Knox Configure profiles and content
As devices show up in your Knox Configure portal, you can assign them to profiles so they're ready to go before the devices even hit your loading dock. If devices are being drop-shipped directly to end users, you get the dual benefits of speedy delivery and full confidence that they'll get the correct profile configuration without you having to touch the device.
Knox Configure has other options for picking a profile for a device, such as using an NFC card placed next to the device or even an NFC-enabled case to apply the correct profile. These can be especially useful in environments such as kiosks, where simply putting a device into the kiosk gives it the correct configuration and profile — hands-off!
Additionally, Knox Configure provides a dashboard with device status information, showing levels of compliance and making it easy to manage and update profiles. The portal's logging screens maintain a solid audit trail for compliance.
See what makes Samsung the strongest mobile security partner for your business. Ready to launch Knox Configure? Get your free guide to customizing tablets.