Small and medium-sized business leaders have spent years grappling with the so-called consumerization of IT, as the devices and apps people use in their personal lives are increasingly repurposed as workplace productivity tools. The need for purpose-built business technology, however, has never been greater.
A business-grade personal computer (PC) needs to reduce any possible friction in hybrid operations, for example, so employees can work seamlessly at the office, at home, and elsewhere. Small and medium-sized businesses (SMBs) also need to bolster their defenses against security threats such as ransomware, while simultaneously working to improve employee retention.
If SMBs could have designed the ideal platform to tackle all three of these priorities, it might look a lot like Samsung's latest Galaxy Book3 and Galaxy Book3 360. With strong performance and design to help employees feel productive and stay connected, these mainstream devices also feature best-in-class security.
Reduce friction in hybrid work
As more employees continue to work remotely at least some of the time, more people need devices that allow for all-day productivity from anywhere. In sales, marketing, customer service, and beyond, people need a PC that provides both strong performance and the flexibility to add memory and storage.
Shop special offers
Find out about offers on the latest Samsung technology.
See Deals
Speak to a solutions expert
Get expert advice from a solutions consultant.
Talk to an Expert
Running on Intel's 13th-generation Core processor, Galaxy Book3 devices are equipped to run demanding applications and pack in up to 512GB on the Galaxy Book3 360. Meanwhile, no matter what other devices become part of an employee's digital workspace, Galaxy Book3 and Galaxy Book3 360 offer intuitive connectivity via multiple ports.
But perhaps most significantly, Galaxy Book3 and Galaxy Book3 360 eliminate the friction that comes from having to switch between using a smartphone or tablet to a PC. Instead, employees can enjoy seamless continuity across the entire Galaxy ecosystem of phones, tablets, and even accessories like Galaxy Buds. They can always pick up right where they left off — when they move from their phone to their PC, for example — or use Quick Share and Link to Windows to quickly share content and make calls.
Defend against cybersecurity threats
SMBs that deployed Galaxy smartphones are already aware of Samsung's comprehensive approach to IT security, offering built-in data protection from the chip up with Samsung Knox. The same thinking informed the design of Galaxy Book3 and Galaxy Book3 360, which provide added layers of defense.
This starts with elements visible to employees, such as biometric protection through a fingerprint scanner. Under the hood, the Galaxy Book3 and Galaxy Book3 360 also include a Trusted Platform Module (TPM) chip, which secures hardware through integrated cryptographic keys.
Support an employee-centric retention strategy
PCs are no longer used solely for working on documents, managing spreadsheets, and business apps like a cloud-based customer relationship management (CRM) or marketing automation platform. They have evolved into multimedia hubs that employees depend upon for connecting to their coworkers and customers from afar.
Choose the right phone for your growing business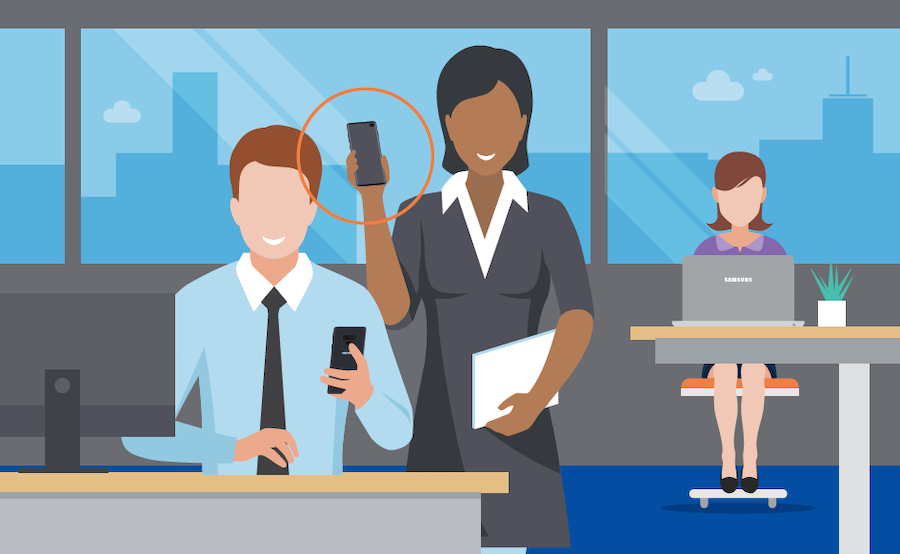 Get your free guide to matching the right smartphone with your business and employee needs. Download Now
The quality of these virtual experiences can make all the difference in ensuring people's ideas and opinions are clearly understood — and that teams can collaborate to solve complex problems as though they were in the same room.
SMBs can provision and deploy Galaxy Book3 and Galaxy Book3 360 PCs knowing employees will benefit from its 15.6-inch full high-definition (FHD) anti-glare screen and other features that ensure every online meeting has a crisp, clean, and professional feel. Visual effects like blurred backgrounds and virtual office settings, for example, help minimize distractions, while auto-framing keeps the 1080p camera focused on the faces on screen. Background sounds and static are automatically filtered, and Dolby Atmos speakers are paired with a dual array mic so everyone can hear each other clearly.
The Galaxy Book3 and Galaxy Book3 360 also simplify the process of modernizing everyday computing by coming preinstalled with Windows 11 Pro. Microsoft has enhanced its flagship OS so employees can more easily navigate to their favorite apps, while those responsible for IT will benefit from cloud management features and app compatibility.
Galaxy Book3 and Galaxy Book3 360 also come with the kind of vendor support that SMBs need. With Samsung Care+ for Business, SMBs gain access to Samsung-certified expertise, hassle-free returns and real-time visibility into the status of a repair job. The worry-free protection from Care+ for Business means SMBs have even more reason to choose the Galaxy Book3 series as their ideal platform for the modern enterprise.
Reclaim your workday with a Samsung Galaxy Book3 — the new way to PC. And discover how you can get exclusive discounts, financing and other deals on Samsung business solutions through Samsung.com Advantage.