Security and compliance are common concerns for IT leaders in the financial services industry — but over the last few years, they've become top priorities, with businesses facing a significant spike in cybersecurity threats.
Given the rise of the hybrid workplace, mobile devices and tablets allow employees to stay connected, whether they are in the office, out in the field, or meeting with customers. However, financial services companies are subject to a range of regulatory requirements around data protection and security on their devices. This puts extra pressure on financial firms to secure their data, enforce IT policies, and protect those devices against malicious actors and threats.
Still, research shows that about 25% of malware attacks target financial services companies. And with many financial workers now splitting their working days between the office, home, and client visits, IT leaders and their teams are facing increased pressure to secure mobile devices regardless of where they are.
Samsung Knox, which is built into all Samsung Galaxy smartphones, tablets, and wearables, protects business data for financial services and other regulated industries with government-grade protection. Samsung Knox offers mobile security, unified endpoint management, and fraud and theft protection to businesses. The platform is trusted for robust, government-grade security, with its defense starting at the hardware level and continuing to protect against the most advanced security threats.
Shop special offers
Find out about offers on the latest Samsung technology.
See Deals
Speak to a solutions expert
Get expert advice from a solutions consultant.
Talk to an Expert
Secure, deploy, and manage data with Samsung Knox
IT leaders can take advantage of the Samsung Knox Suite to manage various devices from a central point of location and a single user interface. The powerful enterprise mobility solutions enable teams to secure, deploy, manage, and analyze data from corporate devices.
Secure: Take advantage of advanced security management features that help businesses comply with stringent security requirements, offering advanced encryption technologies and government-grade protection.
Deploy: Enjoy easier enrollment, with the ability to enroll corporate devices in enterprise mobility management (EMM) systems automatically and securely, right out of the box.
Manage: Manage devices easily with remote support, intuitive onboarding, a seamless user experience, and tools that fit both the office and the field.
Analyze: Remotely gain insight into device health and data control, no matter where your employees use their devices.
Knox's unified endpoint management effectively saves time and resources for IT teams. They can deploy thousands of devices simultaneously, push updates, and gather data analytics, as well as track, monitor, and support field workers in a remote setting. For mobile security, regulated industries like healthcare are equipped with Samsung Knox Suite and are using devices such as Samsung Galaxy Tab A8 in order to remotely access electronic health records in locations such as client homes. Samsung Knox Configure can help these organizations protect against internal threats and better manage their fleet of devices.
Unique benefits of Samsung Knox for financial services
Samsung Knox protects the financial services workforce that is increasingly going mobile, whether that's a financial advisor meeting with a client in their home and using a Galaxy Z Fold4, an insurance claims adjuster out in the field working off a Galaxy Tab Active4 Pro, or a bank associate on a branch floor receiving alerts on their Galaxy Watch5. With Knox, financial services companies can:
Secure devices throughout the EMM journey.
Streamline deployment to set up thousands of devices with ease.
Simplify device management with Samsung Knox and Android Enterprise.
What's next for the future of finance?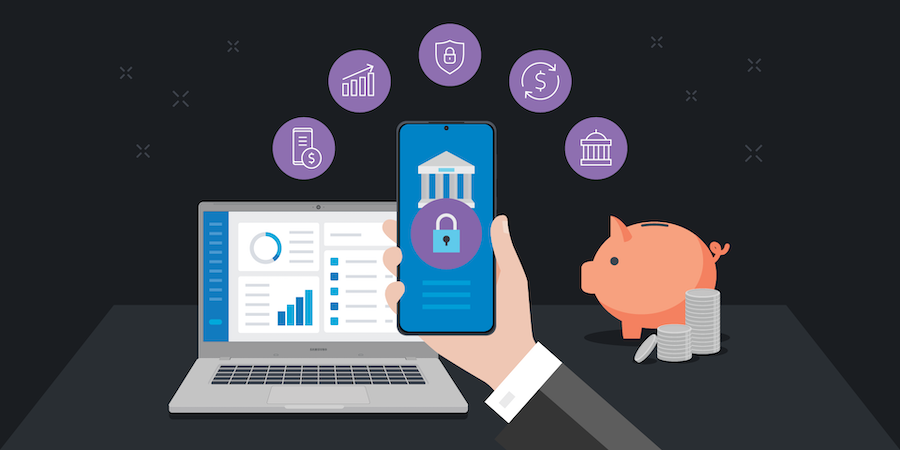 Samsung surveyed 1,000 finance professionals about the future of mobile tech. Here's what they said. Download Now
Samsung and Android work closely together to provide enterprises with the most reliable and secure mobile experience possible. Joining forces nearly a decade ago, the partnership has addressed the most pressing challenges businesses are facing today: maintaining productivity, protecting the workforce, and offering flexibility.
Specifically, over the past several years, Samsung and Android have partnered to:
Harmonize Android Enterprise and Samsung's Knox Platform for Enterprise to offer a seamless experience for Android customers who were also looking for Samsung's advanced capabilities in security and device management.
Synchronize mobile device enrollment services (Android zero-touch enrollment and Knox Mobile Enrollment) to offer a variety of services that help streamline the employee onboarding experience and re-deployment of devices.
Android's core security foundation combined with Samsung Knox's hardware-based protection and advanced real-time protection address today's most demanding security challenges — especially in an industry like financial services. The flexible platform and comprehensive set of Android Enterprise management APIs address every device use case, from locked down to open use. Admins can also enjoy granular controls of devices in this highly regulated industry. With Samsung Knox, IT teams can easily enroll devices, build the required profiles, manage applications, and support employees through remote access sessions.
For a full overview of all Samsung technology solutions for the Finance industry, please visit this page. And sign up for a Samsung Business Account to get exclusive offers, including volume pricing discounts, on our Rugged devices, as well as our newest devices like Galaxy S23 series, Galaxy Z Fold4 and Galaxy Z Flip4.