Whether your team is returning to a traditional office or remaining fully remote, they need the same thing from their workspace: a business laptop that functions as the primary tool for focused productivity and collaboration.
In a survey on IT priorities in 2022, 40% of technology professionals said they were putting a greater emphasis on end-user computing devices such as business laptops. A fifth of them are also prioritizing IT asset management. Among the top four projects were mobile device refreshes.
With its Galaxy Book3 series, Samsung offers a range of options for digital workspaces across the small and medium-sized business (SMB) sector. Each device in the series features secure mobility, powerful performance and a connected experience with other Galaxy devices. But which device is the best fit depends on the nature of your organization and goals. Here's a quick rundown of the most common ways that specific features in the Galaxy Book3 series portfolio align with specific business needs:
For small business power users: Galaxy Book3 Ultra
Samsung heard the call to provide a true enterprise-grade business laptop that's fit for the modern hybrid workforce and responded with Galaxy Book3 Ultra. Boasting a mobile-first thin and light design and a 14-inch by 16-inch FHD AMOLED screen, the Galaxy Book3 Ultra builds on Samsung's long track record of equipping the world's most ambitious SMBs for the future of work.
Shop special offers
Find out about offers on the latest Samsung technology.
See Deals
Speak to a solutions expert
Get expert advice from a solutions consultant.
Talk to an Expert
Those in senior roles like finance, for instance, are often focused on monitoring key performance indicators (KPIs) while staying in constant communication with their team. The Galaxy Book3 Ultra is packed with features to deliver ultimate productivity both in and out of the office. This includes AI tools to correct lighting and eye contact, a wide-angle FHD camera, and quad-core speakers for added sound quality.
Many business computing needs are highly specific, however, which means IT departments can't afford to be limited by off-the-shelf hardware. Galaxy Book3 Ultra addresses this need with upgradable and expandable memory and storage options, as well as multiple Thunderbolt 4, USB 3.2 and microSD ports for intuitive connectivity to a variety of peripherals. If you're a developer or creative professional, these specs matter.
Perhaps most importantly for business professionals with complex security requirements, the Galaxy Book3 Ultra protects critical data at every level. A hardware-based root of trust, for instance, validates basic input/output system (BIOS) firmware before the Intel Boot Guard. This is in addition to the hardware shield provided through Intel® vPro™ secure processor technology.
BIOS auto-recovery lets users revert to a copy of the BIOS in the event of a boot failure due to corruption. These features all helped the Galaxy Book3 Ultra achieve Microsoft's Secured-core PC certification to offer the maximum protection from Windows 11 Pro.
For knowledge workers, from the front lines and the back office: Galaxy Book3, Galaxy Book3 Pro
The onus on employers to drive engagement has grown a lot over the last few years, and not just in terms of offering remote work options. Microsoft's 2022 Work Trend Index found that 54% of managers believe their leadership is out of touch with employee expectations. Perhaps as a result, the risk of losing great talent continues, with 52% of millennial and Gen Z workers likely to consider switching to a new job in the coming year.
Delivering a great employee experience involves equipping everyone on the team with tools that make it easier to do their jobs — in other words, a PC that will run fast and reliably all day long, like Galaxy Book3 and Galaxy Book3 Pro.
SMBs can transition from legacy computers to Galaxy Book3 faster and easier than ever with Smart Switch. They can also rest easy about their data security since the device allows employees to log in with a fingerprint sensor and the Galaxy Book3 Pro is also a secured core PC. An enhanced cooling system adds to the performance boost provided by the 12th generation Intel® Core™ processor.
What's the best tablet for your business?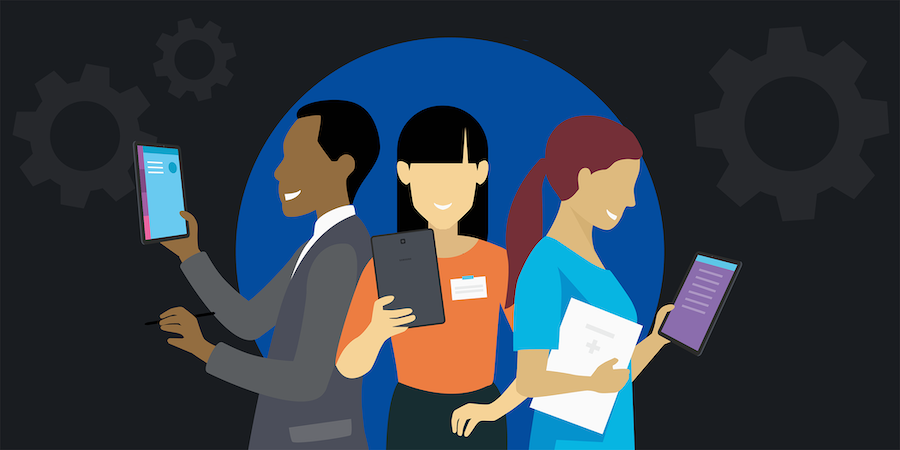 Take this quick assessment to see which Samsung tablet would best support your business needs. Download Now
For team members who are on the road more often, like sales reps, Galaxy Book3 and Galaxy Book3 Pro support low-latency Wi-Fi 6E, ensuring strong connectivity wherever you need it.
Both Galaxy Book3 and Galaxy Book3 Pro also provide seamless continuity with other Galaxy devices. So if an employee is wearing Galaxy Buds to listen to a call on their Galaxy S23 smartphone, for instance, they can move straight to their Galaxy Book3 once they're back at their desk without missing a beat.
For mobile workers and solopreneurs: Galaxy Book3 360, Galaxy Book3 Pro 360
Some industries have always been highly mobile, such as real estate, consulting and solopreneurs. They can't carry around a lot, and they need to be ready for anything.
The Galaxy Book3 360 is a good match for any customer-facing role where versatility is key. Beyond the traditional business laptop experience, the Galaxy Book3 360 offers a two-in-one form factor, with a rotating design that converts into a tablet. On the touchscreen, users can draw or take notes using the low-latency S Pen, which is now even faster than before.
The Galaxy Book3 360 and Galaxy Book3 Pro 360 make a great impression on customers and maintain built-in security, without sacrificing performance. Both models also offer connectivity tools like Quick Share, Link to Windows and Samsung MultiControl.
Having a Galaxy-connected experience proves valuable for highly mobile workers, too. Using Auto Hotspot, for instance, they can automatically connect their business laptop to their smartphone's internet connection without manually setting up their hotspot.
Galaxy Book3 360 and Galaxy Book3 Pro 360 devices also feature Tent Mode, which allows employees to fold their keyboard back and use the screen as a tabletop display when they're showing a presentation. This can be used in conjunction with Screen Share, which allows them to connect their business laptop to a Galaxy tablet when they need more space to collaborate or display content.
Companies of every kind have important decisions to make about how they should do business from here on. The Samsung Galaxy Book3 lineup provides plenty of business laptop options so they can empower their team to make those decisions.
Compare the features of the Galaxy Book3 series for yourself to see how any of these devices can help you stay connected, productive and creative from anywhere. And discover the exclusive discounts, financing and other deals available on Samsung business solutions through Samsung.com Advantage.