Buyers face a decision when considering many of the latest smartphones – get as much screen real-estate as possible, or focus on something a bit lighter and more easily pocketable?
Foldables like Samsung's new Galaxy Z Flip5 provide a sleek solution for those that want truly pocketable productivity solutions, letting you carry a big screen and tap into big capabilities, while retaining a sleek, slim form factor. Galaxy Z Flip5 is a fresh and exciting Choose Your Own Device (CYOD) option for business, with a clamshell form factor that provides greater flexibility at work, at home and everywhere in between. Here are five reasons why your team will flip for this phone: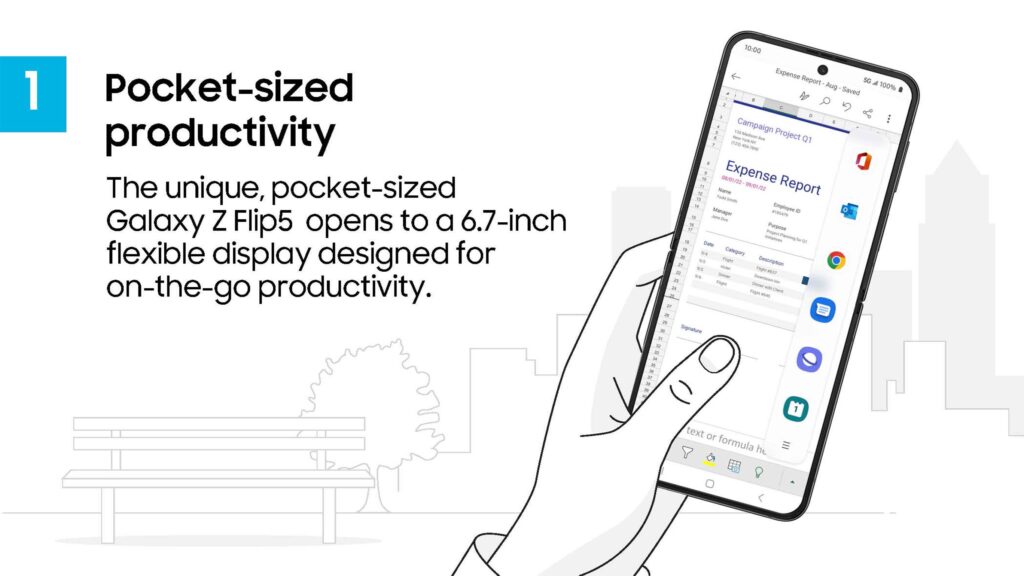 1. Pocket-sized productivity
Galaxy Z Flip5 is a small phone with big productivity enhancements and a beautiful design. Flipped open, the display measures 6.7 inches corner to corner, giving you plenty of room to get work done effectively. Folded shut, it's about half the size of a typical smartphone — but delivers pocket-sized power. Galaxy Z Flip5 is undeniably stylish, while also being durable thanks to an armor aluminum frame, Gorilla Glass Victus 2 display and IPX8 water-resistance rating.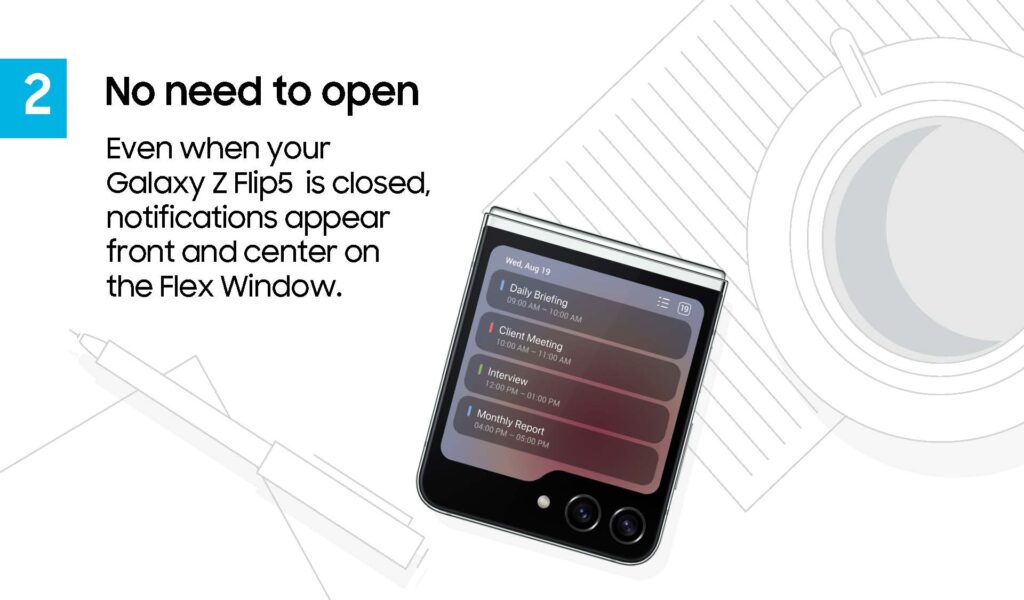 2. No need to open
Work doesn't stop when you close your phone. With Galaxy Z Flip5, your phone doesn't need to be open to keep you in the loop. The external cover screen, or Flex Window, is your notification center, delivering informative updates on its touch display. The Flex Window is especially helpful if you spend most of the day in meetings. You get the information you need at a glance, without distraction. You can also answer calls and respond to texts without even opening the phone. The Flex Window can show you the day's weather, upcoming calendar events, your daily steps in Samsung Health, favorite contacts to instantly call, your music player and other customizable widgets.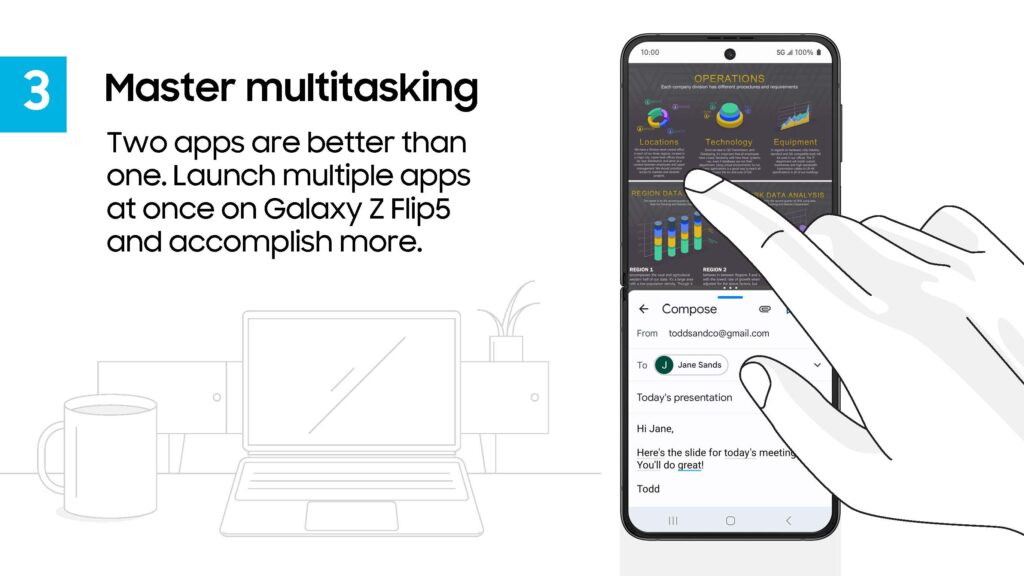 3. Master multitasking
Toggle less and accomplish more when you launch two apps at once on Galaxy Z Flip5. You can instantly access your go-to apps from the Edge Panel and start working in split-screen view. Edit a Word document in the built-in Microsoft Office app while you reference an email, side by side. Video chat in one window while following a presentation in the other. When a colleague confirms a meeting date over email, seamlessly send them a calendar invite.
The split screen capability also helps you maintain work-life balance. Go ahead, check your social media and work emails simultaneously.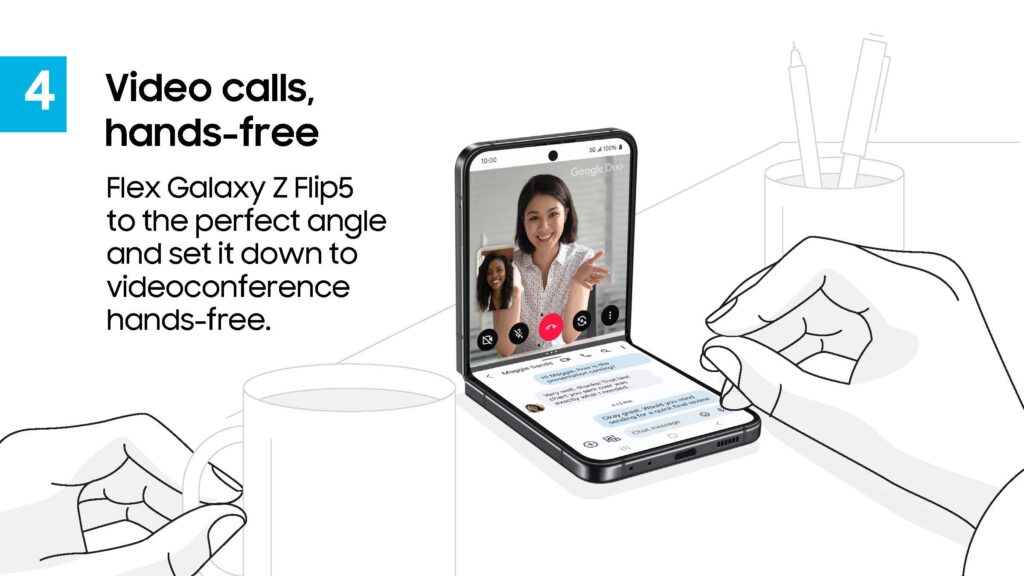 4. Video calls, hands-free
Videoconferencing is now an everyday staple for many businesses. When connecting from a smartphone, though, users are tasked with holding the device at the right angle to ensure they can be seen. Thanks to Galaxy Z Flip5's flexible form factor, you can now go hands-free by setting down the device in Flex Mode. Flex to the perfect angle, set it down and talk freely. Plus, you can easily multitask in Flex Mode by taking notes or viewing slides on the bottom half of the screen.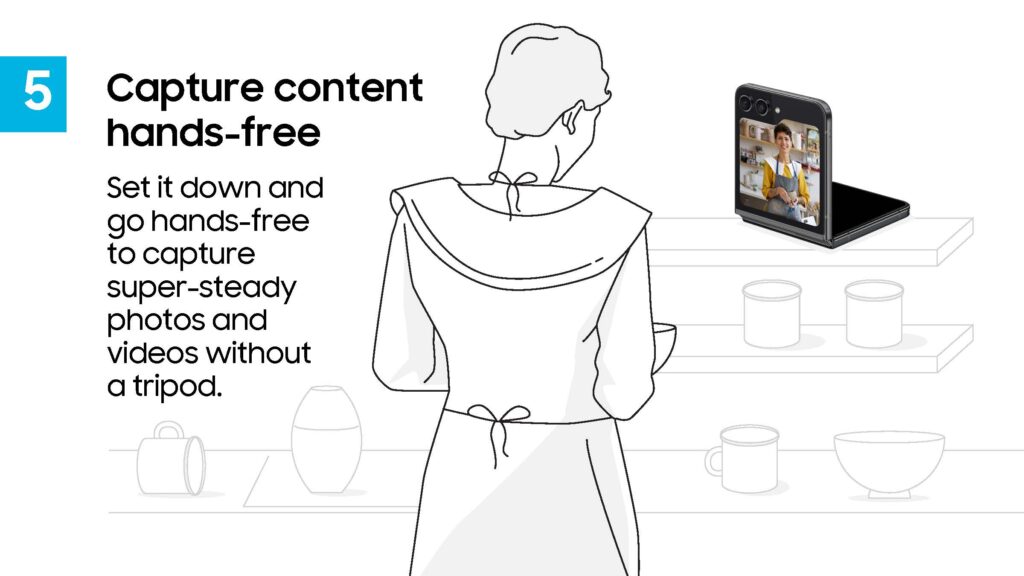 5. Capture content, hands-free
Capture the best of every day with Galaxy Z Flip5's intuitive camera system, which takes sharp, steady photos and videos with no tripod necessary. Impromptu selfies come out beautifully. In Flex Mode, the cover display preview allows for hands-free snaps, so you can capture the entire scene without your arm in the way. Portrait Mode is crisper than ever with enhanced AI processing, allowing you to change up your background and lighting effects to blend more naturally. Hyper-Lapse and Auto Framing make it easy to capture your best shot on the first take.
So long, boring work phone. Hello, foldable innovation. Galaxy Z Flip5 brings pocket-sized productivity to power big moves for employees, and workplace mobility for employers. It will make your team proud to be productive on the go and help them stay connected wherever they may be.
Sign up for a Samsung Business Account to get exclusive offers, including volume pricing discounts, on Galaxy Z Flip5 today. And as you set up your new device, make sure you secure the personal and work data on your mobile phone using this free guide.