Retail stores are now serving customers in many different ways — and relying on mobile-first strategies and mobile POS (mPOS) devices to make it all happen. Today's stores offer not just in-person shopping but the fulfillment of e-commerce orders via delivery and in-store or curbside pickup, as well as offering education, experiences and entertainment, all to keep customers engaged and loyal. An mPOS system helps ensure consumers get the shopping experience they're looking for.
Retailers of all sizes, from small and medium-sized businesses (SMBs) to enterprises, continue to invest heavily in mobile. According to RIS News' 2022 Store Experience Study, 53% of retailers already have mobile devices in place for managers, associates and consumer checkout, and 46% plan to invest in these solutions.
In comparison, currently, 45% have traditional POS hardware in place, with just 35% reporting purchase plans for these fixed-position devices. IHL Group says retailers are increasingly taking a mobile-first approach by linking web and cloud-based solutions to fixed hardware, such as cash drawers and printers.
What is an mPOS system?
The truth is, an mPOS system is a great fit for retailers of all sizes because of its ability to flip the script on traditional, fixed devices. What is an mPOS system, you ask? Instead of consumers approaching a counter and waiting in line for the retailer's staff to serve them, an mPOS system can make it all about the customer. Mobile devices are key to helping associates tailor customers' brand experiences to their individual expectations by accessing critical data and processing transactions wherever they're needed, whether in-aisle, curbside, in pop-up spaces or at outdoor markets.
Shop special offers
Find out about offers on the latest Samsung technology.
See Deals
Speak to a solutions expert
Get expert advice from a solutions consultant.
Talk to an Expert
There are lots of options for retailers thanks to the mPOS Samsung offers through the portability and flexibility of its phone form factors, such as Galaxy XCover6 Pro, Galaxy Z Fold5 and Galaxy Z Flip5, as well as retail-ready tablets, such as Galaxy Tab S9. Tablet functionality and performance can be further extended by transforming the device into a complete payment processing solution with full DeX capability.
Some of the most effective uses for mPOS Samsung solutions in retail include:
SMB POS: Traditional POS terminals are bulky, costly and stuck in one place. The Samsung Galaxy Tab S9 is the opposite: It's streamlined at 5.9mm and weighs only 498g. It's also low cost and flexible — retailers can place one in a mount on the counter and then pick it up and carry it in hand for use on the sales floor. It can be a cost-effective alternative to traditional POS, as mPOS devices allow SMB owners to conduct transactions without being tethered to a specific location or register.
POS for pop-ups: Pop-up stores surged during the height of the pandemic, and the concept appears to have staying power. Retailers of all sizes are increasingly taking their wares to customers, instead of just coaxing customers into stores. Setting up temporary POS in pop-ups, tent sales, sidewalk sales, farmers markets, enthusiast events, store-on-a-truck and other venues is a lot easier with the flexible, wireless mPOS form factor. This allows retailers to expand their brand well beyond the store. It's also a great way to test new concepts or markets or show off new products or collaborations.
Queue-busting: Long lines drive away customers. Retailers who can complete transactions on the spot, or scan and suspend transactions for payment at the POS, save the sale and keep customers satisfied and coming back. Associates can bring this level of convenience to customers with confidence, knowing that the mPOS Samsung is delivering through the Tab S9 includes a long-lasting 8,400mAh battery that will keep them going all day.
BOPIS/curbside pickup/deliver from store: The same mobile devices that process transactions can be pressed into duty to fulfill e-commerce orders. Store associates can receive the task, pick the items, and generate labels all from their mobile devices. RSR Research found 61% of retailers see high value in using mobile devices to alert employees of buy online/pick up in store (BOPIS)-related tasks. Fortunately, the Tab S9 features IP68-standard durability and an outdoor cover, which protects it as associates move from store to curb and back again. Connectivity options such as 5G and Wi-Fi 6E mean apps won't lag or cut out, either.
Store-within-a-store: Leasing space within another store as a guest vendor can be a great way to test new markets or run limited-time events. Using mobile transaction solutions means easy setup and take-down, without the need to run wiring or cabling. You can easily set up the Tab S9 as a kiosk to provide self-service capabilities such as product lookups.
Clienteling: High-touch business models such as luxury apparel or furniture retailing depend on delivering an elevated customer experience. Mobile POS enables retailers to bring the service to the customer. By sharing a tablet, a store associate and customer can view purchase history, explore options and accessories, scroll through a lookbook, sign documents and complete the transaction, all on the spot. The Tab S9 enhances clienteling thanks to a large 11-inch Dynamic AMOLED 2x display, so everyone can easily see what they need. The Tab S9 also supports pro-level apps like GoodNotes, so associates can jot down reminders and follow-ups using the S Pen. That's the sort of convenience that increases conversions. In Europe, for example, 71% of fashion retailers have invested in in-store technologies including mobile clienteling, and 59% anticipate empowering store associates to become concierge-like consultants.
Associate enablement: mPOS devices have grown into multifunction devices that empower associates and managers with the information and apps they need to do their jobs better. The Tab S9's Galaxy Connected Experience, for example, means associates will easily be able to manage a single, streamlined workflow as they move between their tablet, mobile device or even a Galaxy Watch. The new MultiControl feature will even let them control their mobile device with their tablet's keyboard and trackpad. The most successful retailers ("Winners," according to RSR) will rely on these kinds of mobile capabilities to empower associates. "Aside from systemized order fulfillment capabilities and visibility into key information assets … Winners look to offer employees peer-peer communications via mobile devices, mobile POS, and mobile-enabled scheduling and task management capabilities," RSR analysts found.
How mature is your in-store mobility?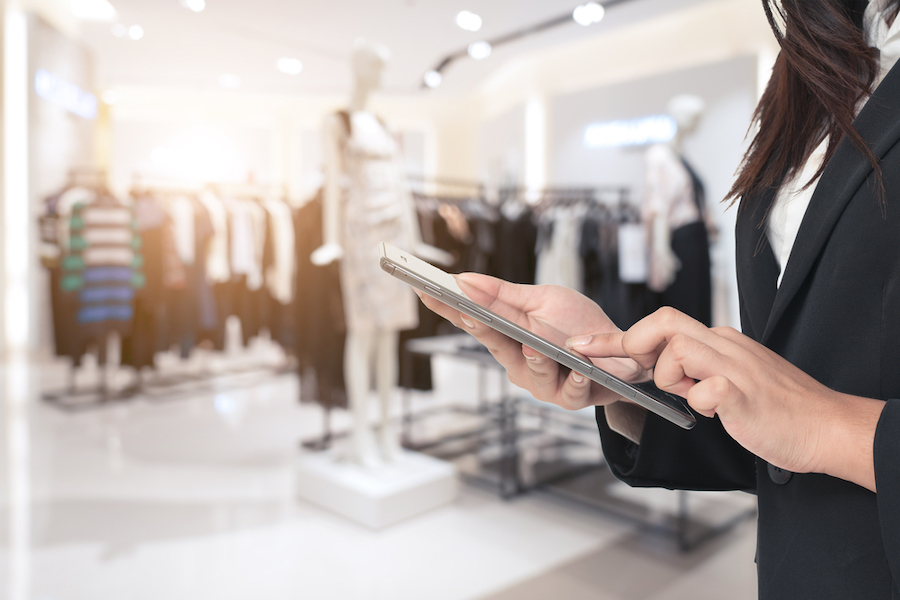 Evaluate your retail mobile initiative to learn how it can better support great customer experiences. Download Now
Maximizing mPOS benefits
Going mobile-first gives retailers the flexibility to deliver the value their customers are demanding. To maximize the benefits of their investments in mobile, retailers should articulate what they want their unique brand experience to be and determine how mobile devices can best support that mission. Other steps to success include:
Consider the range of current and future use cases to identify the right form factor
Work toward bringing real-time data to devices to enable the brand experience
Ensure features and functionality support their priorities, whether that's increasing speed of service, providing high-touch engagement or extending the POS to diverse locations
Retail Consulting Partners' 2022 POS & Customer Engagement Report says retailers are increasing investment in mobile POS thanks to the versatility, multipurpose capabilities and lower costs of mobile devices. According to the report, "The promise of fully mobile POS solutions has been around for at least the last decade, but it has only been in recent years where we are beginning to see the true vision for a mobile POS platform having its benefits fully realized." That's the kind of mPOS Samsung, through devices like the Tab S9, is making available for retailers today.
Discover more mobile retail solutions designed to help you reconnect associates and consumers, your way. And get your free guide to empowering retail associates with mobile devices and data.