Digitalization is introducing a new era in insurance claims management. Workers have evolved to digital-first, and connected customers expect their insurance firms to provide personalization and quick and proactive responses, giving consistent answers and ultimately solving their problems.
Still, today, the insurance claims process can be cumbersome to the claims adjuster. Their workflow overlaps and alternates between using a mobile device in the field and a laptop in the car or office. Their hardware is not optimized for use on the road or as a field-ready solution, and tools and equipment carry high operating costs. Claims adjusters grapple with these imperfect technology solutions while working with people who have experienced a disruption in their lives and are seeking a timely resolution to their claim.
With the right technology partner and solutions, claims adjuster teams can streamline the workflow to help employees increase efficiency and productivity; empower associates with a single multi-functional secure enterprise-grade device at a lower cost of ownership; and have the right tools to manage and analyze associates' devices and the network they rely on.
Samsung's hardware and software solutions can help improve and streamline today's often-unwieldy claims process. Here's how Samsung's mobile technology can optimize the claims process for your insurance adjusters.
1. Leverage the power of Samsung and Android through Galaxy devices
The full product line of Samsung Galaxy mobile devices — including the rugged phones able to withstand extreme temperatures— offers a diverse array of smartphones, tablets, foldables, and wearables that help unlock your employees' productivity in the office and at the claim site.
Shop special offers
Find out about offers on the latest Samsung technology.
see deals
Speak to a solutions expert
Get expert advice from a solutions consultant.
Talk to an expert
For example, the available S Pen with Samsung DeX and Microsoft integration turns any Galaxy device such as the latest Galaxy Z Fold5 into a mobile productivity powerhouse, with the ability to capture signatures and mark up documents and images. For capturing information on-site, Galaxy devices offer some of the highest-quality HD cameras and displays on the market.
2. Provide unprecedented mobility and value through DeX in vehicle
Through Samsung DeX, adjusters can connect Galaxy devices such as Galaxy Z Fold5 and the Galaxy S23 series to any screen for a mobile-powered desktop computing experience.
This is increasingly helpful for many claims adjusters who work off a rugged laptop in the vehicle. They pay for OS updates and wait through a five- to eight-year average timeline for recycling hardware.
However, using Samsung DeX can enable full mobility. In a vehicle, a rugged touchscreen monitor is paired with a keyboard and touchpad and then connected to a Samsung tablet or smartphone. There are regular OS updates through Android, shorter hardware cycles of one to two years, and lower average initial costs than most laptops. The DeX offering includes a desktop UX for Android apps, including the Microsoft and Google Workspace, virtual desktop environments, and videoconferencing.
3. Empower claims adjusters with one Samsung mobile device
A Samsung tablet or mobile phone, partnered with DeX, can help your claims adjusters in several ways:
Improve EX and CX by seamlessly transitioning from mobile to desktop on critical applications. The mobile device can also provide push notifications, paperless documentation, route optimization, and a way to manage tasks.
Reduce costs by providing a way to connect to networks, make video and audio recordings, capture photos, and connect to a printer, all through one device.
Enable Know Your Customer by helping claims adjusters scan IDs and documents on the go, and use the S Pen to accept signatures and mark up documents.
4. Partner with insurance ecosystem partners
Claims adjusters use several software and hardware solutions specific to the industry. In addition, Samsung's mobile devices and software solutions can seamlessly partner with them to improve your adjuster's productivity.
Claims adjusters can secure their Samsung mobile device in a vehicle with Ram Mounts rugged keyboard, pad, mount, and strap. In addition, virtual desktop infrastructure apps and key claims adjuster apps are optimized for DeX, including Citrix, VMware, Guidewire, and Verisk.
The home office can securely manage and deploy all these apps with the Samsung Knox security platform built into all Galaxy smartphones, tablets, and wearables. Future-proof connectivity via Wi-Fi 6 and 5G and enjoy a simple deployment model with lower TCO in a solution optimized for enterprise applications.
What's next for the future of finance?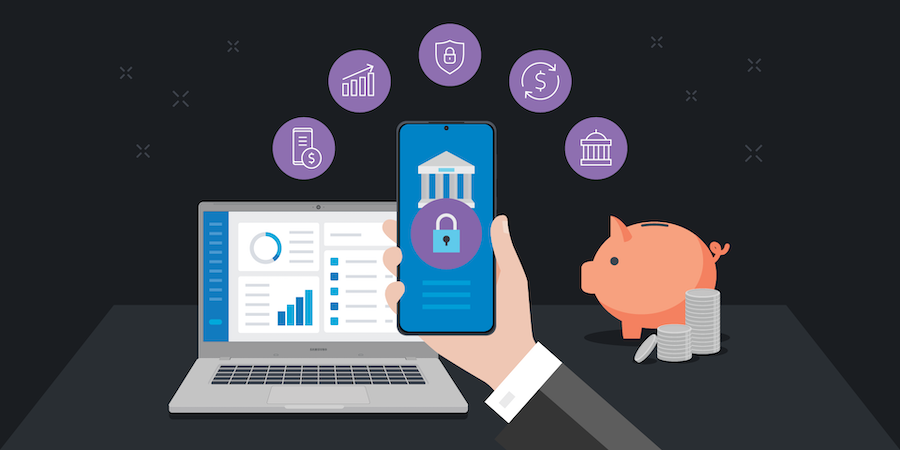 Samsung surveyed 1,000 finance professionals about the future of mobile tech. Here's what they said. Download Now
Other partners in the Samsung ecosystem include IBM, Targus, Salesforce, Otter Box, and ServiceNow.
5. Optimize the insurance claims process
Providing your insurance adjusters with a Galaxy mobile device can optimize the broader claims process across analytics, information security, and agent support in the following ways.
Data analytics
Samsung's Knox Asset Intelligence provides insight into application-based usage and network utilization, hardware-based analytics and real-time location monitoring.
Information security
This includes hardware-backed security in conjunction with your MDM, secured shared associate access, and Zero Trust security enablement.
Agent support
This includes remote log capture for IT admins, access to a mobile IT helpdesk, and Push to Talk with Microsoft Teams.
For a full overview of all Samsung technology solutions for the Finance industry, please visit this page. And sign up for a Samsung Business Account to get exclusive offers, including volume pricing discounts, on our Rugged devices, as well as our newest devices like Galaxy S23 series, Galaxy Z Fold5 and Galaxy Z Flip5.