When you invest in the right mobile device, employees can do everything from updating sales data in the company CRM to approving the latest email blast in their marketing automation platform. Once they're in front of customers, however, a tablet can offer a larger display to showcase important information. Then, when it's time to listen to a conference call or tune into a webinar, they need a good set of wireless earbuds.
Success on the job, in other words, depends on employees being equipped with all the essentials. This includes a mobile device with the tools your team needs, a tablet for business tasks and earbuds for workday communications that can switch between both devices seamlessly. That's exactly what Samsung is delivering with its latest family of Galaxy Fan Edition (FE) devices, such as the Galaxy S23 FE mobile device, Galaxy Tab S9 FE and Galaxy Buds FE.
Here's a quick rundown of what you should know about each of these devices:
Galaxy S23 FE
With more businesses embracing a hybrid work model where employees could be doing their jobs from multiple locations, Galaxy S23 FE is an affordable smartphone packed with features that make it epic for your team.
Shop special offers
Find out about offers on the latest Samsung technology.
see deals
Speak to a solutions expert
Get expert advice from a solutions consultant.
Talk to an expert
Running a Snapdragon 8 Gen 1 processor and boasting a long-lasting 4,500mAh battery, for example, the Samsung S23 FE delivers the premium performance businesses need and expect. It also enables powerful productivity thanks to a 6.4-inch Dynamic AMOLED 2X display, AI-powered editing tools, integration with Microsoft 365 and the ability to enjoy a desktop-like experience with Samsung DeX. IT departments, meanwhile, will appreciate the S23 FE's leading security features based on Samsung Knox, Knox Manage, a Privacy Dashboard and Secure Folder to keep corporate data and content safe. The mobile device also works seamlessly with Galaxy Buds FE for an easy way to tune in to calls or conferences and get even more convenience out of your S23 FE device.
Galaxy Tab S9 FE
While they may have once been considered a nice-to-have or an "extra," the Samsung Tab S9 FE elevates the expectations of what a business tablet can and should do.
Customers, for example, will be better able to take in details about your business's products and services on the Tab S9 FE's 10.9-inch display. Employees can use the included S Pen to stay organized and focused by taking handwritten notes or drawing around key points in a presentation to highlight them. Throughout their workday, team members can also benefit from using Tab S9 FE as a second screen and using features like Quick Share, Call Continuity and Multi-Control. Pair your Tab S9 FE with Buds FE and switch between devices easily for seamless communication and connectivity throughout the FE family.
This is a device that needs to be just as connected and secure as a smartphone, of course, and the Tab S9 FE covers that with the same Knox security, a battery that lasts up to 20 hours and increased durability that meets IP68 standards.
Galaxy Buds FE
It doesn't matter whether you're working in a busy office, a coffee shop or at home with your family, distractions are everywhere. In that sense, Galaxy Buds FE fit perfectly into your business, giving your team the essential devices to collaborate or lock in for deep, focused work.
What's the best tablet for your business?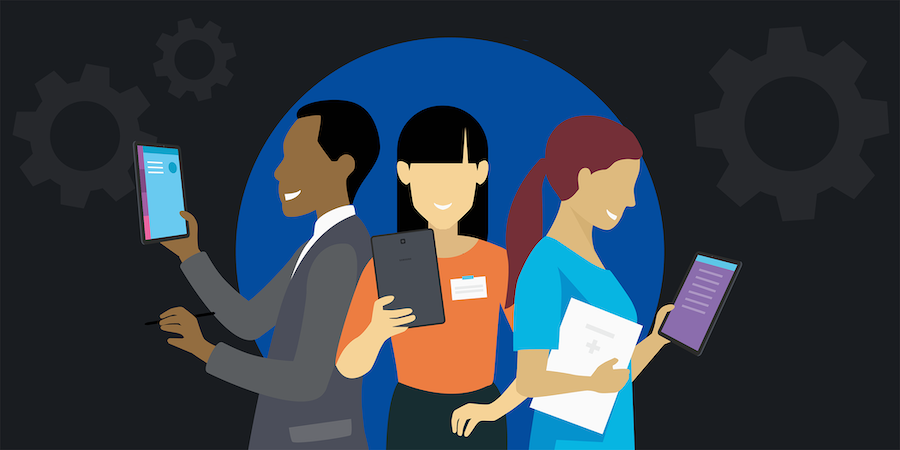 Take this quick assessment to see which Samsung tablet would best support your business needs. Download Now
This includes clear conferencing via active noise cancellation, for example, as well as a powerful speaker. Buds FE also provide a comfortable secure fit with a new wing tip and automatic pause/resume feature. Like all the latest FE devices, one of the best advantages of Buds FE is that they offer connected synergy with the entire Galaxy ecosystem. In other words, employees can enjoy easy pairing and auto-switching with their S23 FE and Tab S9 FE. If a team member misplaces their Buds FE, meanwhile, they can locate them using SmartThings Find with lost mode.
Think of them as the connective tissue between S23 FE and Tab S9 FE, as Buds FE help improve the performance of the whole FE family.
When will the latest Galaxy FE devices be released?
If you're ready to begin arming your team with the latest Galaxy FE family, the good news is that you won't have long to wait.
The rollout will begin on October 3, 2023, when both Galaxy Tab S9 FE and Buds FE will be available through carriers such as Verizon, T-Mobile and AT&T. And just a few days later, you can get these devices directly through Samsung.com on October 10.
This will be followed by the official release of Galaxy S23 FE on October 27.
To stay updated so you're ready to buy when the latest Galaxy FE devices are available, create a Samsung account.