Direct view LED (DVLED) video walls represent a major investment from businesses, so finding the right LED video wall supplier and partner to provide the ideal viewing experience for your company is a big step.
Here are five key considerations that will help buyers make well-informed decisions.
1. Pixel pitch viewing distance
Pixel pitch — or the distance between adjacent LED lights — is a buzzword manufacturers flaunt, but what exactly does it mean for your project?
In simple terms, the finer the pitch, the closer viewers can be without seeing the individual LED lights. A common guideline is that a comfortable viewing distance equates to 8 feet for every millimeter of pitch. So a 1-millimeter pixel pitch display looks good as close as 8 feet away, whereas a 2.5-millimeter LED display is best seen from 20 feet or further back. When viewers are closer than the optimal minimum viewing distance, our eyes start to see the individual LED lights, and the viewing experience is degraded.
If your audience's vantage point for your LED video wall is 20-plus feet away, you can opt for a larger pixel pitch. But if your LED video wall is an integral part of your space, such as the display in an executive boardroom or one on the floor of your retail store, a video wall like the Samsung All-in-One LED IAC, which has a 1.5-millimeter pixel pitch, is ideal.
2. Desired resolution and clarity
No DVLED project should get underway until there is a clear sense of the type of content to be shown, and what that means in terms of resolution. Display technology has evolved a lot in the past few years. Now, 4K has become standard, while 8K is stepping up as the next-generation viewing experience.
How to plan and deploy direct view LED signage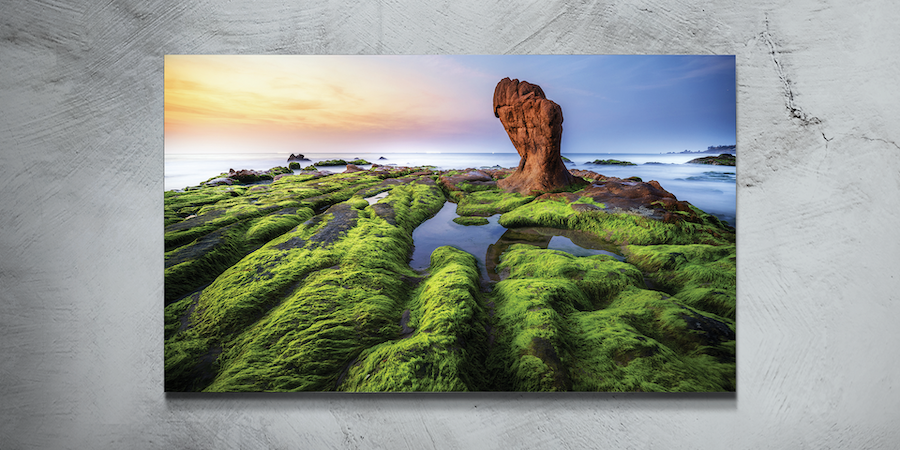 Everything you need to know about choosing your LED displays for optimal viewing indoors and out. Download Now
Pixel pitch and resolution, or how many pixels are arranged in a specific area, tend to go hand in hand. If your audience is looking at the LED display from a distance, you may opt for a 2K (also known as Full HD) or 4K resolution. If you want to deliver a jaw-dropping viewing experience from any angle, 8K may be your preference.
But there are other factors that can affect how images appear on your LED video wall. MicroLED, the leading LED technology on the market, is made of light-emitting pixels that create clear, crisp visuals regardless of the resolution. Advanced picture features, such as HDR image enhancement and Ultra Chroma technology, help deliver true-to-life colors that pop, while AI processing refines and enhances resolution for optimal viewing.
3. Customer support and supply
There are hundreds, if not thousands, of LED video wall suppliers, display manufacturers and resellers globally. A small fraction are well-established global consumer and professional electronics brands, and another percentage are well-established specialty display companies that have long put a focus on LED. Many others are small overseas companies that focus on low cost above all else.
In choosing an LED supplier, buying on price alone is seductive, but risky. Here's why: When there are problems, customer support could be as many as 12 time zones away and potentially unavailable in fluent English. Some of these companies may have offices in North America and Europe, but even when they exist, these are frequently sales offices not staffed by technical experts who can provide help.
How to plan and deploy direct view LED signage
The lower price inevitably means corners are cut to keep costs down in the manufacturing process, and that's reflected in the quality of components used. LED experts often refer to something called binning: the classification of the tiny LED lights by their light output, voltage and color properties.
Top manufacturers use lights from narrowly defined bins so there's uniformity across the display modules and any replacement modules will match up. Low-cost manufacturers select from much broader bins and use lower-quality LEDs, resulting in displays that don't look as good from the start, and can look particularly rough when replacement modules are added and match up poorly with the original display setup.
4. Serviceability
In most commercial installations, space is at a premium because of the cost per square foot. Setting up an LED video wall that requires access from the rear to get at the electronics and connectors means the video wall has to be bumped out a foot or two from a structural wall so technicians can do the initial installation and servicing. That space is no longer usable for anything else.
If a rear-serviced wall is built and then pushed in to adjoin with a structural wall, that video wall will need to be partially or fully dismantled to get at the electronics whenever problems arise — causing lengthy outages and substantial disruption to the environment.
By comparison, front-serviceable displays allow the individual LED modules to be removed using a magnetic tool that pops them out individually, in a matter of seconds, with no disruption. Front-serviced displays also minimize the necessary footprint of a direct view wall, with just enough clearance required in the rear to allow airflow for cooling.
5. Regulatory compliance
Another way offshore companies keep costs down is by ignoring certification processes for electronics, most notably the U.S. Federal Communications Commission (FCC) regulations that require electronic equipment, such as DVLED displays, to be tested to ensure they're not radiating interference that exceeds specified levels.
That interference can affect everything from cellphone networks to mission-critical operations like airport control tower communications.
The FCC has been cracking down on LED manufacturers and resellers who are marketing products without certification, or whose certification is fabricated. Recently, several companies have been issued substantial fines. Well-established manufacturers, by comparison, have any necessary certifications fully in place. Plus, many have systems in place to help with any permitting required to install the display.
There are other considerations that can affect decision-making, but starting with these five can help set buyers on the right path.
Discover the All-in-One LED IAC, and get our free guide with everything you need to know to initiate your LED digital signage deployment.