Password management is a ubiquitous problem. According to a Gigya survey on user password habits, only 16 percent of consumers said they use a unique password for each online account, while six percent said they used the same password for all accounts and 63 percent said they use seven or fewer passwords across all accounts.
Given the headache involved in remembering or keeping track of numerous passwords, these stats aren't surprising. For businesses that need to ensure security, many are turning to options such as biometric scanning, which offers password-free authentication.
The CIO's Burden
In my conversations with CIOs, CTOs and mobile technology executives, one common thread I hear is the paradox of meeting corporate security requirements while satisfying the user base. One CIO told me that the top user complaints directed toward his department are around the annoyance of password resets and the multiple levels of authentication required to access corporate systems.
Another CIO told me that one of the most common passwords from users was "IHATEIT." This backlash from the user community is non-productive and was taking a serious toll on the morale of his staff. But he also understood that easing up on security requirements could put his company at risk.
Implemented appropriately, biometrics could solve both sides of this problem.
Is Biometric Scanning More Secure?
Different from passwords, which are easy to hack, biometric scanning relies on personalized features that are difficult to duplicate: fingerprints, facial or iris scanning. It also doesn't require consumers or employees to keep track of or remember a sequence of numbers, letters and characters — easing that most common password management challenge.
Concerns have been raised that fingerprint scanning, one of the most common forms of biometric authentication, can be vulnerable to hackers who duplicate a person's prints. While improved sensor technology continues to address these concerns, the emergence of iris scanning as a viable option offers a more secure form of authentication, especially for high-security industries like government, finance and healthcare.
Built With an Eye on Security
Unlike fingerprints, which can be reproduced using molds or 3D prints, iris scanning is considered one of the most advanced biometric technologies on the market. And when the technology is built on a trusted platform with advanced security features, including device- and server-level security, such as FIDO (Fast Identity Online) protocols with PKI (public key infrastructure) cryptography for safer validation of authentication, iris recognition offers the highest level of security — and it's nearly impossible to counterfeit.
Secure Your Business Data With Biometrics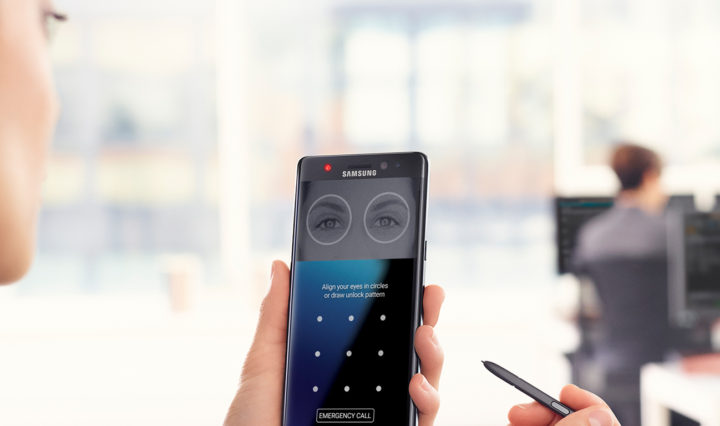 Explore the possibilities of biometric authentication in this white paper. Download Now
Another advantage of iris scanning is that it provides users with a hands-free alternative to device authentication. As voice-recognition and artificial intelligence technology continues to evolve, mobile device users are moving toward voice-activated, touch-free interactions with their devices. As a result, they will want login authentication experiences that mirror how they most commonly interact with their mobile tools.
Additionally, in some work environments, having a hands-free authentication option can enhance productivity by allowing employees to continue working while still being able to access their device to look up data.
Customized Experience
Using biometric scanning, such as iris recognition, can also enhance customer engagement. With the proliferation of user login requirements for access to online applications, frustration with not being able to easily gain access to online applications has grown. In fact, 55 percent of users say they have abandoned a login due to a forgotten password, according to Gigya's survey.
Businesses can elevate the customer experience by creating a customized biometric scanning experience for their users. Through the collection of device-level data, such as biometric template usage, business can further determine what type of UX design, such as pop-up or notification bar — is most effective and engaging to employees and customers.
Businesses that innovate and make password management and login authentication easier for consumers and employees will see growing engagement and improved security. Equally important, users will be more likely to complete payment and other secure transactions rather than abandoning them in frustration over a forgotten password.
As biometric scanning continues to evolve, it will offer more benefits to businesses, including enhanced security, increased customer satisfaction and most importantly, bottom-line growth.
Are employees your weakest link when it comes to mobile security? Learn how to develop a mobile security strategy for your business that doesn't limit employee productivity.