We rely on our phones for just about everything — from communicating with clients and managing our calendar, to answering urgent business emails. But the reality is that there are some things, such as creating a PowerPoint presentation for your sales meeting next week or editing a report, that are easier and more conveniently done in a desktop environment with a full-size monitor, keyboard and mouse.
But what if you could enjoy a desktop experience powered by your phone?
Mobile phones are the most ubiquitous devices on the market. According to Pew Research Center, in 2015, more people owned a mobile phone than a desktop or laptop. Given the strong user preference for mobile devices, it only makes sense to enable them to do more, so they become even more integrated into the business professional's daily workflow.
Advances in mobile computing are unleashing new possibilities for handheld devices. The Samsung Desktop Experience, better known as Samsung DeX, harnesses this potential to deliver a simple and convenient desktop experience.
A Desktop Experience From Your Phone
Imagine a sales rep or other mobile worker who spends 80 percent of their day hopping between various offsite meetings, but knows that at some point during the day they need to drop by the office to write a report or update a spreadsheet. Dragging a laptop along, which also means bringing an entire bag to actually carry the laptop, just so they can complete a few key tasks is less than appealing. I know – I do it constantly while I go to and from the Samsung 837 Washington office, customer meetings and my tiny Manhattan apartment.
But with the launch of Samsung DeX, getting work done with just the device in your pocket is not only possible, but is super simple and convenient. There's no need to transfer data or files to a separate computer. All you need is access to a monitor, keyboard and mouse — something that the hoteling cube, or "hot desk," in my office has. And, something I also have setup at my home office.
Mobile Desktops Are the New Survival Tool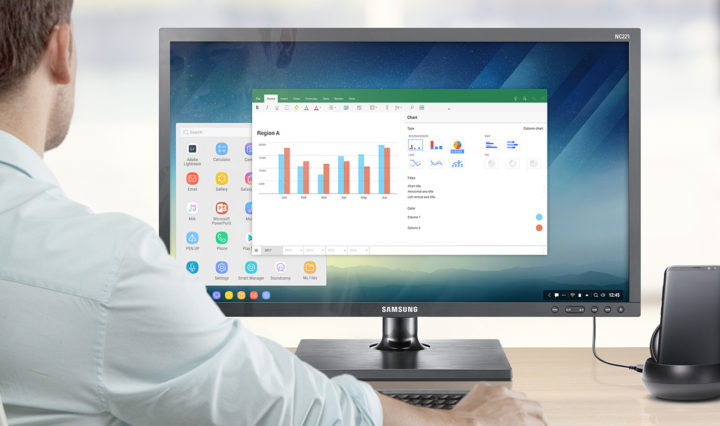 Here are three ways they can help save you time. Download Now
All you need to do is dock your Samsung smartphone into the DeX station, which connects to a HDMI monitor and your choice of Bluetooth, USB or RF keyboard and mouse. You'll be presented with an intuitive desktop home screen that allows you to open and resize multiple windows and use keyboard shortcuts and mouse inputs such as drag-and-drop, right-click for contextual menus, zoom and scroll. The experience is so seamless, you'll sometimes forget you're working from your phone.
Access the Apps You Need Most
Still wondering how you can work from your device even if it's connected to a monitor and keyboard?
Samsung DeX not only lets you access Microsoft Office and Adobe apps, but does it an optimal desktop UX for those apps. You get a desktop experience from your smartphone— with apps and websites appropriately scaled for a desktop experience.
Need to access your work desktop through a virtual desktop (VDI) solution to keep corporate information secure? Just like on a desktop, mobile computing with Samsung DeX is optimized to work with virtual desktop solutions, including Citrix, VMware and Amazon. All you need to do is dock your phone into a DeX station, log in to your virtual desktop and start working. And since Samsung DeX is powered by your Samsung smartphone, which has Knox security built-in, it is super secure. Also, keep in mind, since everything is on the phone and/or in a secure back-end environment, once you leave your workstation your data isn't left behind – it stays with you.
For instance, if you're home from work for the evening but get an urgent request from your boss to finalize a sales report before a meeting the next day, you can quickly and securely access the corporate network on your phone through a secure virtual desktop or even through Samsung's Knox Workspace. Just open the spreadsheet you need to complete the report, finish the presentation and email it to your boss for review, without having to wait for your laptop and desktop apps to boot up.
Simple and Convenient
The DeX solution extends an organization's mobility investment by providing users a simple and intuitive desktop experience. In particular, it offers a smart computing alternative for businesses looking to maximize physical office space by utilizing hoteling stations for highly mobile employees.
If you simply want to catch up on some work while in the office or at home, Samsung DeX makes your mobile device a more convenient productivity tool. Whether you use it as just a smartphone or to power a desktop experience, you get to decide when you want to use it — and that's pretty cool!
Make your phone your PC with the Samsung DeX solution, which allows for a rich, desktop-like experience.