Current trucking technology such as telematics and fleet management solutions are key factors in the autonomous trucking revolution that could reshape the logistics industry. Industry analysts IHS Automotive estimate that sales of autonomous vehicles could reach 60,000 per year by 2035, or about 15 percent of Class 8-weight segment sales, according to a report from the American Transportation Research Institute. However, that does not take into account aftermarket technology that could be installed on existing vehicles to provide some level of autonomous operation.
At the end of 2016, there were approximately 3.46 million Class 8 trucks in the U.S., so it may be a few years before self-driving trucks represent a significant portion of the overall fleet, the report notes.
Still, this technology can help address the growth not just in consumer vehicles, but also in the transportation industry overall. Automated trucks will address several challenges that the trucking industry is simultaneously facing: hours of service, safety, driver shortage and fuel costs, explained Roland Berger.
Technology Horizons
The level of vehicle automation ranges from zero to five, according to the Society of Automotive Engineers. A basic truck with no automation is Level 0.
Many trucks today are at Level 1, which offers a basic level of driver assistance such as adaptive cruise control, but the driver is still gripping the wheel. Truck platooning, in which two or trucks are linked electronically, can be achieved at Level 1 because both drivers remain responsible for steering the trucks.
Level 2 offers partial automation but the driver is still fully engaged. At Level 3, the driver may not have hands on the wheel and feet on the pedals at all times but can quickly resume control when needed.
Mobility Is Changing the Transportation World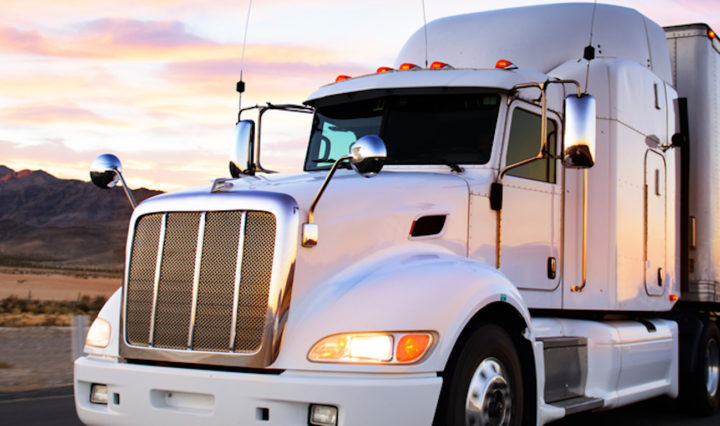 Download the eBook for a guide to everything new in fleet technology. Download Now
Full automation comes at Level 4, in which the driver is not expected to monitor road conditions during automated mode. At Level 5, an onboard driver may not be necessary, as the fully automated truck can handle complex operating conditions such as bad weather on its own. High-level autonomous driving requires an array of onboard sensors, such as radar, lidar and cameras that can detect roadway edge lines and traffic lights as well as pedestrians and other vehicles.
Currently, concept vehicles like Freightliner's Inspiration Truck rank at Level 3 on the autonomous vehicle scale because they can operate autonomously, but require driver oversight.
Going forward, digital mapping will be key for automated driving so systems can include up-to-date information on lane closures, work zones and weather for drivers.
Business Case for Autonomous Trucks
For a trucking fleet, the current primary benefits of autonomous vehicles are reduced expenses for drivers and fuel, and improved safety. With incremental savings from other aspects such as reduced maintenance and insurance costs, it's estimated that automated driving will save about $1.67 per mile compared to standard trucks, Roland Berger explains. The firm estimates that a Level 5 autonomous truck will cost $23,400 more than a Level 0 vehicle due to the incremental costs of hardware and software.
The best use case scenarios are hauls up to 2,000 miles and medium runs up to 400 miles, paid for in about three years with fuel savings from extensive platooning operations. The investment in automated trucks won't pay for shorter regional moves, according to Roland Berger researchers.
One of the biggest challenges facing trucking companies is driver recruitment and retention. Less stressful driving conditions — automated by technology — could lead to increased driver comfort and safety. High-tech trucks could attract a new population of drivers, including women, as well as make it easier for experienced drivers to continue working because they could have fewer motor vehicle infractions, reports Trucks.com.
Building for the Future
At this point, many of the technological building blocks are already in place, such as advanced automatic transmissions, adaptive cruise control and automatic emergency braking. Autonomous trucks also will rely on technology solutions such as telematics, connectivity and routing and dispatch software. The "future of our industry [is] evolving in front of our eyes," said John Graham, CEO of Omnitracs, according to Transport Topics.
Recently mandated electronic logging devices that transmit and share data from the vehicle are another key component trucks will already have in place to support intelligent transportation systems. In Europe, about 25 percent of all truck mileage is on deadhead runs, according to Daimler, and the company says improved telematics and fleet management connectivity can help logistics companies improve utilization.
Eventually, automated vehicle and load tracking will support automated freight matching, according to PwC Strategy&. Sophisticated matching systems could support a hub-and-spoke freight system, similar to the airline industry.
By making connected trucks a part of every day operations, telematics and fleet management tools will help lead the way to the next phase of the logistics industry. Using this technology will not only let companies truck more efficiently — but smarter.
Advancements in digital technology are dramatically improving fleet management and telematics. Learn how you can boost fleet productivity with innovative digital solutions.