There are two environments that dominate the IT roadmap discussions these days: mobile apps and legacy Windows. Windows is not going anywhere. It remains a part of business culture throughout the world; a set of tools that are as common as the screwdrivers found in the tool chest of any skilled tradesperson. Mobile apps, on the other hand, are the shiny new toys that can free our users from the tethering effect of traditional Windows. And they are maturing to accommodate larger screen sizes, even keyboard accessories.
But why haven't mobile apps fully replaced Windows apps? The way I see it, Windows apps have one key attribute that mobile apps struggle to provide: a proven GUI (graphical user interface) that masters the art of multitasking within an environment that can scale to meet some of the most difficult and complex computing needs. This expansive desktop platform is designed to accommodate the use of most non-mobile I/O accessories, such as full-size desktop monitors, keyboards with numeric keypads, wheel mice, mouse pads, keyboard trays, smartcard/badge readers, printers, VPNs, and so on.
Barriers Between Mobile and Enterprise
With that said, we need not kid ourselves about the limitations of mobile apps. It comes down to this — mobile apps are more practical for content consumption, whereas legacy Windows apps are more practical for content creation. Both can be considered tools for increasing productivity in business, but each have distinct attributes that address two different sets of mainstream use cases.
This begs the question: How do IT administrators integrate the two environments, or can they? The short answer is that they don't. Both environments remain physically isolated from one another. Mobile apps are the tool of choice for smartphones and tablets, while legacy Windows apps are preferred for stationary workspaces. Users are forced to physically toggle between devices and environments, often duplicating the process of sharing or viewing multiple data sources. This requires users to be equipped with two to three devices: typically a dockable laptop PC for content creation, along with a smartphone and/or tablet for mobile access while roaming. As a result, IT organizations are supporting PC and mobile IT environments that are separate and distinct, each requiring a different set of tools and skill sets to maintain, and forcing IT staff to wrestle with the complexity of supporting multiple types of unique endpoint devices.
Smartphone or Productivity Tool?
This brings us to the $64,000 question — does the new Samsung DeX solution, which enables business users to dock their smartphones into a workstation to access a complete desktop experience, help to integrate these two environments?
To answer that question, we have to explore the Samsung Galaxy S8 and some of its key components. First is the DeX station, which serves as a dock for the Galaxy S8 and offers I/O connectivity to a full-size monitor via an HDMI output, charging through a power port, Ethernet via RJ45 (if needed), and either wired or wireless keyboard and mouse via USB. Once docked to the DeX station, the Galaxy S8 automatically goes into the DeX mode. DeX mode opens a desktop-style interface on the connected monitor. Instead of mirroring the Android mobile interface, however, DeX mode transforms the UI to appear and behave like a traditional PC desktop, including such features as a Start menu, right-click functionality, cascading window and task bar popup notifications. Thanks to an open API from Samsung, many applications have already been optimized for DeX, offering additional screen sizing/placement functionality when they're in DeX mode.
Increase Productivity With a Mobile Desktop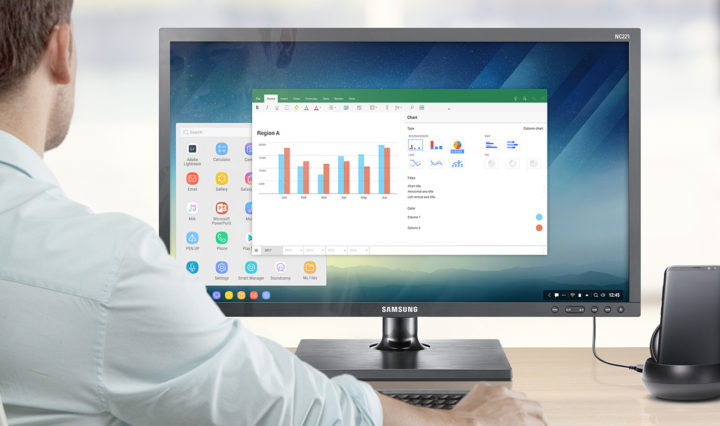 Here are three ways you can save time with Samsung DeX. Download Now
Android support for PC apps is often limited to mobile subsets of the real thing, such as Office 360, Office viewers and PDF viewers. But DeX allows us to re-imagine Android as a mini-PC platform. The mobile versions of these apps can now be viewed on a larger screen, in some cases with limited editing capabilities. Galaxy S8 apps are no longer confined by the limits of a mobile screen (even the large 5.8″ or 6.2″ infinity display), and this opens up a whole new set of possibilities for mobile apps going forward. Screen sizing, toggling between apps, editing, managing files, and creating and saving new documents are all possibilities that DeX allows users to embrace. And it does so without muting what the Galaxy devices have already mastered as a communication tool. In fact, quite the contrary: Communication apps such as text, Skype, email and phone are all accessible in DeX mode.
Not only are traditional communication apps accessible from the DeX workstation, they're highly integrated. While editing a PowerPoint slide, for example, users can conveniently answer a call or text using the same interface, thus increasing productivity when working. So without looking at your smartphone or turning away from your monitor, you can click on your inbound text, craft and edit a reply, then toggle back to your PowerPoint slide through a single pane of glass. By attaching a USB headset with a mic, the same scenario can be addressed with an inbound phone call. And once the edits are complete, the new file can be saved in a local directory.
Narrowing the Enterprise Gap
Because this desktop technology is so new in the mobile space, only a few dozen mobile apps have been designed to leverage the full capabilities of Samsung DeX. With the inherent storage limitations of mobile devices, it could be awhile before PC power users can truly afford to leave their PCs behind. Knowing these limitations, how do we integrate mobile and enterprise environments? The most affordable way for small business would be to leverage cloud storage services such as Google Cloud, Amazon Web Services (AWS) or Microsoft Azure. Most of these services offer mobile apps that make file storage readily available from almost any device.
But what about large enterprises with dependencies on Microsoft Office and other line-of-business Windows-based apps? Citrix was the first to step forward and address this need, and I'm sure others will follow their lead. Citrix is one of the leaders in delivering remote cloud access, from almost any device, to published Windows-based apps, or even a full Windows desktop. Using an open API from Samsung, Citrix has optimized Citrix Receiver for DeX. By installing the new Citrix Receiver onto a Galaxy S8, IT administrators can provide large masses of users with trusted and secure access to their enterprise desktop, line of business apps and data, file storage and more. Receiver provides secure connectivity to Citrix XenApp and XenDesktop environments over any network. In the past, mobile access to cloud-based Windows environments was limited given it was confined to a phone-size touch screen with no keyboard and mouse. DeX and Citrix changes all of that, delivering a Windows experience to a full-size monitor with a keyboard and mouse. In this model, there is no need for a PC or thin client to manage client-server interaction; it all seamlessly works from your DeX-enabled Galaxy S8.
Many of us IT geeks have envisioned a new trend of docked smartphones slowly overtaking the need for a laptop PC. What we didn't expect is how well mobile and desktop enterprise environments could integrate on the IT roadmap. With the debut of DeX, we can now imagine computing differently than ever before. It will be exciting to watch how cloud products evolve around the Samsung DeX solution. The possibilities are nearly endless.
Make your phone your PC with the DeX workstation, which enables a rich, desktop-like experience on your Galaxy S8.