In today's digital world, people use their cellphones almost incessantly. Whether it's communicating with friends via social media or performing a vital work task, the cellphone has become an essential lifeline for sharing, collaborating and communicating across a wide range of business and personal life scenarios.
Samsung recently conducted an Enterprise Mobility Trend Study together with GfK Public Communications and Social Science to help us better understand the mobile computing needs of "highly mobile workers." We defined these workers as people who spend at least one-third of their working day "on the go." The study focused on six groups including professionals, site workers, field service workers, drivers, public safety workers and healthcare workers. All the 1,205 workers we spoke to were required to own a smartphone and be employed by companies with 100 or more employees.
Of this group, 93 percent use a smartphone for work every day. In fact, they spend 33 percent of their day using their cellphones at work. Predictably, the top three most frequently performed tasks include email, text and calls, but accessing business applications and virtual desktops, and viewing/editing documents rank surprisingly high, at around five times a day each.
Now imagine that I gave you those use cases without first specifying they were related to smartphones. You might think they were statistics about how employees use their laptop computers, right? The lines are blurring between the use of smartphones at work and traditional computers. As phones have morphed into computers, employees have become increasingly reliant on them.
In fact, asked which computing device they would keep if required to choose only one, a plurality of 42 percent opted for their smartphone.
Increase Productivity With a Mobile Desktop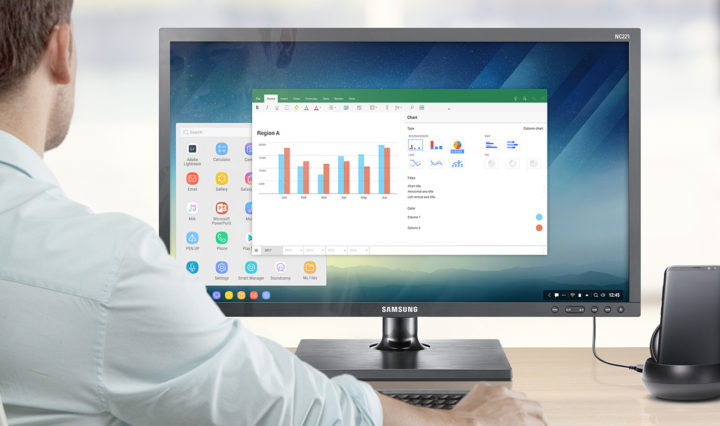 Learn three ways that you can save time with Samsung DeX. Download Now
A New Way to Work
This shift in mobile phone usage has also changed how we design our phones. As using cellphones at work has become a main tool for productivity, employees don't want to be confined to small mobile screens and interfaces. Having as large a screen as possible ultimately can help maximize the device experience.
That's why we have evolved to combinations like the Samsung Galaxy S8, matched with a lightweight DeX docking station. This takes a phone and extends it to the desktop through connection to a monitor, keyboard and mouse. Drop your phone into the DeX docking station, and now you can use it just like a desktop computer … but when you get up, all you take is your phone.
Is this a replacement for a computer? Maybe not today, but it's an elegant solution for mobile workers who don't want to lug a computer between branch offices. More than anything, it's an example of where mobile computing is headed, towards versatility and flexibility.
The more dependent employees become on their phones, the more important solutions like DeX will become. Mobile computing will evolve into a series of hybrid solutions that provide more resources for professionals while on the go, within offices and even at home, but that all tap into the power of your cellphone.
The Growing Adoption Curve
Our survey indicated that mobile workers are open to these trends. Sixty-two percent of our respondents said they would be willing to give up a traditional PC if they could connect to their phone peripherals like a monitor, keyboard and mouse. While the technology right now is more augmentative, we can definitely see this shift away from more traditional desktops advancing over the next few years.
In our survey, 4 in 10 workers said their smartphone either will replace the need for a traditional computer in a few years (26 percent), or already has (14 percent).
These statistics raise an obvious question: With employees increasingly reliant on their cellphones at work, why aren't more companies providing phones to their employees, like they do desktops or other key equipment? Maybe it's time to rethink the role of phones at work, especially for these highly mobile workers.
Read the infographic above to see how cellphones are becoming integral to today's modern workplace. Also, explore how mobile workspace solutions can improve your teams' productivity and collaboration, while reducing your overhead costs.