Larger smartphone screens do make a difference when it comes to user productivity, data usage and the rise of mobile e-commerce. A December 2016 survey from Kantar U.S. Insights shows that 47 percent of owners who acquired their devices in 2016 cited screen size as the main driver of their satisfaction.
Users are also seeking to get more productivity out of smartphone docking solutions as they look to extend their large-screen phones into their primary devices. Popularly known as phablets, these devices hit a compromise in screen real estate between the smartphone and tablet.
Phablets in Industry
Phablets are ideal for mobile-first and field workers because they're a perfect compromise in screen real estate and processing power to handle business tasks. These workers use them as a primary device to deal with chunks of information, brochures, data entry, training materials and data access throughout their workday.
Increase Productivity With a Mobile Desktop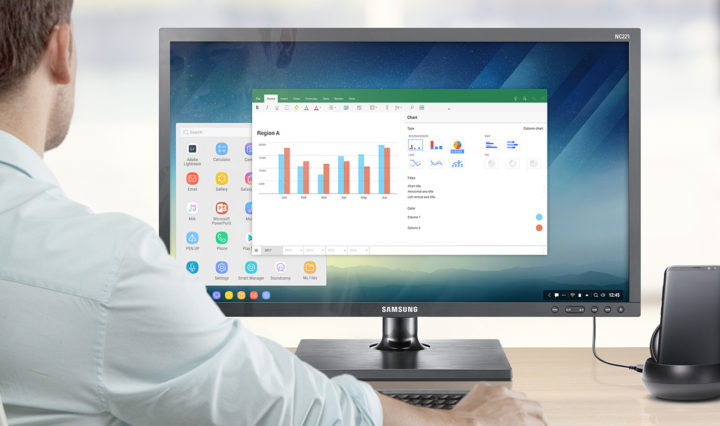 Here are three ways you can save time with Samsung DeX. Download Now
Business users, especially executives, are also using phablets as a primary access point to data-intensive cloud applications like customer relationship management, enterprise resource planning, business intelligence applications and even artificial intelligence systems because they benefit from the larger screens and increased hardware specifications when they're away from their desks. Even better, these devices can provide actionable data to decision-makers whether they're in the office or not.
DeX Ties the Phablet to the Desktop
Beyond phablet integration, the next technology progression is improved smartphone docking. While the larger screen lets mobile workers more easily access corporate data, there's still the "deskless" workforce — workers in increasingly data-driven occupations that may only have infrequent requirements for a desktop.
Samsung DeX provides an Android-based desktop experience that enables smartphone docking with a Samsung Galaxy S8 or S8+ to an external monitor. Users docking their phones then gain an optimized mouse and keyboard experience. Other features of a desktop-like experience include:
A desktop-like home screen when docked in DeX
Multiple resizable windows for accessing numerous apps simultaneously while in desktop mode
A task bar to view apps and notifications
Users can switch from a mobile mode to a DeX mode when docked with a device that supports FHD resolution, 160 dpi (mdpi) as well as landscape orientation and screen size.
Technology Partnerships and Expanded Applications
Through partnerships with leading virtual desktop infrastructure (VDI) technology providers, DeX also enables access to a Windows desktop with secure access to an employee's corporate authorized applications and data. This means users can gain access to Android and Windows apps from the same interface.
This merging of the mobile and desktop experience has many advantages. Take, for example, the nurse visiting one of their patients on the floor of the hospital. They input patient data into an electronic healthcare record (EHR) through a mobile client app. When they return to the nurse's station at the end of the shift, they can dock their phone and open a desktop session in the same cloud application to either finish a report, or further research a patient condition in a medical database while taking advantage of being in desktop mode. This continuous workflow environment not only helps healthcare professionals easily focus on the task at hand, but also reduces time spent accessing and loading information.
The same unified transition from mobile to desktop experience also leads to benefits in public sector jobs like law enforcement, where officers can dock their phones at the end of a shift to file reports. Likewise, insurance adjusters can do much of their field work from a mobile device, but DeX would enable them to finish up detailed reports when they get back to their desks.
Additionally, hoteling is an office space management theory where DeX can play a role. Since nobody gets a permanently assigned desk, people must log into a cloud app to reserve a desk prior to their arrival that day. Migrating from laptops to DeX in a hoteling environment cuts down on physical devices workers must carry around each day as they rotate from desk to conference room.
Part of making the decision to move to DeX is, of course, the app ecosystem. There will be a new generation of DeX-compatible mobile apps that enable business users to be able to take full advantage of this new technology. With this new hardware and software ecosystem, businesses across multiple industries can develop a scalable IT infrastructure while increasing productivity.
Learn more about what Samsung DeX can offer your mobile workforce.