Like many workers today, I live a very mobile life. Nothing fancy — you won't find me regularly traveling from coast to coast, or even up and down the Eastern Seaboard. But you will find me working out of my small over-shoulder transit briefcase, traveling between offices in New York and Jersey and between meeting rooms. I spend a lot of my working day on the move, usually starting with a bus out of the Port Authority. That means I'm also on my mobile phone for much of the day, and always looking to get more done in less time with my smartphone.
When it comes to mobile devices, I'm looking for a bigger screen so I can do more. I'm not alone. In a recent survey, 71 percent of mobile workers said a small screen is their biggest complaint, and 58 percent said they would be more productive with a phablet (defined here as a phone with a screen 5.5 inches or larger).
Now while I'm all for a bigger screen, but don't want bigger pockets in my jacket. What I really need is a bigger screen — not a bigger device. If you've had a chance to use our Galaxy S8 range, you'll know the Infinity Display gives you just that. Now the Galaxy Note8 gives you even more.
The 6.3-in. screen on the Note8 has 15 percent more viewable area than the Note 5, which means I can see more and scroll less.
Discover the Most Intelligent S Pen Yet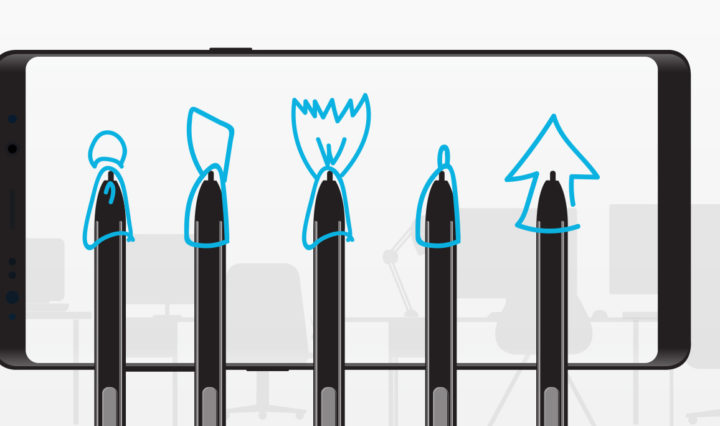 Learn five smart tricks you can do with the S Pen in this infographic. Download Now
Why the obsession with a bigger screen? For moments of downtime, it makes watching media more immersive, gaming more fun and even helps when tweaking any pictures I've managed to snap en route. For the rest of my day, greater screen real estate means viewing documents, making simple edits and, of course, the obligatory spreadsheets all are so much easier to read. In our survey, other Note users said they were also more productive with the phablet form factor than other smartphones.
Not Just a Bigger Screen
The Galaxy Note8 is packed with so many features that help me be more productive — too much for this piece, so let's focus on one that I use all the time — App Pair.
App Pair is a perfect example of how the new the Note8 makes me more efficient and takes advantage of the bigger screen.
Here's something that happens many times a week, and sometimes a day, to me. You're running late, perhaps the bus was held up in the Lincoln Tunnel, or you're racing from a meeting room on the fifth floor to your desk on the seventh. Your next meeting is a conference call, so you pop in your earbuds, go to calendar, open the appointment and look for the number you need to dial.
The good news: Your phone recognizes there is a phone number in the calendar event and you can click to call. The bad news: The organizer hasn't put the phone number and the attendee code in a phone-friendly format. So now you have to glance at the code, memorize the number and enter it without making a mistake. If you don't get it right, you get that most dreaded of automated replies: "13739376248972898212 is not a code I recognize, please re-enter it again." Argh!
With App Pair, this will never happen to you again. App Pair lets users build pre-combined pairs of apps that open together in a split screen mode.
Now, for conference calls, I just swipe left on the right-hand screen edge to pull up my shortcuts menu. I can easily find my app pairing and I hit the combined Calendar and Phone Dialer.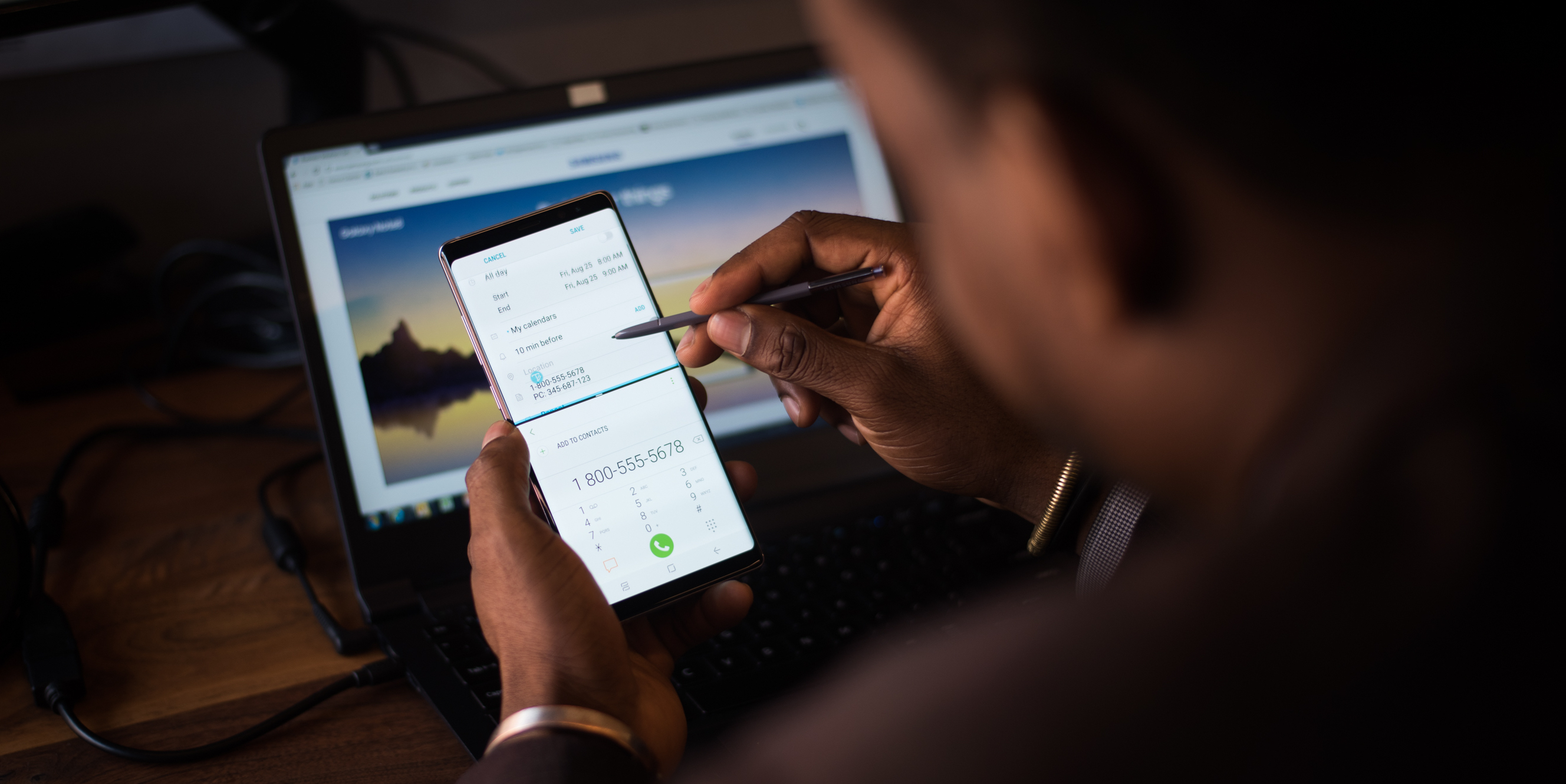 Both apps open, in split screen mode, ready for action. From the Calendar side, I can scroll to the invite, open and click on the conference dial-in number just as before. Now on the Phone Dialer side, I click the green dial button to call in. And now here's the really smart part. When I'm asked for the conference code, I can see both the invite and the dialer at the same time. No more memorizing or scrawling numbers on the back of my hand.
Perfect Pairs
Split view isn't a new feature our Galaxy devices, but creating that perfect pair of apps that open together is something that really transforms that functionality, especially when you don't want to be late for that conference call.
With the Note8 I can create up to 10 App Pair shortcuts. So what are the other pairs I have?
My next favorite is perfect for conference calls. By pairing a frequently used conference app (BlueJeans for example) and Samsung Notes, I can watch a webinar and take notes on my device. Using the S Pen means the on-screen keyboard doesn't get in my way.
Need some more examples? For those "offline" conferences, PowerPoint and Notes make that perfect app pair. Organizing a meal? Then you'll want Calendar and OpenTable, or OpenTable and Yelp if you need that second opinion. Catching up first thing in the morning? Your news and stocks apps are a perfect combo.
Customizable Combos
With App Pair, you're not stuck to a 50:50 split. You can drag the split window to a ratio that works for you. That means another pairing that really works is YouTube and email. In portrait orientation, I can push YouTube to the smallest size it supports to have a clear view of all my emails. That way, I can power through my personal emails on the bus out of Port Authority and watch Techmoan uncover another obscure audio format from the 1950s.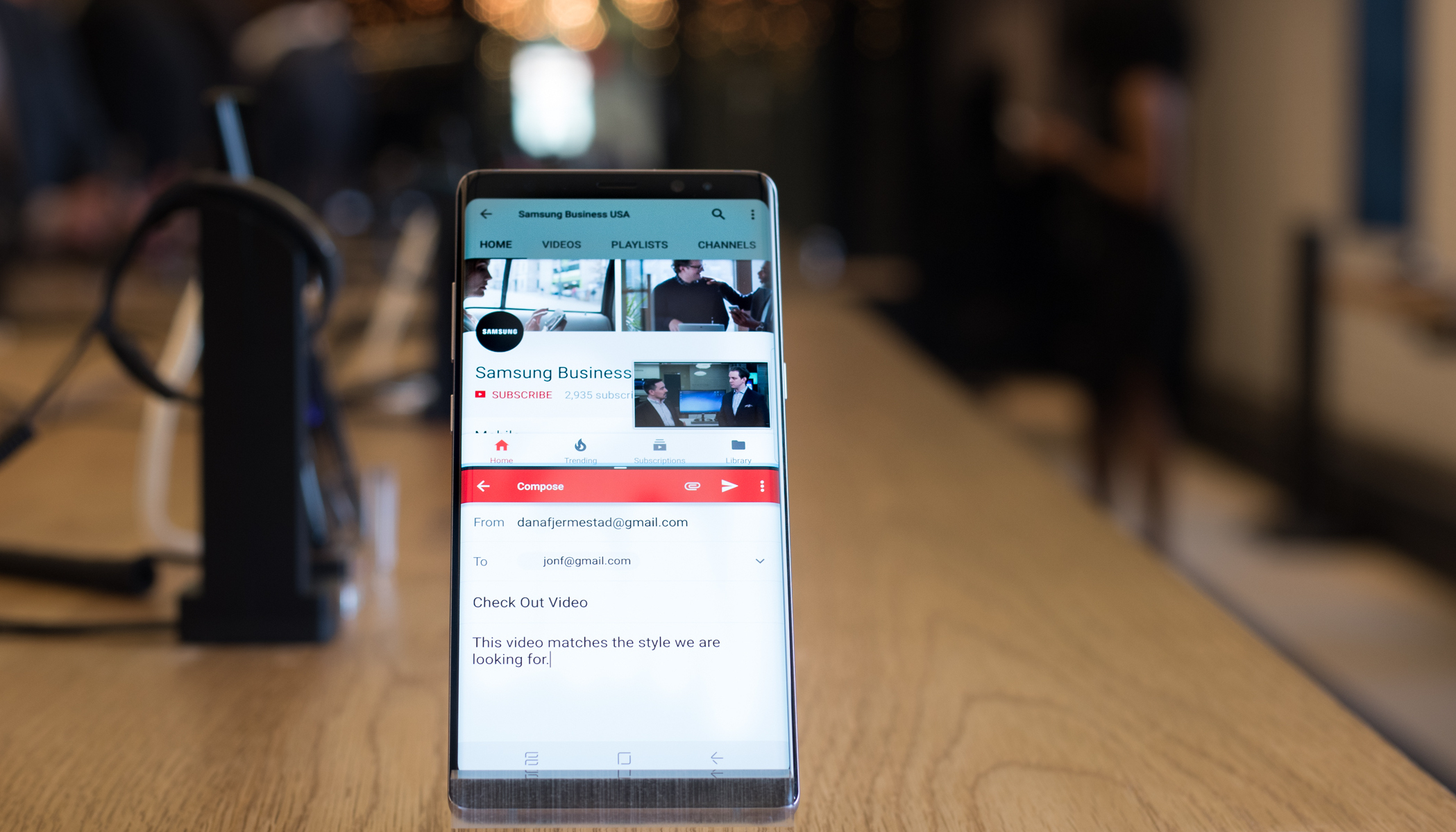 Once you start to think about situations where you can have two apps open at once, you can't stop thinking of possible pairings. The combinations are nearly endless. Planning a business trip or vacation? Then you'll want Calendar and Flight apps. Picking a date for an al fresco meal, I'd go with Calendar and Weather apps. Calendar and Maps will help you find that important business meeting. Presenting with confidence, PowerPoint and (your speaking) notes can come to the rescue. For real-time commentary on must-see reality TV when you're away from home, Live TV and Twitter will get the scoop. I could go on, and on.
We are all pressed for time and want to constantly increase our mobile productivity. The Galaxy Note8's features like App Pair and S Pen allow you do more, do it better and faster.
Visit our showcase to learn more about the Galaxy Note8.