I live a double life. By day, I'm a mild-mannered marketing executive and by night … OK, not that kind of double life!
Like many people, I've stopped looking at each 24-hour block as being split between a working day and a non-working day — a seesaw that I'll never manage to keep balanced.
Work-life balance is no more; what makes more sense is how to manage work-life integration. What I need is to be able to seamlessly switch between "work me" and "personal me" with minimal effort and at any time of the day.
So I live a double life — with "work me" and "personal me" both on 24 hours a day. And I need a mobile phone that helps me achieve that.
Work the Way You Want
When figuring out how to manage work and personal life, one solution I see people try is to have two devices — one for work, the other for personal use. But like that shampoo ad from my childhood, "Why take two devices … I can take just one." (Not sure if that ad played this side of the pond, so bonus points if you get the reference.)
However, the challenge of using one mobile phone is that mobile apps don't support multiple personas at the same time. A perfect example of this is social messenger services. For services like Facebook Messenger, I have my work account and a second account for personal contacts. While some people are very happy to have a combined social presence, I've always preferred to keep them separate.
Discover the Most Intelligent S Pen Yet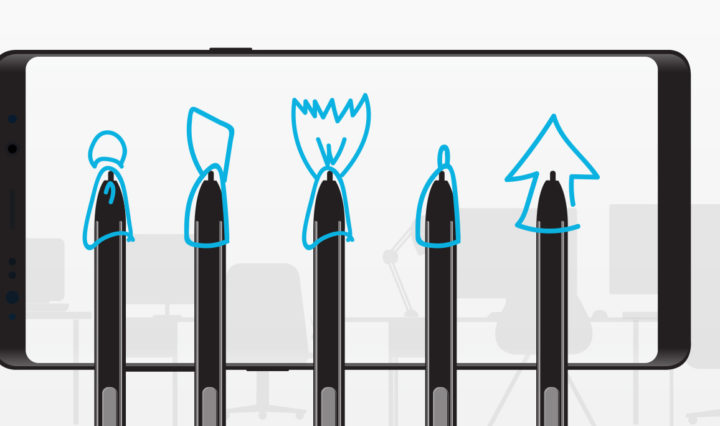 Learn five smart tricks you can do with the S Pen in this infographic. Download Now
The challenge is that on your typical smartphone, you are limited to installing a single instance of your messenger app. Unless you are willing to be constantly logging in and out, you are also limited to being active on one account at a time.
Well, that was true, until now. Thanks to the Dual Messenger feature on my Samsung Galaxy Note9, I can have two active Facebook Messenger accounts at the same time. And it isn't just Facebook, but also WhatsApp, WeChat, Viber, LINE, Skype and more.
Getting Started
The feature is super easy to use. Select Advanced Features and then Dual Messenger in the settings of your Note9, Note8 or S9 is all you need to get going. You won't even need to download a second copy of the messenger app.
On the Dual Messenger settings pane, you will see all previously-installed apps that are supported by this new feature. Then all you need to do is swipe the toggle to enable the desired apps for Dual Messenger.
In your app drawer, you'll see there are now two icons for your enabled apps. Open the apps in turn, enter your credentials (username and password) and you are all set.
I can now open one app at a time to instantly switch between work and personal conversations, or even have both open at the same time in split view.
Pro Tip #1: You'll notice that the second icon of the app has an orange corner to indicate it is the additional Dual Messenger app. As that is very similar to the lock badge that Knox/Secure Folder uses to indicated my work protected apps, I use the orange badge app as my work social messenger app.
Pro Tip #2: I put my work Facebook Messenger in a separate folder with the rest of my work apps. That way I don't accidentally post that picture of that new Christmas sweater to my work colleagues!
Pro Tip #3: You don't need to just limit yourself to work and personal accounts. For example, perhaps you need to manage two separate accounts for your company. Dual Messenger works great for that, and if you need to monitor two accounts at once, then App Pair enables you to view and interact with two messenger apps at the same time.
Pro Tip #4: You can activate Dual Messenger for a supported app without even going to your settings. Just long press on the app icon, and a pop-up menu will appear to enable Dual Messenger (amongst other options).
The Note9 is built for multitasking, and for enabling you to work the way you want to. We know Note users already multitask 40 percent more than other Galaxy owners. New features such as Dual Messenger and App Pair will no doubt only increase that.
Discover more ways the Galaxy Note9 lets you work the way you want.