While it may be tempting to meet the ELD mandate by tapping into the personally-owned smartphones that many drivers already carry, opting for bring your own device (BYOD) solutions may not be the best course of action.
With the average cost of a basic ELD estimated at $495 per truck, expense is a big factor. But looking solely at upfront cost doesn't give you the whole picture.
Fortunately, there are hardware and software bundles that deliver a comprehensive all-in-one solution to provide secure fleet management technology, as well as a better user experience.
BYOD solutions involve drivers using their own devices and downloading an app to track hours of service. For smaller fleets this approach might seem like the lower-cost option, but it doesn't take into account total cost of ownership compared to an integrated and hardwired ELD solution.
Samsung and Omnitracs have partnered to offer a bundled solution that allows fleets to comply with the ELD mandate and invest in fleet management technology using Samsung smartphones and tablets.

Keep in mind that simply downloading an app won't immediately meet the ELD mandate. The device must be "integrally synchronized" with the truck's engine management system. Devices must also be registered with the Federal Motor Carrier Safety Administration to comply.
Here's a look at some of the advantages of bundled ELD solutions that deliver long-term value for fleets:
Lower Total Cost of Ownership
One of the major differences between BYOD and bundled solutions is that with a bundle, the fleet is investing in one setup per vehicle, not per driver. That means only one device and one software license for each truck.
Transportation Technology Helps Driver Experience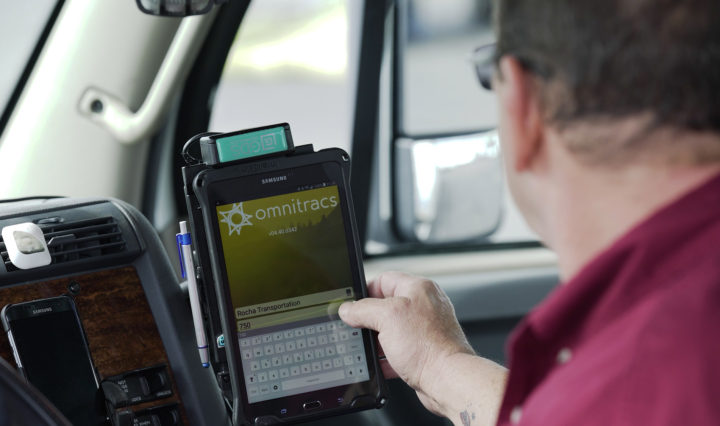 See how Rocha Transportation found a solution for the ELD mandate and added fleet telematics. Download Now
Also, consumer-grade devices are not necessarily suited for life on the road. If an employee's device is damaged, lost or becomes infected with malware, the vehicle and driver must be taken off the road. The benefit of a reliable and secure ELD solution quickly outweighs any upfront savings on hardware.
Integrated Operations
With an integrated solution like the Samsung/Omnitracs ELD package, an array of management technology boosts efficiency and profitability. Fleets can add GPS tracking for trucks to ensure management knows the location of each load. That leads to better driver and equipment utilization, fuel savings and other operating improvements. With digital hours of service (HOS) logging, fleets can reflect real-time operations rather than capturing events in 15-minute increments with paper logs. This level of precision can increase a driver's actual driving time while complying with HOS regulations.
Integrated devices can support International Fuel Tax Agreement (IFTA) reporting and electronic driver vehicle inspection reports (E-DVIR) as well.
Fleet management technology also allows for driver monitoring and coaching to spread best practices throughout a fleet, and direct messaging can improve customer service and driver quality of life.
Safer Operations
Because drivers are not legally allowed to interact with a device while the vehicle is in motion, mounted options are the way to maintain usefulness for the driver. An integrated system can include a lockout feature to prevent the driver from using the device while operating the vehicle.
The Samsung Knox platform offers a defense-grade secure environment for fleets that supports both business and personal use. Knox Premium is an option for smaller fleets that offers simple device management via a cloud-based platform, supported by an on-device secure container.
Knox Workspace delivers enterprise-level security by protecting business applications and data within an encrypted secure container. Even when using a network that's not fully secure, Knox can keep corporate data safe and can neutralize malware attacks. If a device is lost or stolen, the business data can be wiped while leaving personal data intact. Access can be remotely disabled when a driver leaves the company.
Fleets should look at the total cost of ownership, and the long-term benefits of fleet management technology when deciding on the best option to comply with the ELD mandate. A bundled, integrated solution can provide seamless service while lowering administrative costs and headaches.
See what connected fleet solutions are available to help you meet company and driver needs.