Today's consumers don't leave their digital expectations on shore when they step aboard a cruise ship. An outstanding guest experience today includes the use of next-gen cruise line technology such as tablets, wearables and smartwatches. It's all about creating a friction-free and guest-driven cruise experience while making engagements with the crew more personal and productive.
On Quantum of the Seas, for example, Royal Caribbean provides its guests its RFID-enabled WOWbands to unlock their stateroom doors or pay for on-board purchases, replacing keys, cards, cash and paper documents with easy-to-use hospitality technology.
Now Carnival Cruise Lines has taken it a step further with the OCEAN Medallion wearable device. It not only enables room access, directions, order placement and hands-free payment, but also offers Netflix-style activity recommendations and a friends and family locator. For staff, the medallion automatically identifies cruisers — along with their profile and preferences — for more personalized interactions.
Royal Carribean and Carnival Cruise Lines are just a few examples of the digital transformation underway in the cruise industry, which is seeking ways to drive incremental revenue and keep experienced cruisers coming back, while also targeting the next generation of travelers.
Ships Embark on a Digital Journey
Creating that seamless digital guest experience means leveraging a variety of hospitality technology innovations to put the right information in front of the right audience, just when they want it. The digital journey starts with a streamlined check-in experience on guests' phones via apps such as Royal Caribbean's Royal iQ for smartphones and tablets. Then, once they are issued their own medallion, guests can use it to access rooms, information and services on the go.
Blending Innovation With Affordability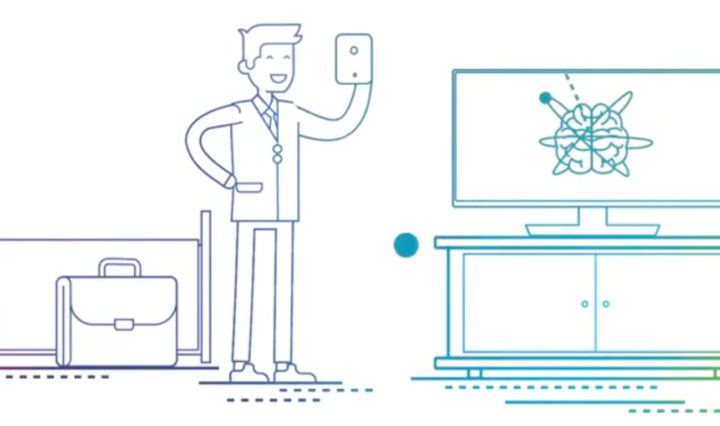 Deliver a standout guest experience with Samsung's Smart Hospitality TVs. Download Now
In cabins, digital concierge tablets, such as Samsung's Tapendium, enable a media-rich cruise line technology experience, serving up always up-to-date menus, itineraries, excursion packages, restaurants, event or spa reservations and more. This helps centralize all possible information a guest might want to know, and brings it directly to their room, making it easily accessible.
Smart TVs in cabins can also deliver customized information and immersive entertainment experiences. The same Smart TV hospitality technology can be used as dynamic digital displays and interactive devices, so guests can access personalized, media-rich information while they're on the ship, such as near restaurants, venues or recreational facilities.
Delivering a next-gen guest experience on a cruise ship also requires equipping staff with tablets, wearables or smartwatches. With the right hospitality technology in hand, crew members can quickly identify an approaching passenger via wireless communication with their medallion, then pull up details on the guest's activities and preferences. It also serves as a way for managers to keep staff informed of certain events or alerts.
This helps drive personal, informed conversations, with the crew member suggesting services or excursions tailored to the vacation experience that guest is seeking, while making them feel recognized and well-served.
Managing Multiple Digital Devices
With such a wide variety of devices and demands, operators need cruise line technology that's safe, stable and customizable to specific needs. Many are turning to cloud-based configuration tools such as Samsung's Knox Configure to remotely determine and apply pre-set profiles to mobile hardware even while it's still in the box. Users can simply turn on the device and immediately start using it.
Knox Configure transforms wearables, smartwatches and tablets into purpose-built devices, so they are only used for an intended purpose. IT administrators can decide what types of apps are loaded onto the device, restrict connectivity behavior and even apply company-specific branding.
This centralized, over-the-air management software not only makes deployment a lot easier but also prevents unauthorized uses such as roaming, camera use or accessing settings, keeping devices secure. Additionally, being able to apply specific settings in bulk can provide a uniform guest experience and reduce the time required for updates.
Next-gen cruise technology is changing the game for cruise lines seeking to drive up revenues while delivering the differentiated experiences that keeps travelers of all ages satisfied and loyal. Pairing technology deployments with mobile device management solutions can ease configuration and ensure a seamless guest experience as they transition from shore to ship.
Learn how you can impress your guests and streamline operations by checking out our latest hospitality technology solutions.