The curtains are rising on LED screen technology, touted as one of the biggest technological advances seen in the 120-plus year history of the motion picture industry. Conventional cinema projectors and screens are being replaced in moviehouses by direct-view LED screens that deliver far more brightness and a much greater range of color than movie fans have ever seen.
LED displays are just the latest technology shift in cinemas. Already, many movie multiplexes have large-format LCD video walls and digital posters promoting new releases and special offers. Additionally, the conventional menu displays at concessions and the ticket counter are now, in many cases, using easily and rapidly updated LCD screens.
The technology is a variation on the kinds of modular LED displays that have been used for many years as digital billboards, concert backdrops and sports venue replay screens. In the past 5-10 years, that technology has advanced and miniaturized to a point that LED picture quality rivals or bests projection systems.
Increased Benefits and Life Cycle
The cinema industry has, through the years, seen other technologies that have been touted as revolutionary, and then never really caught on; 3D cinema is the most recent example. But industry experts — both operators and the people behind the cameras — see this as being different.
Operating demands and costs would lower with Cinema LED because direct-view LED technology has an operating life of at least 100,000 hours or more than 10 years of 24/7 operation. Since most cinemas are only open for half a day, these screens should last a full generation of movie fans.
By comparison, conventional cinema projection systems use lamps that have operating lifespans of 800 to 2,500 hours. For a theater with four screenings daily, that means lamps that can cost as much as $1,000 a unit need replacement as frequently as every 100 days.
Videowalls Bring Benefits to Industry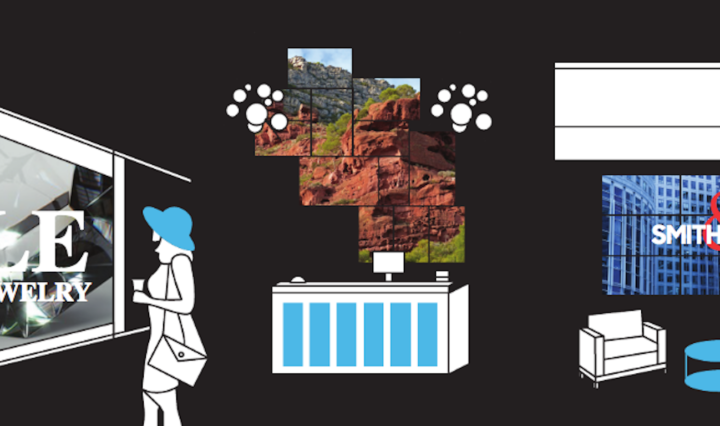 Explore the possibilities of video wall technology. Download Now
A typical cinema projector tends to lose color quality when its brightness is cranked up, but the Cinema LED screen maintains perfect color accuracy, even at peak brightness. With conventional projector systems, picture quality can vary from screen to screen and venue to venue, whereas the Cinema LED Screen provides consistent picture quality across all venues.
Now Showing on LED
The LED screen technology had its first commercial deployment earlier this year, when Samsung partnered with a Korean cinema chain to install and operate a 4K 2.5 mm pitch screen in a major Seoul movie complex.
The Samsung Cinema Screen at Seoul's Lotte World Tower measures 10.3 m (about 34 ft) wide and delivers full 4K resolution. The big story at the screen's premiere showing in July 2017 was its ability to generate peak brightness levels that are 10 times greater than what's possible with conventional cinema projectors. Using High Dynamic Range technology, the screen enables movie fans to see much more detail in moody scenes — the deepest blacks and brightest whites, instead of progressive shades of gray.
The selling pitch to cinema operators has a few elements:
A better, more detailed moviegoer experience because of HDR.
Premium theaters with pricing above conventional tickets.
Lowered maintenance and potentially lowered total cost of ownership.
The Cinema Screen is also integrated with technology from audio leader JBL by HARMAN, with premium speakers flanking the screen, proprietary audio-processing technology and JBL's Sculpted Surround System.
At a film industry forum in South Korea, directors and cinematographers talked about their experience seeing cinema LED for the first time, and the possibilities.
"It's a little bit like a piano. Would you rather have a piano with 66 keys or 99 keys? Hopefully one day we're going to have a visual piano with 108 keys, which would be fantastic as a tool for somebody like me," said cinematographer Tom Stern, whose works include "Million Dollar Baby," "American Sniper" and "Sully." "I think the Samsung Cinema LED Screen is going to take movies to the next level. It's going to be a better experience for everyone in the theater."
Business Benefits
The technology also changes the operating proposition for cinema chains who want to optimize the day-to-day usage of their real estate, renting out the screening rooms during the time periods when no movies are scheduled.
That's something that already happens, but the difference with LED is that the screens are bright enough to deliver a full visual experience without needing to dim screening room lights. This can be useful for specific events such as corporate showings or gaming competitions.
With so many options on how to consume content, cinema operators need to steadily raise the bar on what's being offered at the theater. Cinema LED is being touted as the most immersive theater environment possible, offering the kind of premium movie-going experience that makes it a must-go destination.
Download our guide on direct-view LED technology.