Insurance claim evaluation requires constant multitasking. You're always on the go while juggling a myriad of tasks: collecting, organizing, researching, analyzing and assessing accounts from multiple sources in order to derive the most constructive solutions and outcomes.
In the past, adjusters would have to carry the following to each location: digital camera, notepads, pens, folders, forms, clipboard, flashlights, measuring tape, laptop and cellphone.
Just the weight of these items can be burdensome and pose physical challenges, not to mention the time-consuming task of matching notes, sifting through files and folders and staying organized without leaving anything behind.
Having a portable-yet-powerful mobile technology solution — such as a 2-in-1 device — not only keeps up with your rigorous schedule but also empowers your ability to navigate seamlessly between tasks.
Streamlining the claim assessment process
While you can probably perform most duties on either a laptop or on a tablet, having both tools in one allows you fit each task to the most suitable form factor.
The laptop form factor is ideal for generating reports and emails, researching data and running actuarial programs with the use of a full keyboard and moderately sized screen.
Avoiding Mobile Productivity Pitfalls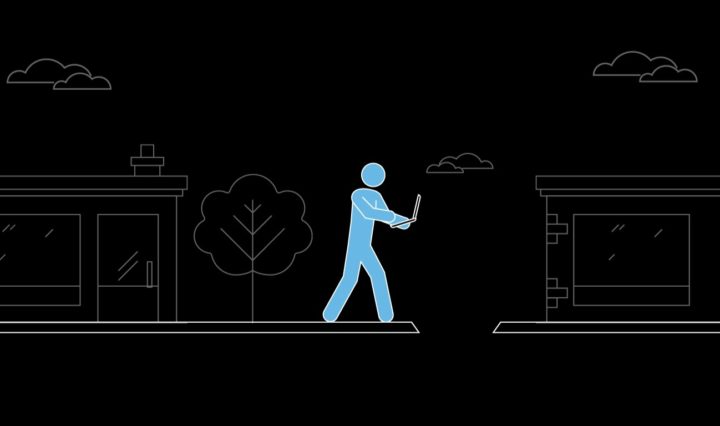 See how a 2-in-1 solution offers the benefits of being mobile without sacrifcing productivity. Download Now
With a tablet, you can take high-definition photos and mark them up, circling and pointing out even the most subtle details. Signing documents, estimates and reports can be done seamlessly and on the spot.
A 2-in-1 that combines tablet and laptop not only reduces the amount of hardware you need to carry but also enables you to adapt your technology throughout the workday.
Here's how you can utilize a 2-in-1 like Samsung's Galaxy Book to fit all your different workflow needs:
Morning
You arrive in the office and review assigned claims. Using Samsung Flow and working in laptop mode, you sync your Galaxy Book 2-in-1 with claims data, forms and files. Then you contact a policyholder and take notes in a Word document while you're on the phone. After filling out claims forms, you fold up the Galaxy Book and head over to the body shop to assess the damage.
The tablet form factor enables you to take detailed photos of the vehicle. With the S Pen, you circle additional damage areas and make notes on the photos to attach to claim. Then, you run the necessary data through the estimation software and verify costs with the auto technician.
Midday
It's time to head to the police station to retrieve a copy the accident report for another claim. This one involved multiple parties and casualties, so you speak to the officer to get numerous accounts, fill out the proper forms and record the discussion.
You drive over to the scene of the accident to take highly detailed photos of the area from all angles and distances. After adding notations with the S Pen to indicate cause and effect, you've assessed that the policyholder was not at fault, and they quickly sign forms corroborating your analysis.
While you're out, you stop at a coffee shop to connect via Samsung Flow to your Galaxy smartphone's mobile hotspot and send a follow-up email to the client with the details of your conversation and next steps.
Back at the office
After running around, you spend the rest of the day at your desk contacting witnesses to collect statements. Even though you're on the phone, you've got the 2-in-1 in laptop mode to review your pictures and notes, run estimation models and compile damage reports.
Now you have to prepare potential settlements and negotiations with the counterparty's insurer. Samsung Flow enables you to transfer content between multiple devices, consolidating all the different forms of documentation you've been working on throughout the day.
Creating a rock solid case with the Galaxy Book
As part of your mobile office, the Galaxy Book will keep you powering through the day. With up to 11 hours battery life and fast charging, you won't be consistently looking for power outlets throughout the day. The 7th Gen Intel Core i5 processor allows for multiple applications to run simultaneously, especially critical estimating systems such as Xactimate and Symbility, as well as budgeting and expense apps.
For capturing all the important details, Samsung's Galaxy Book comes with a powerful 13-megapixel main camera and an additional 5-megapixel front-facing camera for video calls. For playback, you can view everything on the 12-inch Super AMOLED 2160 x 1440 pixel resolution screen. Furthermore, the included S Pen makes it easy to markup documents and photos, reducing the need for paper reports.
Overall, a 2-in-1 like the Galaxy Book 2-in-1 gives the multitasking claims adjuster the power to work from anywhere, effectively communicate with clients and consolidate your daily workflow; and that's one policy you definitely want to have.
See how Samsung's Galaxy Book can support your productivity on the go.