Today, cruise ships are positioned better than ever to deliver the seamless customer experience travelers dream of, thanks to technological advancements and thoughtful integration. But with passenger loads numbering in the thousands, cruise lines are finding that goal elusive, and it can be challenging to bring together all the right technical and process elements.
In the past, some ships have installed technologies such as smart TVs, interactive displays and mobile devices, but often these were siloed systems, so guests' interactions with one department weren't necessarily visible to others.
That's all changing thanks to the advanced platforms being implemented by cruise lines in partnership with skilled third-party integrators such as Accenture and Acordis. These platforms bring together those formerly disjointed devices with a variety of advanced capabilities, including streaming analytics, contextual awareness and machine learning. This helps form an integrated, booking-through-disembarking experience that facilitates empowered crew members, connected experiences and a frictionless, personalized vacation — ultimately fostering brand loyalty and building market share.
Building the Next-Gen Cruise Line Technology Experience
When creating a connected cruise experience, it's all about vision: What are the cruise line's business goals, and what do they envision as the ideal passenger experience? Everything starts with documenting current processes, so the transformation team has a starting point for the roadmap they will build upon.
"We sit down with clients and together come up with processes or ideas without worrying about technology," explains Mehdi Mahmoudian, senior manager, products operating group for Accenture, which is helping several major cruise lines digitally enable passenger experiences. "If we had limitless technology, limitless infrastructure, what could we do? What would be the ideal experiences and ideal processes?"
The result is a wish list, sorted by order of priority. The team determines if the required technologies exist or must be developed, then builds processes to connect existing devices to new configurations. Once this brainstorm is completed, both the organization and integration partner now have a roadmap for delivery.
End-to-End Integration
Because they're truly an enterprise on water, cruise ships demand a different approach than a land-based property. "Internet access is the biggest challenge," says Mahmoudian. "Everything has to be localized; each ship has to have all the right servers, the right backup and everything needed to provide a high level of access and service to the guests and the crew."
Leading cruise lines and their trusted integration partners have been hard at work on their digital transformations. This includes retrofitting their ships with high speed networks, installing devices such as IoT sensors and digital signage, upgrading servers, creating content, deploying software, upgrading apps and developing new solutions to fill in the gaps. Several have also designed their own wearable devices for guests, equipped with RFID, BTLE and/or NFC, to serve as digital ID, door key, passenger locator and more.
Create a Smart Hotel Experience for Your Guests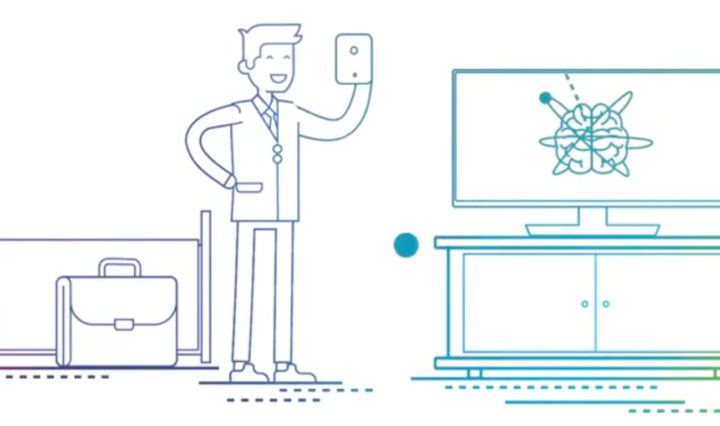 These 10 essential TV technologies are improving guest experiences across the hospitality industry. Download Now
Another high priority is analytics. Cruise lines need to be able to collect, analyze and act on guest data quickly via technologies including real-time information output, contextual awareness and machine learning.
The key to making it all work is establishing a technology platform that will support current and future needs. With a unified platform, everything comes together, ensures a tight integration across software, data and devices, and sets the stage for easily adding capabilities in the future.
It's also helpful to work within an ecosystem of providers whose products are already pre-integrated, as this will be a time-saving measure. Integration firms are leveraging the latest interfaces, security protocols and connectivity to build platforms that allow optimal communication among data sets, software and devices.
The Seamless Cruise Experience
After all of this work, organizations have a connected experience that starts well before guests arrive portside. Via digital marketing sent to desktop and mobile devices, cruise lines start engaging with passengers to learn about their preferences, celebrations, special needs, spoken language and more, allowing them to pre-plan their trip for a seamless shore-to-sea experience. Many encourage passengers to download upgraded apps that promise to streamline their travel via personalized digital concierge services.
On board, that brand experience continues via a series of networked devices. As passengers pass through the ship, embedded IoT sensors detect their presence. Devices, such as the Samsung Galaxy tablet, carried by crew members provide the data they need to personalize guest encounters, take their orders or process their purchases. Digital signage, large-format displays and LCD video walls preview exciting activities according to guests' interests. Interactive displays enable them to navigate through the ship, access personalized portals and even play games.
In staterooms, smart TVs and tablets continue delivering personalized content and access to a curated array of gaming, information, activities and entertainment. As passengers interact with all the devices, cruise lines amass more data that helps them refine and enhance each guest's experience.
As in their daily lives, today's passengers expect technology to enable a seamless customer experience. By collaborating with technology experts, cruise lines are implementing advanced platforms that support a next-gen, high-tech cruise ship stay that keeps guests coming back for more.
Learn how you can impress your guests and streamline operations by checking out our latest hospitality technology solutions.