The way we work is changing rapidly. Flex hours and working remotely is becoming the norm, and businesses demand always-on flexibility from their employees. But to succeed in this new environment, employees must be equipped with tools which can meet their varied mobile computing needs.
We believe the smartphone is central to the future of workforce productivity, and this is the driving force behind Samsung DeX, our mobile-powered desktop experience. Over the next several years, there will be a seismic shift towards true "mobile-only" computing, and we want to do everything we can to make this possible.
In the year since we announced Samsung DeX, I've dedicated much of my time to meeting with our enterprise customers to gather feedback that can be used to make the DeX platform as productive and flexible as possible. IT and business leaders alike see great potential in DeX, and we have some exciting industry-specific opportunities that I'll discuss further below.
Refining the User Experience
One of the most attention-grabbing announcements at the recent Galaxy S9 Unpacked event was the new DeX Pad, which further expands upon the feature set of our original DeX Station.
The DeX Pad, as its name suggests, sits flat to your desk and allows you to use your Galaxy smartphone's screen as a touch pad, as an alternative to a mouse. With a forthcoming update, we plan to add virtual keyboard functionality, so you can forgo a keyboard when needed, too.
With pinch-to-zoom, scrolling and swipe gestures in certain apps, using the DeX Pad as a mouse is ideal for scenarios where you want to connect quickly to a monitor or larger display to share content, or when you are tackling a quick work task and don't want to connect other peripherals. When needed, you can still connect a physical keyboard and mouse by USB or Bluetooth, just like the original DeX Station.
Like all our business solutions, DeX Pad was developed based on direct customer feedback. The DeX Pad will not only have a more affordable price point, but it will also give you direct access to your phone's audio jack, which was not easily accessible when docked in the DeX Station.
But Samsung DeX isn't really about the accessories. It's about the desktop experience that is created.
Boost Productivity With a Mobile-Powered Desktop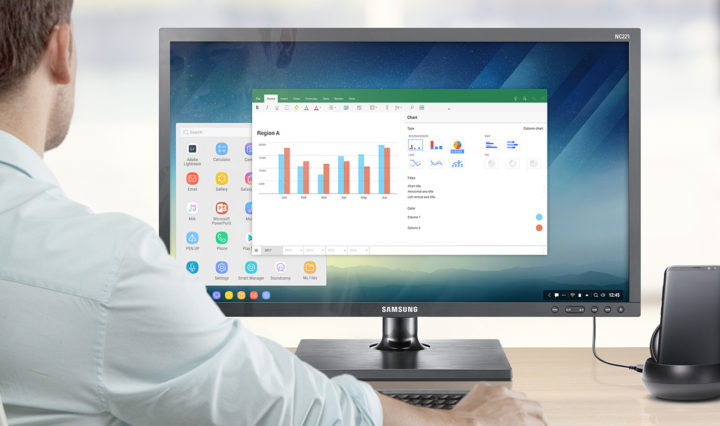 White Paper
Here are three ways you can work smarter with Samsung DeX. Download Now
To that end, we've further refined the user experience with more apps that are optimized for DeX. We've also added support for additional monitor resolutions, including WQHD, which gives users greater screen real estate so you can see more apps and content when multitasking.
We've also listened to the security concerns of customers in regulated industries who are keen to implement DeX. Enterprises can now apply their own specific IT policies to DeX via our Knox APIs for increased protection and customization. These user experience updates apply to users whether they have the DeX Station or the new DeX Pad.
Advancing Mobile Computing
At the heart of DeX is the smartphone: the intelligence, the software, the processing power, the apps and data, the security. Everything is really driven by the phone.
We know that smartphones can help boost productivity but, with DeX, your phone can do more. Your phone and DeX can redefine how you do your job. Here are a few examples of how the mobile desktop experience is giving all kinds of organizations the ability to do more with less:
Public Safety: DeX can be deployed inside police cars to replace the in-vehicle laptop. With officers using Samsung smartphones as their principle computing device outside the vehicle, they can now dock into DeX to create a full in-vehicle workstation powered by their phone.
Finance: Banks and wealth management firms are replacing laptops with DeX, streamlining IT acquisition and management costs. To access their Windows desktops and apps, they are able to launch a VDI session using Citrix Receiver, VMware Horizon or Amazon WorkSpaces from within DeX.
Field Services: Throughout the day, field service techs access and collect all types of data on their phone, from pictures to video and written notes. DeX lets them go mobile-only, docking their phone in when return to the office or home to complete reports and catch up on email.
The Future of Work
Today, a mobile phone does much more than just make calls. While it may not be the sole computing device for most users yet, in my conversations with businesses over the past year, I've found a surprising number are ready to make the leap to a mobile-only future.
As businesses realize the power of platforms like DeX in the coming years, we'll not only see more of them embrace mobile-only computing wholly, but it will fundamentally change the way they do business.
Companies who are making a big investment in smartphones like the Galaxy S9 will be looking to leverage them to their full capabilities, and with DeX, they can maximize employee productivity and improve the employee experience.
Learn how Samsung's Galaxy S9 and S9+ can drive your business productivity.
---