Today's passenger expects a high-tech cruise ship and tech-enabled crew prepared to deliver them an effortless, engaging and highly personalized experience at sea. That has major cruise lines racing to differentiate their brands by adopting a suite of integrated technologies, from wearables to Internet of Things (IoT) sensors and interactive digital displays.
The idea is to create a completely frictionless experience for guests at all touchpoints and across all phases of travel. By personalizing and tailoring the cruise experience to individual preferences in a way that hasn't been possible before, cruise lines hope to forge the sort of deep relationships that foster loyalty and bring guests back.
The Magic of Multi-Channel Experiences
The connected vacation starts long before passengers embark, with marketing outreach that helps cruise lines get to know guests while generating excitement. With these campaigns, they can gather data about guests by asking about things like special celebrations, food preferences or allergies, and even seek permission to access their social media. Some cruise lines suggest passengers download their custom app to minimize on-boarding paperwork and maximize the travel experience.
As passengers arrive on board, the truly personalized experience begins. Several major cruise lines have already introduced wearables donned on wrists, around the neck or even in a pocket, and connected by RFID, NFC or Bluetooth/BLE. These allow passengers to open and lock doors, order drinks, make dining or entertainment reservations, purchase excursions and more, thanks to IoT sensors being installed throughout passenger areas. Behind the scenes, cruise lines can apply streaming analytics, contextual awareness and machine learning to collected data.
This helps them formulate the right personalized experience, through things like curated food, entertainment or excursion suggestions and crew members who can greet passengers by name — a special touch once available only on high-end trips, says Mehdi Mahmoudian, senior manager, products operating group for Accenture.
Cruise Ship Technology Guests Want to See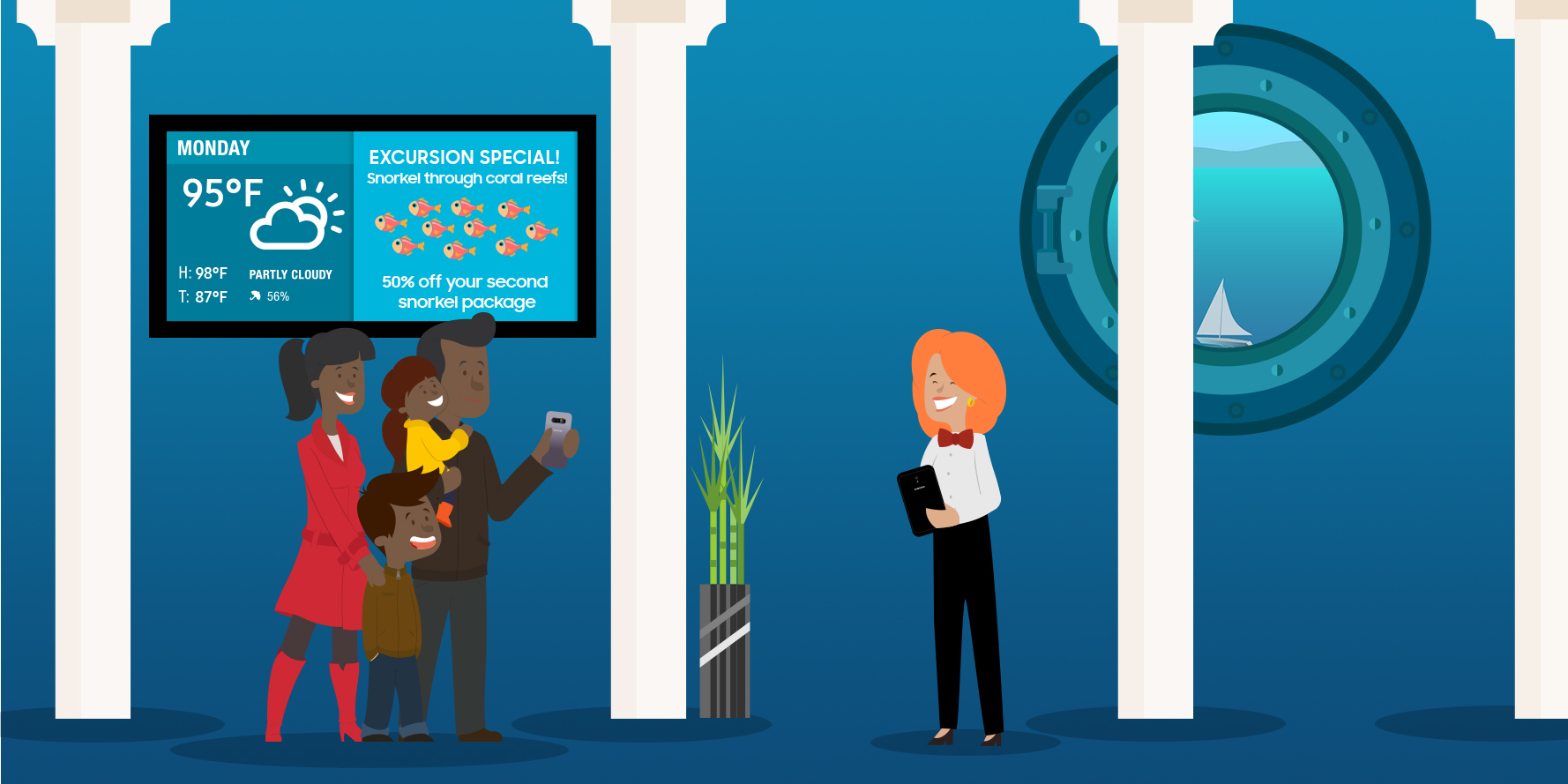 Explore the ideal cruise experience of today's passenger in this interactive infographic. Download Now
Cruise lines hope that approach will engender more passenger loyalty, as travelers begin differentiating cruise brands by their tech capabilities. It's no coincidence that a great experience also drives up revenue. According to Harvard Business Review, customers who had the best past experiences with a brand spend 140 percent more compared to those who had the poorest past experiences.
Integration Delivers the Ease of a Connected Day
The integrated experience goes well beyond wearables. By connecting technologies including digital signage, interactive displays and mobile devices with wearables via a unified technology platform, cruise lines are empowered to deliver a truly integrated experience, like this one:
A passenger is headed to the pool, so he leaves his smartphone in the cabin but takes his smartwatch along to handle any payments along the way.

Via sensors and AI, the system populates the passenger's ID and profile onto a passing crew member's Samsung tablet. She greats him by name, mentions a shark-watching experience he might enjoy at tomorrow's port and passes along his linens request to housekeeping to enter into the task management app.

As he continues on, he decides he's interested, so he stops at a large Samsung interactive display. His personalized portal already lists the shark excursion as an activity that would interest him, so he touches a link to sign up and automatically add the activity to his account. While there, he views his family's photos from last night's hula party and requests prints.

After a dip in the pool, he requests a drink from a wait staff member, who uses a smartphone and his wearable to process the order.

That night he and his spouse use the voice interface to their in-cabin tablet to check which restaurants are least busy based on reservations. At the restaurant, the tablet-toting server already knows about their favorite drinks, food allergies and the birthday they're celebrating.

On the way back from dinner, they stop in the gift shop. They want this charge to go on a different credit card, so when an associate approaches them he quickly processes the transaction via a mobile POS tablet.

After dinner, they play a few live casino games on the tableside tablet and use the app's locator feature to confirm the kids really are bowling before heading to their next activity.
An integrated platform not only enables these powerful benefits today but allows cruise lines to lay the groundwork for future enhancements as capabilities and expectations evolve. For example, on-board analytics are expected to become increasingly real-time, enabling the cruise line to do things like detect surging traffic volume at a bar area and dispatch staff accordingly. Cruise lines will increasingly add new devices and capabilities, such as wearable eyeglasses, to enhance crew service and the passenger experience, and integrate third parties onto their tech platforms.
Enabling a Seamless Cruise Line Experience
Samsung technology, together with partners like Accenture, is proving vital to helping cruise lines establish the technology platform, device connectivity and analytics capabilities essential to achieving the high-tech cruise ship vision. "We're helping world's biggest cruise companies transform the guest experience through intelligent personalizations," says Mahmoudian. "We're bringing different technologies together to enable cruise companies to deliver a level of experience that just wasn't available before."
By removing the hassle of managing keys, cash, credit cards, tickets, phone calls and queues, and replacing those with frictionless, personalized experiences, cruise lines free up guests to fully enjoy their stay. That makes for the sort of memorable trips that prompt passengers to tell their friends and come back for more, whether they're seniors enjoying newly effortless luxury or millennials seeking a tech-fueled vacation experience.
Learn how you can impress your guests and streamline operations by checking out our latest hospitality technology solutions.