The FCC has done considerable work to improve mobility and data and systems access over the past few years. In addition to upgrading its suite of devices and rolling out mobile device management capabilities for personnel, the agency has moved to more SaaS-based capabilities that render more easily on mobile devices.
John Skudlarek, deputy CIO at the FCC recently spoke with FedScoop's Carten Cordell about how the agency is navigating the digital transformation and embracing mobile in its latest Accelerating Innovation in Government video series.
The agency's moves are part of a great effort of modernizing systems and moving away from custom, heavy and on-premises hardware to cloud-based solutions — and this goes for security too. In addition to securing endpoints, the agency is also scanning enterprise traffic to identify anomalous behavior. Skudlarek says that security solutions have matured to the point where we no longer have the significant trade-off challenge around usability, which is critical for adoption.
Digitize Your Government Agency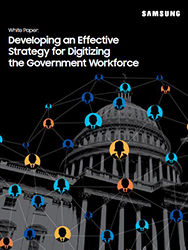 White Paper
Download your free guide to digital transformation Download Now
With its impending move in two years, the FCC is also rethinking what the future of work looks like and how to fundamentally organize the agency differently to be more forward-leaning. Efforts underway are focused on reimagining the work environment and how the agency can best fulfill its goals of making information more available and accessible anytime.
To that end, the agency is adopting new technologies such as new business intelligence and data platforms to facilitate more information capabilities so that, internally and externally, information-seekers can access and analyze data in the manner that best suits them. The FCC is also looking at more future-looking technologies such as using virtual reality (VR) for virtual classrooms that immerse participants in a shared learning experience.
Stay tuned to Samsung Insights' federal government coverage for additional videos from the series in the coming weeks.