The Challenge
Clinicians in BAYADA Home Health Care's Medicare-Certified division deliver in-home nursing and therapy care for medically complex clients. They were required to complete lengthy paperwork that determined how much care the client received and how much Medicare paid the agency. This process delayed billing, created inefficient workflows and caused inaccurate assessment of the client's medical status.


The Solution
BAYADA invested in electronic health records software from Homecare Homebase (HCHB), and Samsung Galaxy tablets. These tablets were used to complete the Medicare assessment and other important documentation in the HCHB platform, right in the client's home. They also used the tablets to access company-approved medical resources, GPS for driving and other apps.


Reduced assessment submission time to 24 hours
The Results
With more than 3,500 tablets active in the field at any given time, BAYADA has noted many benefits of the HCHB/Samsung solution. By creating a more timely and accurate clinical picture of their clients, BAYADA saw an increase in Medicare reimbursement. Clinicians were also able to complete more of their work in the home, leading to higher productivity and reducing after-hours tasks. Furthermore, with clinical and operational processes being done electronically, BAYADA gained insight into its business.

"During the rollout, one of the nurses told us, 'The happiest person in my household right now is my husband. Instead of doing my documenting at the dinner table, I'm having dinner with my family,'" Andrew Gentile, division director, BAYADA

BAYADA is a comprehensive home health care agency with a team of more than 25,000 nurses, therapists, home health aides and medical social workers. The New Jersey-based agency has more than 330 offices and serves clients in 21 states.
Founded in 1975, BAYADA Home Health Care is a trusted industry leader with a long-standing history of delivering quality care to people of every age and stage of life. BAYADA's expert team provides home-based nursing, rehabilitative, therapeutic, hospice and assistive care services to children, adults and seniors worldwide.
To deliver on its mission — helping "people have a safe home life with comfort, independence and dignity" — BAYADA relies on world-class medical professionals and best-in-class healthcare technology.
The Challenge:

The demand for at-home healthcare has been growing for years, driven by the aging population, rising healthcare costs and the need for hospitals to reduce readmissions. A $228.9 billion industry in 2015, home health is expected to reach $391.41 billion by 2021, notes Zion Market Research.
That means more patients — and more paperwork — for the team of 25,000 in-home care providers at BAYADA. This is especially true in the Medicare-Certified business division, which accounts for a quarter of the agency's business.
"Medicare-Certified business is short-term nursing, rehabilitative, therapeutic, and assistive home health care services for adults and seniors typically provided as a limited number of intermittent visits," explains Andrew Gentile, division director at BAYADA. "For a client with a new diagnosis of congestive heart failure, we might send a nurse a few times per week and then a therapist maybe once a week. This would go on over the course of about an eight-week period. The goal is to make clients as independent and safe at home as possible."
During home visits, BAYADA clinicians are responsible for patient care, capturing health data and providing disease management education. For Medicare-Certified clients, clinicians must also complete a thorough assessment during the first visit, answering a long list of mandatory questions that help Medicare determine how much care the patient needs.
"On paper, this was a 16-page document," says Gentile. "Clinicians would complete some of it with the client, but most people took chicken-scratch notes and did the real documenting later. Then they dropped that document off at a local BAYADA office, where it was transcribed into a homegrown system BAYADA made 35 years ago. It was pure data entry at that point."
Best case scenario, this took 30 minutes per client, and BAYADA was getting a thousand new clients each week. However, administrators often had trouble reading clinicians' handwriting or needed clarification about contradictory answers.
"The assessment might ask if the person can walk greater than 20 feet and the clinician says no, and then it asks if the person can do things independently, and the clinician says yes. Those two answers don't make sense, but there's no built-in logic on paper that helps you progress based on previous answers," says Gentile. "The person in the office would hopefully catch the mistake, and then there would be multiple calls to clarify."
Accuracy is crucial to this assessment, says Gentile. It drives the amount of care a client will be able to receive, what types of interventions BAYADA should provide, and also impacts the Medicare reimbursement. "The more clinically-complex the patient, the more we are paid because it will take more clinical effort to care for them. We don't get paid for each visit we make, but rather we are paid a lump sum to care for the client based on their clinical profile."
The completion of the evaluation also dictates when BAYADA gets paid. "Medicare pays a portion when we submit the initial assessment and the rest upon discharge. We were getting that initial payment around day 45 when we were using paper."
With this setup, it was immediately clear BAYADA needed to streamline this process, lighten the load for clinicians and improve Medicare billing.
The Solution:
BAYADA was ahead of the curve in considering mobile electronic health records (EHR). When the leadership team began their research in 2009, these solutions were limited, software options had functionality gaps, and devices were clunky and expensive.
First, BAYADA tried collaborating with a startup to build what they needed, and eventually piloted a system that didn't work as well as everyone was hoping. "It's probably fortunate that we waited to invest in a full-scale launch," says Gentile. "At that time, the mobile options were basically touch-screen computers with a handle and stylus pen. They were extremely expensive. But technology was starting to catch up by 2010."
That's when leaders at BAYADA learned about Homecare Homebase (HCHB), a leading provider of mobile EHR software for at home healthcare. "We wanted a more tried-and-true solution," says Gentile. "HCHB was already in service with thousands of clinicians using the system across the country."
BAYADA clinicians initially had mixed reactions to the EHR. They liked having greater information available at the bedside and liked the new logic built into the assessment. But they weren't happy with the devices.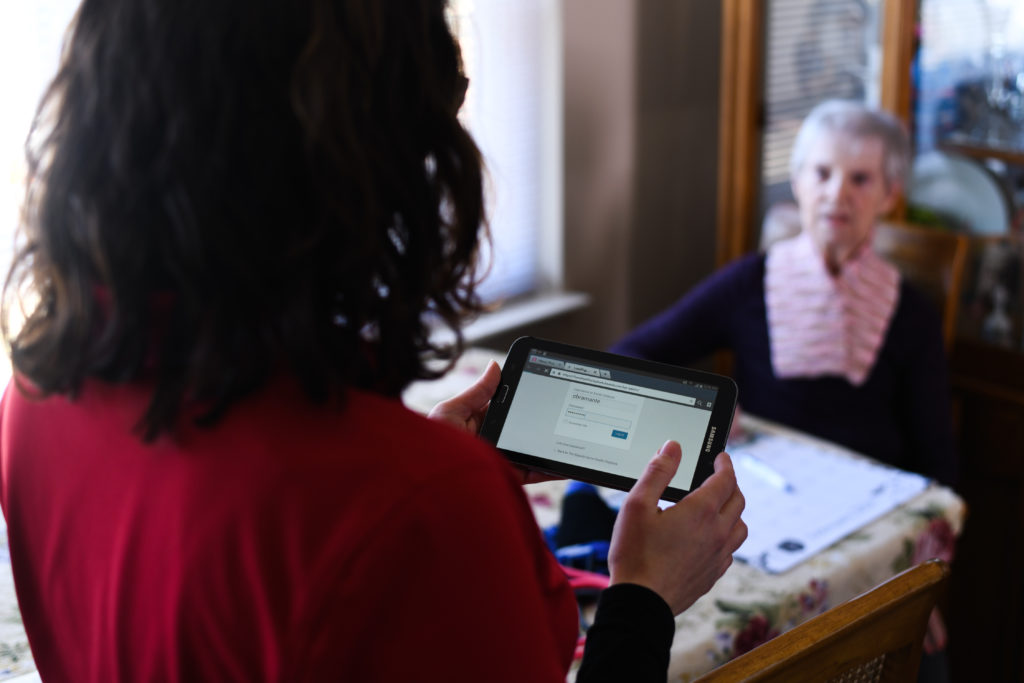 "HCHB was using Windows Mobile phones at the time," Gentile recalls. " We deployed the phones to five branch locations. Some people embraced it, but a lot of people went running for the hills because of the form factor. The devices were simply too small to use for documenting all day, and a few people who were close to retirement went ahead and retired."
Again, BAYADA had good timing. They were only five offices into their 50-office implementation when HCHB updated their platform from Windows Mobile to Android. This meant that the brand-new Samsung Galaxy tablets were now an option.
"[In 2010] we ordered first-gen Samsung 7-in. tablets and immediately replaced the Windows Mobile phones," says Gentile. "It was July, and we put Christmas trees in the local offices, wrapped the tablets and gave them to the clinicians. That was the game-changer for us. We've been partnering with Samsung devices ever since."
Clinicians don't just use these tablets to run the HCHB platform. They also access company-approved medical resource apps such as Wound Central and Medscape, basic phone features like stopwatch and GPS to find patient homes and they use the Samsung devices to pilot new technology.
"We're always actively piloting new apps and solutions," says Gentile. "Right now, we're piloting an app with a company that creates patient-friendly educational content on a mobile platform. We're also piloting a bunch of new tech for continuity of care, and patient/family engagement."
Take notes and annotate documents and presentations with the precision Samsung S Pen.
The Results:
Today, BAYADA has more than 3,500 Samsung tablets active in the field. After using the Samsung and HCHB solution for several years, BAYADA has noted many benefits, including:
Faster Medicare Billing: Clinicians complete the assessment on the tablets, eliminating the need for data entry at the home office. "When this process was on paper, it usually took four days for clinicians to return the document and then a week or more for the home office to submit the data. Now clinicians submit the assessment within 24 hours, and we get the first payment 30 days sooner," explains Gentile.
More Accurate Clinical Assessments: By being able to utilize advanced question and answer logic, and by doing more documenting at the patient's bedside, a more accurate clinical picture was able to be painted. That clinical picture drives the amount of care a patient will be able to receive, what types of interventions will be provided and also impacts the reimbursement rates.
Improved Employee Satisfaction: BAYADA's Medicare-Certified business division has the highest employee satisfaction scores in the company. Gentile believes the mobile solution is a major factor. "During the rollout, one of the nurses told us, 'The happiest person in my household right now is my husband. Instead of doing my documenting at the dinner table, I'm having dinner with my family,'" he says. The HCHB app syncs with the system in two minutes, so the home office has near-real-time access to gathered data, and clinicians have much less after-hours paperwork.
Key Insights into the Business: With all of BAYADA's clinical and operational processes being done electronically, they were able to gain a tremendous amount of insights into their business. Gentile notes: "The business intelligence capabilities went from practically nothing to being perhaps the largest benefit driver of the whole project. We are now able to create visual insights into our business to help us deliver better care and align our resources in smarter ways. I can't imagine trying to make decisions without this powerful data."
Affordable Solution: BAYADA was initially worried about the price of the Samsung tablets, which cost about $700 in 2010. "We had built an implementation plan on phones that cost less than $100," Gentile notes. "Thankfully, our wireless partner got us a significantly reduced rate, and the price has continued to drop. These days, the price is a non-issue."
Reliable Devices: Gentile says clinicians can be hard on their devices, but the tablets hold up. "They get dragged everywhere and beaten up, but the lifespan is much longer than I would have thought. And the battery life is great."
New Business Opportunities: BAYADA's cutting-edge technology is a big selling point for strategic partnerships with other healthcare organizations. "We're participating in joint ventures with hospitals," says Gentile. "One of the reasons we're getting brought into those conversations is our EHR technology. These partners want our entire model, not just our clinicians."
By putting mobile solutions into the hands of healthcare's most mobile workers, BAYADA has made its business more efficient, its workers more satisfied and its company more attractive to potential strategic partners. This helps the organization be ahead of the healthcare technology curve and set itself up for long-term success.
Learn more about how healthcare technology solutions can enhance efficiencies and improve the patient experience.