About RAM Mounts
Launched in 1992, RAM® Mounts, the primary brand for National Products, Inc., still does business in the same Seattle neighborhood where it started. The first RAM® systems were designed to prevent marine electronics gear from damage due to vibration and shock from riding the waves.
Today, the company offers more than 5,000 components to create rugged, versatile mounting systems for nearly any device and application, including phones, tablets, cameras, GPS, printers, radio and laptops. This versatility allows RAM® Mounts users the ability to position nearly any device almost anywhere. The mounts securely grip the devices so they can be easily used in the toughest conditions.
At the core of each RAM® Mounts product is the interchangeable rubber ball and socket system that absorbs and dampens shock and vibration. These highly adaptable systems allow the same mounts to be applied to many different applications. For example, the same floor, dash or window mount could easily be moved from a worktruck to a forklift to a car.



Market-leading technology includes the IntelliSkin® and GDS® Technology™ ecosystem of products. The IntelliSkin® sleeves are military-grade drop-tested to protect a wide range of phones and tablets. With GDS® Technology™, users can securely charge, dock and sync devices that are wrapped in an IntelliSkin®. These systems interface with RAM® Mounts to provide a high level of protection for devices in harsh conditions.
IntelliSkin® with GDS® Technology™ protects against wear and tear of devices, charging ports and cables and provides ease of charging through the universal docking ecosystem. This solution set's primary value is the ability to ruggedize a consumer-grade device for commercial purposes, at a very affordable price point.
Whom They Serve
RAM® Mounts has built a dominant market presence in more than 17 verticals as varied as marine, military and logistics, according to Jacob Parker, director of business development.
Originally, RAM® Mounts were designed for commercial devices in commercial vehicles, but systems have expanded to deliver rugged solutions for consumer-grade devices as well.
The goal is to protect the technology so that it has a long service life and reduces downtime. For example, semi-trucks must have an electronic logging device (ELD) to record the driver's hours of service. If the device is out of service, the truck must be parked until it is repaired.
"Substandard mounting systems won't stand the test of time. That's why we choose materials that are meant to last a lifetime," Parker says. "For over 25 years, our customers have trusted us to design and manufacture product that will enable them to use their device in the harshest working conditions."
Overall, RAM® Mounts supports more than 30 Samsung Galaxy smartphones and tablets with custom solutions, such as rugged tablets, and offers a full suite of passive and powered mounts, docks and accessories to enable use in the field.
Serving Key Industries
RAM® Mounts and Samsung devices are building momentum in three key industry verticals where ruggedized devices make technology more accessible than ever.
1. Truck Fleet Management
RAM® Mounts and Samsung partnered with Omnitracs to offer a bundled ELD solution for the trucking industry. This bundle allows truck fleets of any size to have an all-in-one solution to meet the Federal Motor Carrier Safety Administration requirements. The IntelliSkin® sleeve with GDS® Technology™ secures the device into a dashboard mount and protects the charging and connectivity ports through a robust docking system. Drivers can easily remove the device for vehicle inspections and customer signature capturing, as well as personal communication use. GDS® Technology™ protects some of the most vulnerable parts of the device, the charging and data ports.
21 Tests the Galaxy Tab Active2 Survived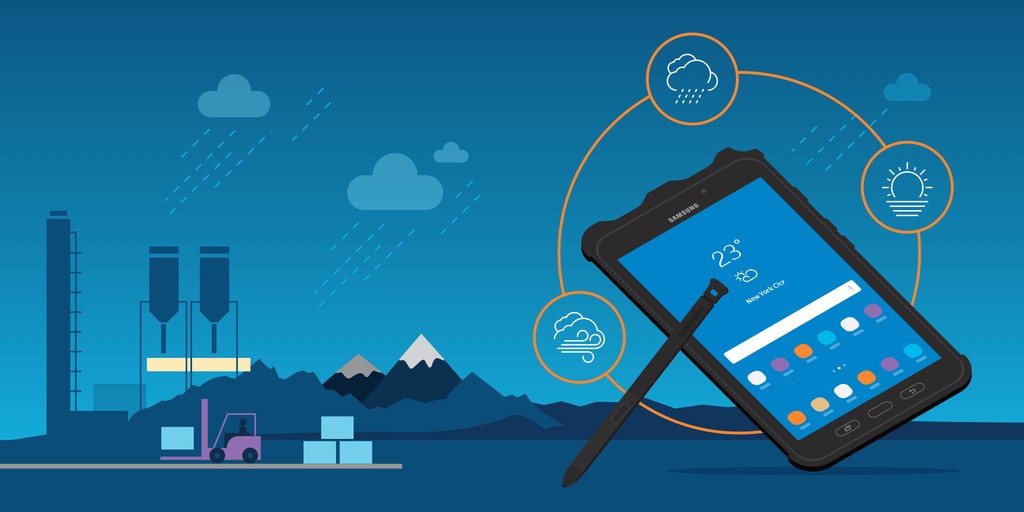 See a full rundown of the MIL-STD-810G testing the Tab Active2 passed in this infographic. Download Now
Each Samsung, Omnitracs and RAM® Mounts bundle equips one vehicle, so whether you're an owner/operator or a fleet large enough to have an internal IT staff, you can procure exactly the number of bundles you need.
2. Public Safety
With the launch of Samsung DeX-enabled devices that provide a desktop-like experience powered by the phone, RAM® Mounts and Samsung are targeting public safety uses. Today, many law enforcement vehicles are equipped with full-scale laptops or notebooks to provide instant access to vital information. Officers can check license plates and warrants, and communicate with other officers from the safety and convenience of their vehicles. But the laptop integration is bulky and expensive.
With a DeX device wrapped in an IntelliSkin® and secured with a RAM® mounting solution, an officer can plug their enabled phone into the DeX dock that connects to a full-size display, keyboard, mouse and power supply. The officer can then remove the phone from the car and use it in the field with full functionality from anywhere there's a data connection.
Then, the officer can take the same phone to the station and complete paperwork through a DeX dock and display. The mobile technology is less expensive than the laptop integration that requires port replicators and hard-wired power supplies and can be conveniently switched from the cruiser, to the office, to the field with no interruption.
For emergency response use, RAM® Mounts has developed an ecosystem based on the Tab Active2. The Tab Active2 is IP68 rated to withstand dust, dirt and sand, and is resistant to underwater submersion up to 1.5 meters for as long as thirty minutes. It's also MIL-STD-810G certified for durability during excessive pressure, extreme temperatures, drops and vibrations.
The IntelliSkin® sleeve and RAM® mounting system offer easily adjustable, quick-release locking mounts that allow users to find the best position for use in the vehicle. Hand- and shoulder-straps allow ergonomic, safe use outside the vehicle for performing common functions such as signature capture or vehicle inspections.
3. Retail
In retail settings, devices may be in constant use by employees and require protection from drops and frequent handling. The IntelliSkin® ecosystem allows for continuous access to power without having to plug and unplug the device. RAM® Mounts also offers a wide variety of accessories, such as a combination hand-strap and kickstand, and shoulder-strap, to enable users to safely use Samsung devices while on the move.
A Scalable Solution
With more than 5,000 products, RAM® Mounts offers an unparalleled array of solutions that allow users to source the combination of sleeves and mounts they need to fit their individual application, however complex. That means thousands of device and mounting combinations are available out of the box to scale to one or many use cases.
In a trucking fleet, for example, some drivers might prefer bolt-on dash mounts, while others may choose suction cup mounts for flexibility. The fleet can procure as many components of each type as needed and customize the installation to meet each driver's preferences.
In the event of a new vehicle or use case, RAM® Mounts has the capability to design and manufacture custom mounting solutions, scaling up to meet new demands as needed. And as the collaborations continue, RAM® Mounts will continue to create universal and custom designs — including those for Samsung devices that enable their use in a variety of industries.
"Samsung is in an integral part of our business. We are committed to creating mounting systems across their entire portfolio of mobile devices," Parker says. Combining Samsung's rugged devices with RAM® Mounts' industrial-grade mounting solutions brings the convenience and support of advanced mobile technology into the hands of the most mobile workforce.
See what connected fleet solutions are available to help you meet company and driver needs.