The Challenge
The Bowflex® brand has been offering home fitness solutions for over 30 years, but times and consumer expectations are always changing. To meet demands for more engaging workout experiences, Nautilus®, Inc., parent company of Bowflex, sought to increase the level of digital connectivity offered in its exercise equipment — starting with the Bowflex HVT™, a hybrid strength and cardio machine that works best when combined with real-time video instruction, workout metrics and real-time tracking.

The Solution
Nautilus, Inc. built a custom app loaded with video workouts to guide consumers through every training session. To boost their customer experience, Nautilus, Inc., incorporated their new app into the premium Bowflex HVT+ product which is paired with the Samsung Galaxy Tab A 8-in. tablet. To make the process seamless, Samsung Business Services (SBS) used Samsung Knox configuration tools to customize the tablet experience to reflect the Nautilus brand and ensure devices came preconfigured with the Bowflex app.

Roughly a third of existing customers are trading up to the premium model.
The Results
Among customers who purchased the Bowflex HVT+, 100 percent can use the app and get the full benefit of the carefully designed workouts. When Nautilus, Inc. asked customers how happy they were about the decision to purchase the Bowflex HVT+ over the base model, 81% reported they were "happy" with their choice. Roughly one-third of purchasers are choosing the premium model, and the Net Promoter Score for the HVT+ model is even higher than for the base model. Nautilus, Inc. plans to incorporate digital displays into more of its Bowflex brand products, starting this year.


Headquartered in Vancouver, Washington, Nautilus, Inc., has been helping customers successfully accomplish their fitness goals for more than 40 years. While other fitness brands build expensive, conventional weight machines for gyms, Nautilus, Inc. develops innovative ways to bring gym-quality equipment and results into the home.
The international company now has 500 employees and a diverse family of popular strength and cardio brands, including Bowflex, Nautilus®, Schwinn®, Octane® Fitness, Universal® and Modern Movement®.
The Challenge
Most people want to work out, or know they should, but going to the gym can be inconvenient and intimidating. Sometimes, one look at the full parking lot during peak hours is enough to make people turn around and go home.
That's a problem Nautilus, Inc. has helped solve for decades, with innovative products like the Bowflex HVT machine, which combines strength training and cardio in a fast, efficient workout. Bowflex has been a leading home fitness brand for over 30 years, but as the times and technology change, so do the requirements to meet consumer needs and expectations.
As a leader in innovation, the company was ready for a challenge. In fact, Aaron Brotherton, senior director of marketing for the direct-to-consumer channel at Nautilus, Inc., says his team views digital transformation as a great opportunity.
"Our mission is to provide everyone the opportunity to achieve a fit and healthy lifestyle," says Brotherton. "Integrating technology that will improve the user experience and ultimately increase the likelihood of success is key to the continued growth of the Bowflex brand and our products. Fitness isn't one size fits all. We believe the marriage of our digital offerings and products is the best way to personalize the workout experience and help our customers see faster results."
Nautilus, Inc. kept this in mind when designing the Bowflex HVT.
"We knew people would love this machine," says Brotherton. "High-intensity interval training (HIIT) may be the current fitness trend, but it isn't going away anytime soon. It's a proven, effective way for anyone to achieve results. Our HIIT training regimen incorporates multiple exercises designed to target the entire body, making step-by-step instruction and coaching essential. We knew the best experience would need to incorporate audio and video throughout the workout to guide users on pacing and form, while automatically tracking their results and adjusting resistance, so they could focus on the moves — not the metrics."
Once again, Nautilus, Inc. needed to bring the gym experience into the home — not just the equipment, but also their expertise and ability to coach users through the Bowflex HVT's dynamic workouts. For that, Nautilus, Inc. needed a robust digital solution.
Samsung Knox made it incredibly simple to customize the tablet and create a unique, dedicated solution for the HVT+ that comes ready out of the box.
— Aaron Brotherton, Senior Director of Direct-to-Consumer Marketing at Nautilus, Inc.
The Solution
Nautilus, Inc. wanted the devices to reflect their brand and to come preinstalled with the Bowflex app, quick links to videos about how to use the machine, popular fitness tracking apps, and entertainment options such as Netflix and Spotify — everything users would need to get started on their health and wellness program.
First, Nautilus, Inc. built a custom HVT app and loaded it with trainer led video content covering proper form and cadence to achieve maximum results. Users can choose from one of three preconfigured workouts — Sprint, Circuit or Builder — and follow along with the videos, or they can design their own guided workouts by piecing together exercises from more than 50 unique video training modules. During the workout, the app tracks and displays metrics such as calories burned, duration of workout and Power Score — all of which can be uploaded to the users' favorite fitness tracking app or digital health and wellness program.
"Our content does a fantastic job of keeping users motivated and immersed in the workout. The level of detail provided in our coaching makes it possible for both beginner and advanced athletes alike to follow along and see success," says Brotherton. "We even provide little surprises and gamification along the way to reward and celebrate their progress."
Nautilus, Inc. launched the Bowflex HVT app along with the original Bowflex HVT model, which includes a media tray for mobile devices so that users can conveniently view the app while working out. That machine was successful, but the Bowflex team wanted to make a premium experience that was even more convenient and engaging and helped deliver on the brand's promise. So they designed the Bowflex HVT+, a premium model that incorporates a Samsung Galaxy Tab A 8-in. tablet for a digital interface.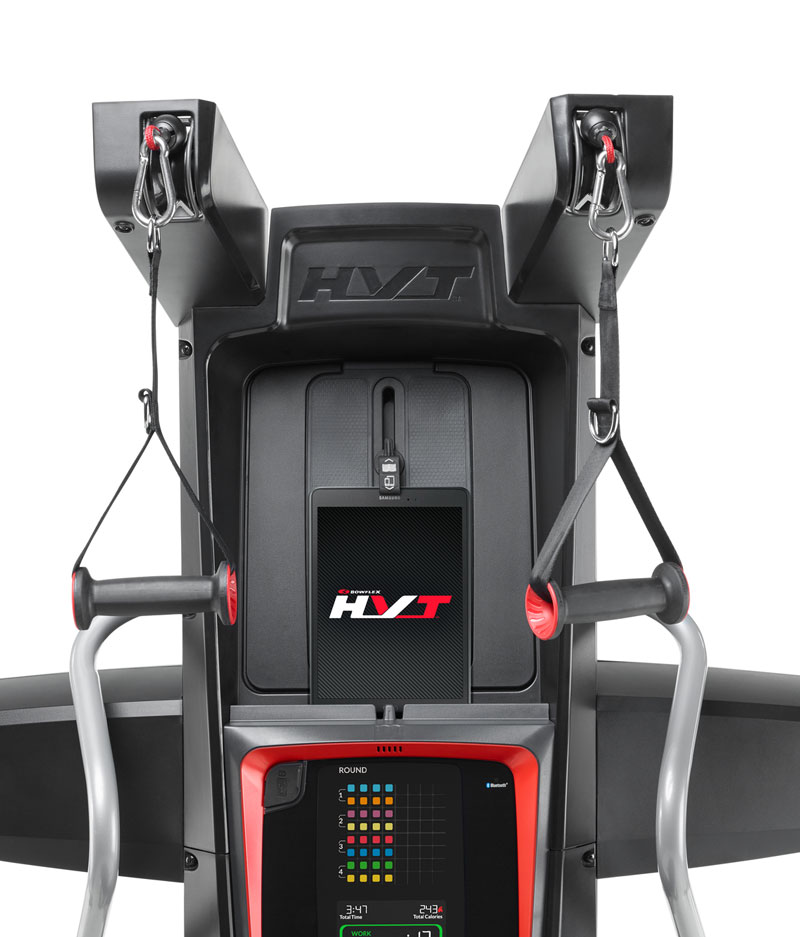 "After so many years in this [industry], we know that finding success in fitness means making things easier for people," says Brotherton. "Our customers like the idea of smarter technology that fuels an improved workout experience, but they don't want the hassle of setting it up themselves. Samsung's Knox Configurator made it incredibly simple to customize the tablet and create a unique, dedicated solution for the HVT+ that comes ready out of the box."
Bowflex customers also wanted a tablet that lives with the machine, doesn't get borrowed by other members of the household and is always where they need it. In early customer research, 83 percent of people who chose the premium model over the base model already owned a personal tablet, but still wanted a dedicated device for working out.
There was just one problem: Nautilus, Inc. didn't have internal resources to provision, configure and repackage thousands of tablets at a time — so they enlisted help from Samsung Business Services (SBS) and Samsung Knox configuration tools.
Knox Configure unlocks APIs on the tablets that enable a level of customization unavailable to the standard developer. Working closely with Nautilus, Inc., SBS used Knox configuration tools to create a tailored tablet experience that represents the Nautilus, Inc. brand and delivers content exactly the way their trainers envisioned. The Nautilus, Inc. logo, custom boot-up screen and app configurations remain on the device, even if the customer does a factory reset.
Completing this process manually on thousands of individual devices would take weeks, but Knox Configure enables these changes to be automated and applied to a fleet of devices. Because Nautilus, Inc. works with SBS, the process is even easier. SBS provisions the Samsung devices, configures them to be infused with the Nautilus, Inc. brand, repackages them and ships them to a Nautilus, Inc. warehouse to be paired with a machine and delivered to customers.
"Let's be honest, working out is difficult for most," Brotherton concedes. "That's why Bowflex is always seeking ways to make the fitness experience faster, easier and smarter. In the case of HVT+, we wanted to eliminate the barriers and excuses that prevent people from seeing success. Questions like, 'What app do I need?' or 'Can I connect my device to my machine?' can be taken off the table. Removing the little barriers make it easier to tackle the biggest hurdles we face with our workouts, such as lack of time and energy. Every little challenge we address in advance makes it that much easier for our customers to achieve their goals."
Delivering the perfect business tool to engage your customers and inspire employees to do more and collaborate.
The Results
Both the HVT and HVT+ models have been very successful, but Brotherton says the premium model has yielded some distinct advantages, including:
Improved app engagement: Based on both research and experience, the Nautilus, Inc. team believes that customers will be more successful with the machine if they use the app, follow the workout videos and complete exercises correctly and with the proper cadence.
Better customer satisfaction: When Nautilus, Inc. asked customers how happy they were about the decision to purchase the Bowflex HVT+ over the base model, 81% report they are "happy" with their choice. "The Samsung tablet provides them a premium experience," says Brotherton.
Increased sales: One-third of the people who purchase the Bowflex HVT choose to trade up to the premium model. "Starting a fitness routine is already a daunting challenge for most. Our customers appreciate the convenience of having the tablet pre-loaded and ready to go out of the box. We assumed demand for the tablet would be strong, but this has exceeded our expectations," said Brotherton.
More word-of-mouth marketing: Nautilus, Inc. uses Net Promoter Score (NPS) as one metric to determine the success of a product. "The NPS for the HVT+ version is even higher than the base version of the machine," notes Brotherton. "Both products are scoring well, but our HVT+ customers are even more likely to recommend the product to friends and family."
Based on the success of the Bowflex HVT+, Nautilus, Inc. already has plans to embed Samsung tablets into future products.
"We expect to launch new products that provide similar capabilities, embedded content and more," explains Brotherton. "We're already in talks with Samsung about the next phase of our partnership and ways to improve the fitness journey through their digital displays, applications and exchange of data. This was just the first step in our roadmap of Bowflex branded fitness products that enable success through improved technology."
Learn how Samsung solutions are changing fitness routines on a regular basis.