Manufacturers worldwide are looking at cutting overhead costs in all functional areas. Machine automation is driving this objective from the frontlines. IoT, sensors, and wireless tags have revolutionized the landscape of today's factories. Automated machines, robotic arms and functions are rapidly replacing manually run machines, production lines, and processes. The advent of these technologies is dramatically changing how factories and manufacturing processes function.
IoT Technology Sees Unparelleled Growth in Manufacturing
According to IDC, in 2018 manufacturing will spend $189 billion on IoT solutions. Manufacturers are focusing their IoT spending on robotics, solutions that will aid manufacturing operations and production, automated machinery management, and predictive diagnostics and repair, while some will also invest in connected vehicles.
To enhance the factory productivity of workers, reduce the downtime of processes and ensure timely decision making, factories are increasingly deploying full suites of mobile applications across the factory. Manufacturers are taking agile decision-making to the next level by implementing big data analytics solutions associated with machine learning. This will continue to iterate, of course. However combining machine learning, artificial intelligence and big data is already accelerating production and quality.
One of the biggest challenges faced by factory owners is overhead costs. Manufacturers are looking at building smart factories that drive efficient use of resources. Power consumption is one of the key resources on which factories spend a sizable amount of their budgets. Smart electric appliances will build efficiency into the usage of electricity that will, in turn, reduce the burden of power costs for manufacturers.
Modernize Your Factory With Mobile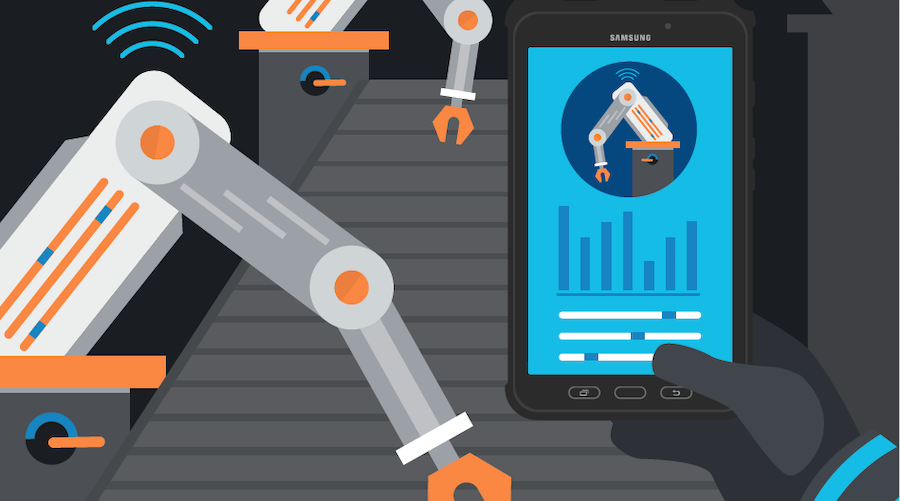 White Paper
Get your free guide to the mobile technologies that will accelerate your smart factory journey. Download Now
Product design and proof of concept have experienced a recent paradigm shift. Connected 3D printers are helping factories evaluate and assess actual product designs before spending on full-scale production.
It's All Good! However…
The manufacturing industry is taking the right steps in adopting the technologies and bringing together the components to make a difference in the way products are produced. However, there is a critical need for dependable and scalable connectivity to assist the seamless operations of these technologies. Factories need scalable networks that can support not only current technologies but ones that will be introduced over time, as technology adoption is only a growing trend.
Manufacturing entities have deployed legacy networks that are not designed to do the bandwidth heavy lifting that comes with several large machines, robotics, and other additional applications. A strong and ubiquitous network is needed to fulfill the connectivity needs of these connected devices and heavy equipment. What manufacturers need today is a dedicated wireless network that is highly secured, is optimized for ensuring the utmost precision required in operational automation, ensures excellent user experience, and is simple and easy to deploy.
Reign in the Madness
Although Wi-Fi, traditional Private LTE, and Public LTE represent some of the available options, we must caution that they have one or the other complexities (such as a lack of privacy due to shared traffic, a lack of dedicated and ubiquitous coverage, a lack of reliability and scalability, licensing cost issues, and minimal IT operator control) to support the connectivity needs of the next-generation smart factories. However, the emerging CBRS-based Private LTE networks promise to eliminate a lot of these issues and provides the required quality of service at an optimal cost. CBRS Private LTE offers the right ingredients of what is required by new-age manufacturing to pursue the digital transformation, mobility and automation vision.
Dependability and predictable latency – Manufacturing automation processes need a heightened level of predictability and dependability that will truly assist productivity. CBRS-based Private LTE provides manufacturing just that.
Robust coverage – CBRS-based Private LTE provides the required indoor and outdoor coverage that supports the extensive connectivity needed by the several wireless applications, machines, sensors, and communication devices across the premises.
Bandwidth capacity – Agnostic of the type of device and application, Private LTE is capable of providing the dedicated bandwidth that suffices business intent and objectives.
Security – CBRS being an LTE-based technology enables manufacturing IT managers to use carrier-grade SIM-based authentication mechanisms to protect access to sensitive applications.
Scalability – Private LTE can provide manufacturers the scalability quotient that is essentially required for future connectivity requirements to build a competitive cutting edge.
Seamless communication – Whether it is push-to-talk (PTT), push-to-video (PTV), or some other unified communication and collaborative application, Private LTE can guarantee an SLA that meets high standards to enable real-time communication and agile decision making.
Autonomous connectivity – CBRS-based Private LTE provides seamless connectivity with autonomous control of the enterprise with no dependency on the network operator or licensing costs.
Leading The Way in CBRS Private LTE for Manufacturing
Samsung's CBRS small-cell portfolio supports the use of up to 150 MHz of shared spectrum in the 3.5-GHz band. Samsung's CBRS solutions range from products designed for indoor use (in operator or enterprise deployments to create Private LTE networks) to macro RAN equipment for MNOs and MSOs. The spectrum band and Samsung's portfolio also support compact and high-power products for outdoor applications, such as for offloading 4G traffic.
Samsung is in active trials and has conducted a series of demonstrations, including HD video streaming using a 20-MHz carrier in the 3.5-GHz band employing the CBRS small-cell product. Samsung CBRS small cell currently interoperates with the Federated Wireless Spectrum Controller SAS solution, which plays a critical role in CBRS architecture, to orchestrate allocation of 3.5-GHz frequency blocks under the Federal Communications Commission's spectrum-sharing framework.
Imran Akbar will be speaking at the Gartner Symposium 2018 in Orlando, Florida on Tuesday, Oct. 16 regarding the future of private wireless networks. Learn more about the Gartner Symposium's must-see sessions here.