In the oil and gas (O&G) industry, worker safety remains the top priority — even above efficiency — due to the volatile nature of the products that are extracted, transported and refined. The significant safety risks associated with the use of electronics in hazardous work areas means the pace of operational modernization is often slower than in other industries.
According to the latest safety performance indicators report from the International Association of Oil and Gas Producers (IOGP), 25 fatalities were reported by IOGP member companies in 2019. While that figure is down from 31 fatalities in 2018, O&G businesses need to put safety first in all phases of operations before setting their sights on achieving greater efficiencies.
Although this approach is necessary, it also hampers the workers themselves. While workers in nonhazardous areas use mobile devices to connect to core business applications, record data and communicate, hazardous-area workers have been forced to rely on paper-based processes or bulky, specialized mobile computing solutions. Inefficient communications, delayed access to applications and repeat data entry are the norm when modern, cloud-connected mobile devices are not being used.
The latest generation of non-incendive mobile devices offer an alternative: They help O&G workers improve productivity and offer connectivity even in remote locations — without compromising worker safety.
The case for non-incendive mobile devices
The U.S. Occupational Health and Safety Administration (OSHA) classifies O&G into several distinct segments: Oil and Gas Extraction, Drilling Oil and Gas Wells, and Support Activities for Oil and Gas Operations. No matter which segment a worker belongs to, they are likely to work in hazardous conditions, which may involve exposure to chemicals, risk of fire or explosion, remote locales and confined spaces, such as wells or pipelines and machines. Given the range of hazards, OSHA mandates that all field equipment be certified for use in hazardous areas.
Empower your field services team with mobility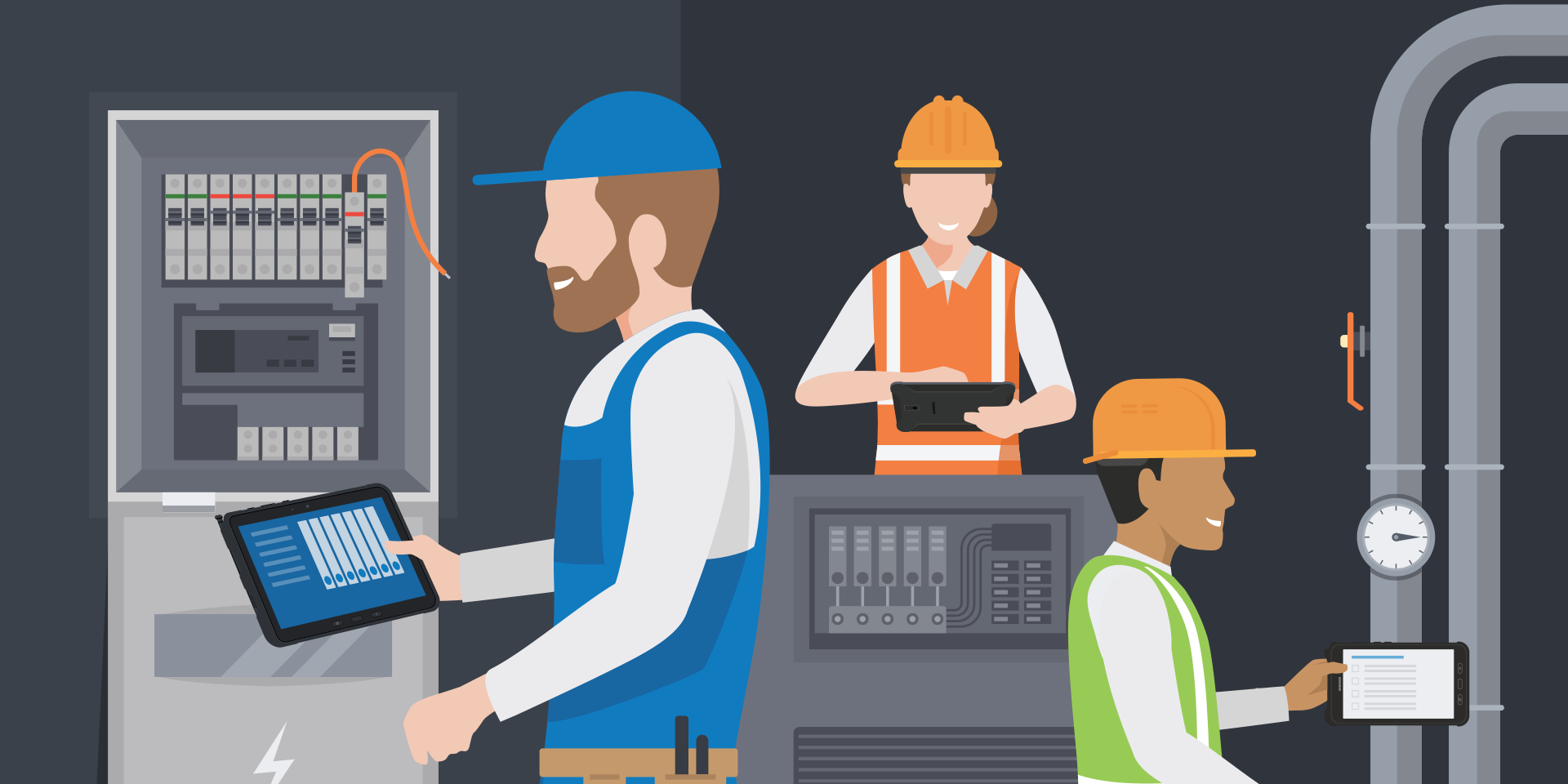 Exceed customer expectations with this free guide to improving connectivity in field services. Download Now
Traditionally, the only technologies that could qualify were hardbound field manuals and non-incendive laptops, which come up short when workers are in remote areas onsite. There are several challenges to productivity when using these outdated tools, including:
Lack of mobility: Carrying laptops, however ruggedized they may be, leaves workers juggling heavy and unwieldy equipment in the field. This means laptops might not always be used at the point where they are needed the most. O&G workers might instead forgo important communications or lean on paper solutions, such as clipboards and blueprints.
Static information: Using paper-based forms or even laptops with limited connectivity means field workers aren't able to access the most updated and accurate information in real time. Given the risks and high costs associated with downtime, businesses are disadvantaged when real-time data is not available to inform decisions.
Phase lag in communication: Without the right communications tools, frontline workers and the corporate office can find themselves out of sync. Daily or even hourly field reports can be filed or called in — but might get pushed aside if they're not integrated into the regular workflow.
Why non-incendive devices are essential allies
Outdated technology can exact a steep price in O&G. Fortunately, non-incendive mobile devices — such as Pepperl+Fuchs' Tab-Ex® 03 D2 (a non-incendive version of Samsung's Galaxy Tab Active3), Tab-Ex Pro D2 (built up from the Galaxy Tab Active Pro) and Ex-Cover Pro D2 (built up from the Galaxy XCover Pro) — deliver efficiency while also meeting necessary safety standards for operating under hazardous conditions.
With Samsung's rugged mobile technology at their core, these devices are specifically designed to be used in potentially volatile, Division 2 settings where collaboration, productivity, data security and employee safety are paramount. They are extremely durable, meeting MIL-STD 810 standards for high altitudes, humidity and other severe environmental conditions. They also have an IP68 rating, so they can withstand dust, dirt, sand, water and even drops of up to 1.5 meters without a case. With built-in software capabilities, these rugged devices will keep workers safe and give them all the advantages of the digital age.
Intrinsically safe mobile devices liberate field workers from clunky laptops. Their light weight and ruggedness allow them to be easily carried to the location they are needed. Using mobile tablets, workers can use LTE connectivity to access virtually any company application and gain access to real-time communications and data. Equally important, employees and project managers can manage workflow from different remote locations and still be on the same page. No more communication speed bumps — all stakeholders get the same information that is updated as it is changed in real time.
Augmented reality solutions even allow O&G workers to receive detailed technical assistance from a remote expert. Workers can overlay accurate site maps and contrast them against the situation on the ground to pinpoint problems and related solutions easily. With the high-resolution camera, expert help can remotely view problematic areas and provide help as needed.
Keeping workers safe — and data secure
Device security is also an important consideration in O&G. Samsung devices are secure with advanced biometric authentication, so only authorized individuals can access stored data and information systems. And with the support of Knox security — built in from the chip up — these tablets can use other solutions in the Knox Suite, such as Knox Mobile Enrollment and Knox Manage, for bulk deployment and device management.
Frontline users can also benefit from Knox Capture, which transforms a smartphone or tablet into an enterprise-grade barcode scanner. With Knox Capture, users can scan and record data that can then be instantly injected into various apps as needed. When solutions like this are seamlessly deployed with an MDM solution, workers can stay connected and productive without worry.
The O&G industry's variety of hazardous operating conditions demands equipment that's robust and durable enough for on-site work, but this equipment has historically been bulky and inefficient — until now. Samsung's non-incendive mobile devices pair safety and productivity in one platform to protect workers and meet OSHA requirements, while streamlining their workflows in an often chaotic environment.
Get more done without sacrifice on Samsung's line of rugged devices. And you can find more advice on using rugged devices to support field services in hazardous environments in this free white paper.