Production on the manufacturing floor can only be as lean as the supply chain that drives it. Any weak links in vendor and customer relationships can interrupt the supply chain, causing ripples that negatively impact the manufacturing process.
While the argument for healthy vendor-manufacturer relationships can be made across a variety of industries, specific studies focused on the automotive manufacturing industry have shown that major automakers (and most manufacturing enterprises) could significantly grow their profits by strengthening their supplier relations.
There's a significant correlation between the health of the original equipment manufacturer (OEM)-supplier relationship and the bottom line. In essence, the percentage of OEM profit is directly proportional to the strength of the relationship it enjoys with suppliers. Even more important, strong relationships might deliver additional soft benefits in the form of priority customer service and support and more.
How EDI Can Help
Manufacturing enterprises that can boost relationships with suppliers on one end and customers at the other are likely to rise above the competition. A fundamental way to develop a healthy relationship is to invest in electronic data interchange (EDI) that facilitates smooth data exchange between all parties and drives communication in the smart factory.
EDI is an efficient way of transferring large troves of data, including raw data, and initiating communication as needed in the supply chain without relying on paper or manual interventions. It is the cornerstone of lean manufacturing and has positively impacted manufacturing in a number of ways. According to "The Future of EDI," a study conducted by Forrester Research, EDI transactions are booming. They exceed an annual rate of 20 billion transactions, and growth is expected to continue on a steady upswing.
Modernize Your Factory With Mobile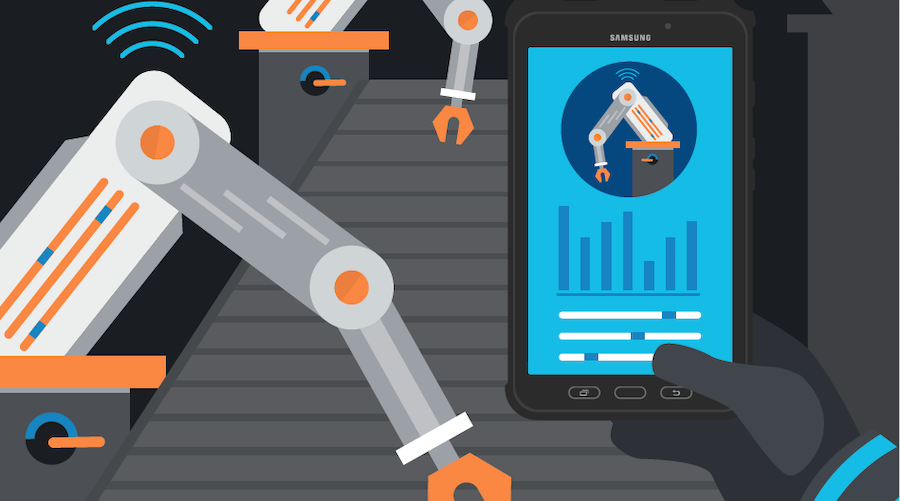 Get your free guide to the mobile technologies that will accelerate your smart factory journey. Download Now
EDI offers many advantages, including improved visibility of processes and agility. EDI and mobile devices are an especially potent pair, because they enable manufacturing personnel to move freely while executing processes effectively.
Here are a few goals that manufacturers can set to improve relationships with suppliers and customers.
Goal #1: Know What Is Where
Just-in-time (JIT) delivery of raw goods to the manufacturing floor is more effective if the OEM has transparency into the supply chain process from point of origin of manufacturing vendors onward. A mobile device such as the Samsung Galaxy Tab Active2 can scan the SKUs of raw materials as they are being shipped and capture the data automatically to the supply chain management system.
The fulfillment of the order from the supplier can trigger a text alert to the requisite manufacturing personnel, who can then schedule production process time and also alert customers down the supply chain about final delivery expectations.
Goal #2: Automate Inventory Management
The traditional method of inventory management involves taking a count of materials every few weeks and manually filling out order forms to restock supplies. EDI can automate such repetitive tasks by finding key data points in the Big Data streams a smart factory generates and triggering orders when stock on necessary parts runs low.
Enterprise resource planning (ERP) software can include accommodations for electronic purchase forms to be generated when a barcode on a part indicates low inventory. That purchase form can be signed on a mobile tablet by a manufacturing plant manager and sent on via EDI processes to the vendor for restocking.
Goal #3: Improve Customer Satisfaction
Imagine you have a doctor's appointment. Two days before the visit, you get a phone or text reminder, decreasing the likelihood of a missed visit. If you have had tests done, an automated email alert is triggered when the lab technician enters the results in the patient management system — keeping you informed long after you've left the doctor's office.
A similar system of EDI alerts can be instituted by enterprises in the manufacturing industry to improve customer satisfaction. When a customized order completes production, the plant manager can sign off on the order, triggering an alert to the customer. Customers can also opt in to receive alerts about shipment status and other order updates as needed.
Lean manufacturing depends on high levels of automation and transparency, both of which EDI delivers. Such automation decreases manual errors, mismanagement of inventory, wrong ordering of parts and time spent on chores that can be handled through a triggered sequence of events.
Manufacturing enterprises can lean on mobile devices to receive such EDI notifications on the go. Together they create seamless open channels of communications between suppliers, OEMs and customers to realize valuable efficiencies in the manufacturing process.
Learn more about using mobile technology to modernize your factory with our free white paper.