The top manufacturing trends hinge on smart factories which process millions of data points — from the digital supply network to embedded machines on the shop floor — to keep the production line humming. Such high-volume processing requires more advanced and agile computing power, which is exactly what cloud and hybrid computing deliver.
As factories migrate to cloud-based intelligence and leverage computing capabilities at scale, original equipment manufacturers (OEMs) are updating communications with legacy mainframe servers to enable older technology to play in smarter environments.
Cloud Is the Foundation of the Smart Factory
The machine-learning algorithms that drive lean manufacturing demand enormous computing power to accept streamed data points, analyze them to create meaningful models and deliver predictions that will improve uptime while the plant runs autonomously.
Traditionally, an increased demand for computing power has required the addition of more mainframe servers. But the advent of cloud computing, where data processing is conducted offsite on a "cloud" of servers, has turned that formula on its head. Smart factories increasingly rely on cloud-based manufacturing because the technology delivers three important functions: easy access to high computing power, a cost-effective solution with a pay-as-you-use model and the ability to scale servers up and down depending on need.
Modernize Your Factory With Mobile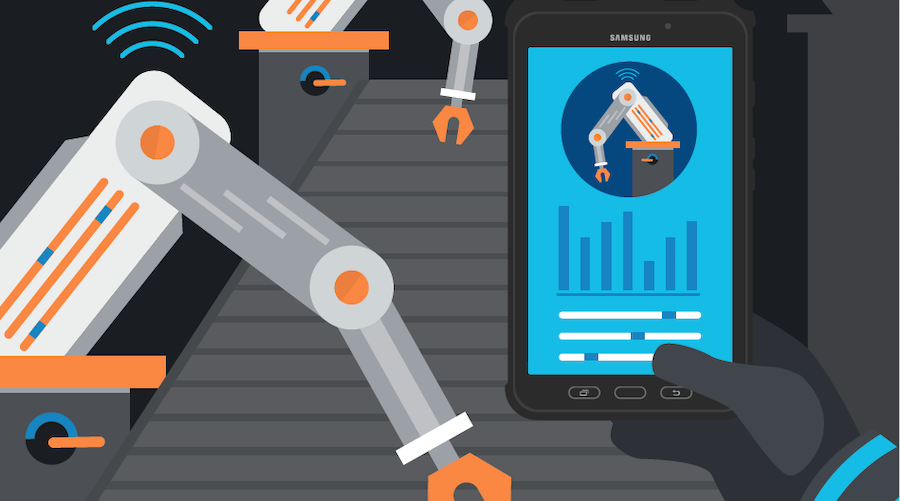 Get your free guide to the mobile technologies that will accelerate your smart factory journey. Download Now
While cloud computing has its advantages, it also has limitations: It increases latency in data processing, which smart factories cannot afford. When a machine sensor detects an imminent risk of breakdown, rapid reporting is essential. Edge processing has the kind of low latency required in this setting, while cloud computing does not. Edge computing, where data is processed close to the data source, is therefore becoming an increasingly valuable proposition in smart factories. According to MarketsandMarkets, global edge computing services are expected to increase to $6.72 billion by 2022.
Hybrid computing — the marriage of mainframe, cloud and edge computing — delivers the best of all worlds: offsite processing for non-mission critical applications such as the development of machine learning models, and edge computing for more time-critical computing.
How to Migrate
OEMs using mainframe servers as their primary computing resource are now presented with a dilemma: Either move to the cloud, or risk losing out to more agile competitors. But what to do with applications and data in legacy environments?
Fortunately there are many solutions that can be tailored to the needs of OEMs looking to migrate to a hybrid cloud environment. IT personnel follow a set of procedures that begin with a cloud provider evaluation — a process based on a variety of factors including cost and computing power needed at the outset. Amazon Web Services and Microsoft Azure are two of the most popular providers.
Through the migration process, which can be carried out by moving over the lowest-impact applications first as a test drive, mobile devices deliver powerful edge computing capabilities to realize the promise of a smart factory. This includes the Samsung Galaxy Tab Active2, a ruggedized tablet best suited to production areas; and the Samsung Galaxy Note9, a smartphone ideal for manufacturing managers who visit the production floor. Managers can take quick notes on the Note9 using the S Pen stylus, and transition to a complete desktop experience back at the office using Samsung DeX, which enables the user to dock the phone and use it as a desktop device with a monitor, keyboard and mouse.
OEMs can manage the migration of their ERP systems by using cloud migration tools that make the process as seamless as possible. Companies will also have to figure out how to actually migrate the data to the cloud (over broadband or by physically shipping data files). Fortunately, cloud service providers offer solutions that deliver all the necessary guidance, from training personnel to computing in the cloud to migration and troubleshooting. Samsung advisors work with companies to deliver the necessary edge computing solutions that are an essential component of hybrid computing.
Thanks to hybrid computing, advanced structural design and analysis, enhanced analytics and the computation of machine learning algorithms that deliver predictive maintenance, capabilities can be relegated to cloud servers. These updated models are then streamed over to edge devices on-site where split-second decisions must be made. Leveraging cloud and hybrid computing enables OEMs to adopt lean manufacturing solutions that are fueled largely by data and realize the promise of Industry 4.0.
Learn more about using mobile technology to modernize your factory with our free white paper.