Tablet computers are no longer just personal accessories for watching movies and shopping in your downtime; many can hold their own against laptops, especially in environments where portability and touch screens are important. Professionals on the go increasingly prefer them over more traditional computing devices, as they can deliver the same results with more user experience flexibility.
That said, if you're looking to integrate tablets into your company's IT infrastructure for workers to use them as their primary devices, it's important that you purchase devices that have the specs your teams need to be most effective. The Samsung Galaxy Tab S4 fits the bill for high-powered teams on the move with an expansive display, powerful hardware, long-lasting battery and an S Pen that helps professionals take detailed notes quickly. However, its true differentiator is DeX, the desktop experience software that comes built in and allows users to transition seamlessly between mobile and desktop experiences.
You can read — and hear — plenty about how Samsung DeX enables enterprises to save significant amounts of money. All professionals need to do is connect their DeX-enabled device to a monitor, keyboard and mouse — which can often be accomplished seamlessly with Bluetooth — and suddenly they have a full work space. You may already be familiar with DeX on Galaxy smartphones, but the Tab S4 extends the DeX value proposition further, giving users three powerful ways to work.
Go Mobile-Only With DeX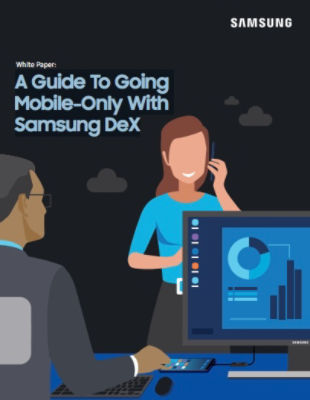 White Paper
Your comprehensive guide to rolling out a mobile-only solution for your workers. Download Now
So how do you actually make the most of these exciting new capabilities?
Spread out on the Big Screen
You can easily take your desktop on the road with your Tab S4 in three easy steps — and just two if DeX is already turned on.
Activate DeX Mode Whenever, Wherever
The Tab S4 is built to excel as an Android tablet, and you may spend much or even most of the time using it that way. But when you need to start up that presentation right away, you can quickly enter DeX mode. This video shows how you can set your Tab S4 to enter DeX mode whenever you dock it into the keyboard case, or when you connect it to one of our latest accessories. Plus, with Dual Mode, you can share your slides or project to a conference room display on one screen, while using the Tab S4's native screen to jot down notes or sketches with the S Pen.
What's Dual Mode?
With DeX, you can go all-in with the desktop experience, and enjoy multiple screens for ultimate productivity for the task at hand. But sometimes you need to go beyond multitasking, and that's when Dual Mode comes in. While you're doing your main work on the desktop monitor, such as editing documents or securely accessing files and applications on your corporate network, you can use your Tab S4 for other tasks, such as responding to instant messages and emails, jotting down notes with your S Pen or controlling your music player.
Pocketable Accessories
Professionals who primarily work away from a desk will see new productivity possibilities now that Samsung has introduced compact, easily pocketed accessories for the latest version of DeX in the Galaxy Note9 and Tab S4 that lighten workers' loads while making desktop-like productivity easily accessible.
For example, police officers accustomed to bulky in-vehicle laptops will appreciate how Tab S4 with DeX can provide a more powerful mobile experience while on patrol and filling out the day's paperwork back in the office. On-the-go retail managers who need a tool that can double as both a customer-service and back-office device will be able to easily switch from mobile to DeX mode at any workstation with a tiny adapter, allowing them to go from helping a shopper to ordering inventory without any downtime.
Today's workers are increasingly on the go, and they need devices that offer the power of a laptop, without weighing them down. Devices like the Tab S4 with revolutionary DeX mode offer the flexibility that they need to stay productive on the go.
Learn more about how the Tab S4 can meet all your business needs in this infographic.