When it comes to workers and their smartphones, one size does not fit all. That's why the next-gen Samsung Galaxy S10 comes in three distinct models — with different screen sizes, features and capabilities.
All three Galaxy S10 smartphones are ultra-powerful, feature stunning Infinity displays, long battery life and unique capabilities like Samsung DeX. At the same time, there are some key differences to be aware of when deciding which Galaxy S10 phone is the better fit. If you're considering which S10 device is right for you or your team, here's a quick comparison of the three models.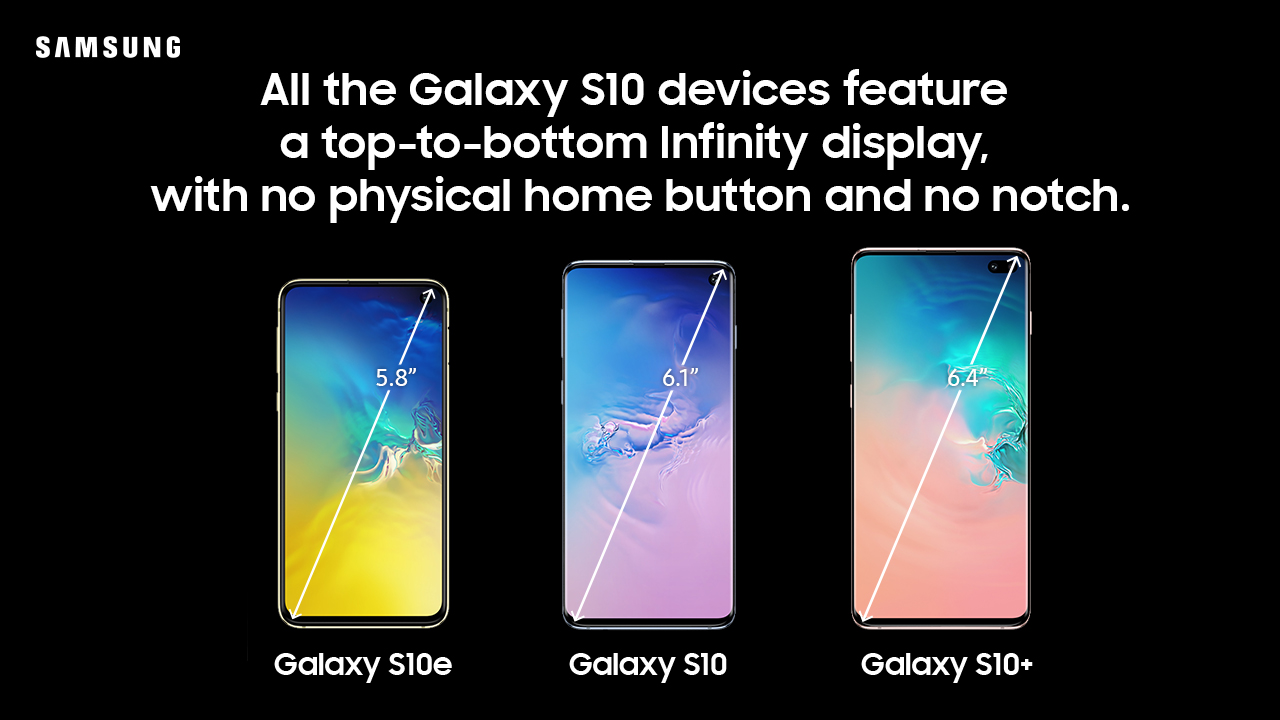 Screen Size
Some team members need the largest screen possible for multitasking on the go; others want a more compact device that fits easily into a pocket or purse.
If you need a bigger space for working, the Galaxy S10 and S10+ both offer large, flawless and razor-sharp Infinity displays, measuring 6.1-in. and 6.4-in., respectively. With no margins at the top or bottom, and no home button or notch, they are ideal for viewing and editing documents on the go, or using two apps side-by-side. Moreover, their displays sport Quad HD+ resolutions (3040×1440) that produce a whopping 4.4 million pixels, giving you a great view of presentations, photos or videos.
If you need a more compact device, consider the Galaxy S10e. Its 5.8-in. Full HD+ (2280×1080) screen is slightly smaller, but no less striking.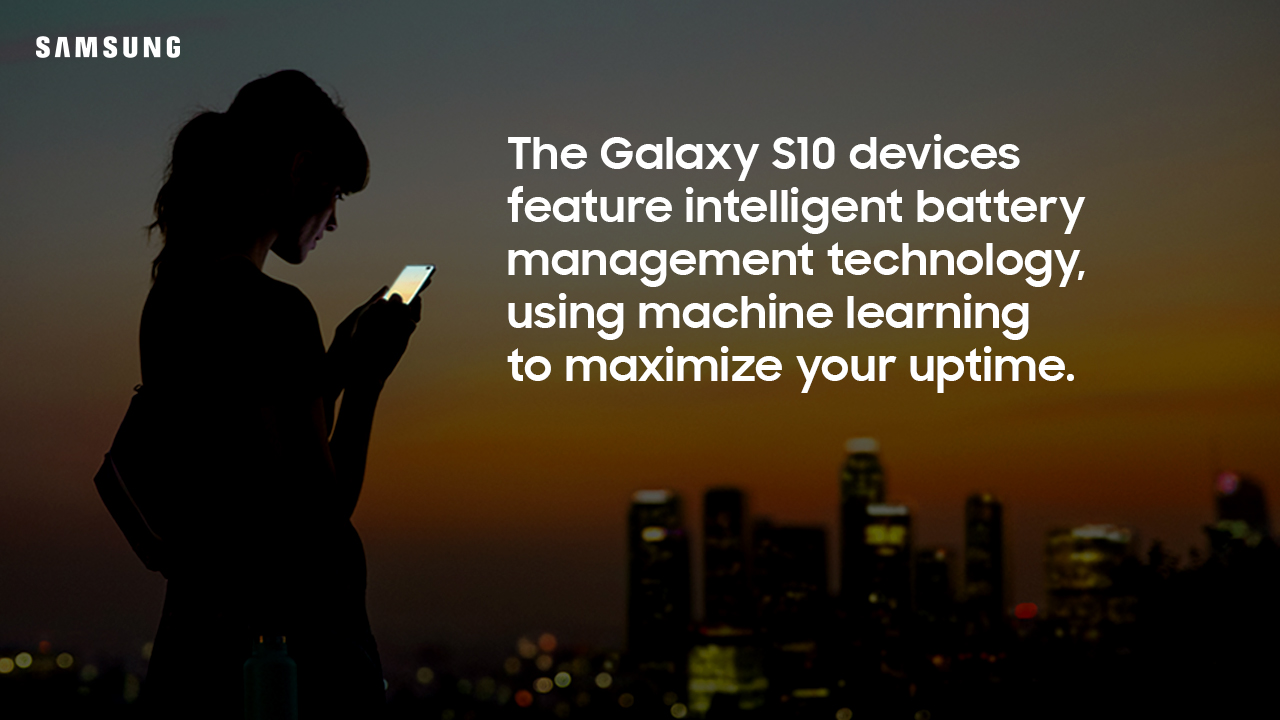 Battery Life
In work and life, there's never a good time to lose power.
The Galaxy S10 devices each feature all-day battery life. A larger screen typically dictates a larger battery too. That's the case here, with the S10e battery rated at 3,100mAh, compared to 3,400mAh for the S10, and 4,100mAh for the S10+.
Close the Workforce Tech Gap
Learn how to address the growing tech gap between C-suite and the new generation of digital natives. Download Now
All three S10 devices incorporate intelligent battery management software that learns your habits, optimizing power usage by disabling functions when they are not needed. They also all include a new feature called Wireless PowerShare, which allows you to charge other compatible devices with your S10. You simply place the other device on the back of your S10 and can transfer up to 20 percent of your charge. It works with Qi-compatible Samsung devices, including wearables.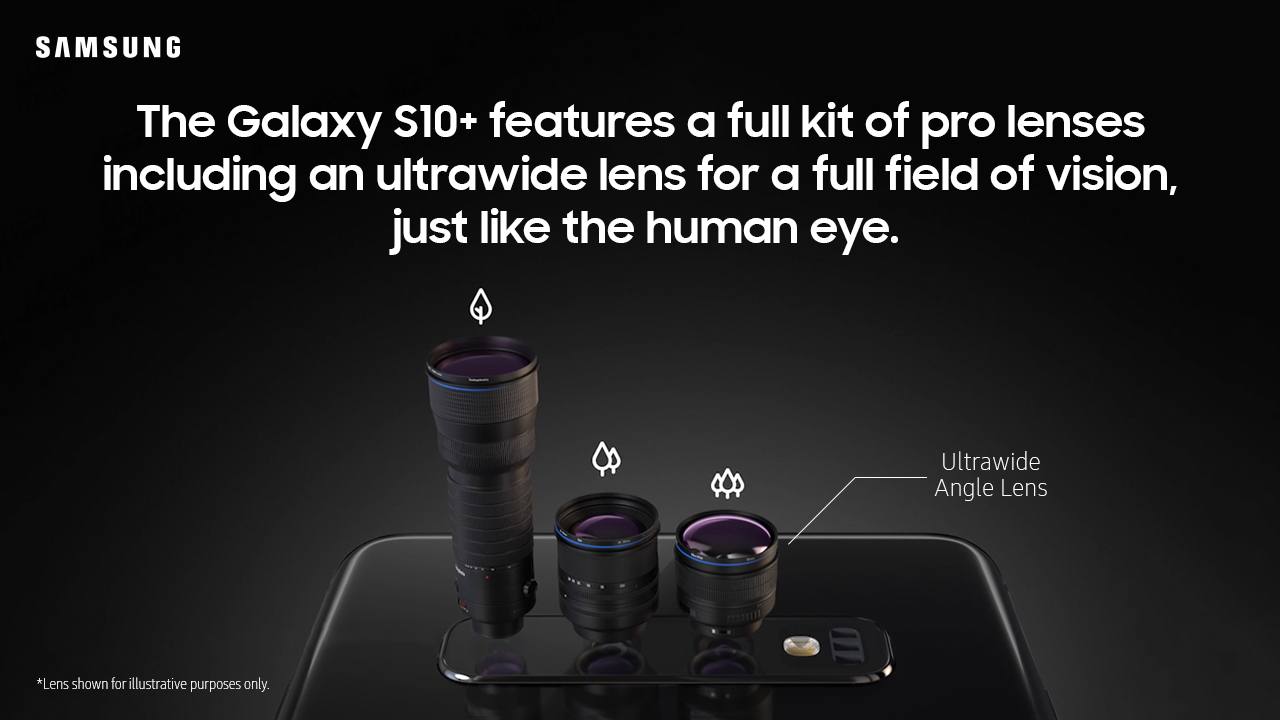 Cameras
The Galaxy S10 range continues Samsung's tradition for incredible camera technology.
Both the S10 and S10+ feature a full kit of three pro-grade lenses on the rear, including a 16-megapixel ultrawide angle lens that lets you capture a full field of vision. The S10e's dual-lens system is no slouch, also capturing 16-megapixel images.
For sharp selfies in any light, the S10+ features dual front-facing portrait cameras (10 and 8 megapixels) embedded in its Infinity display. The S10e and S10 have single 10-megapixel front-facing cameras.
With any of the S10 models, you'll be able to capture the bigger picture, producing professional-quality images virtually indistinguishable from a digital SLR, even in low light.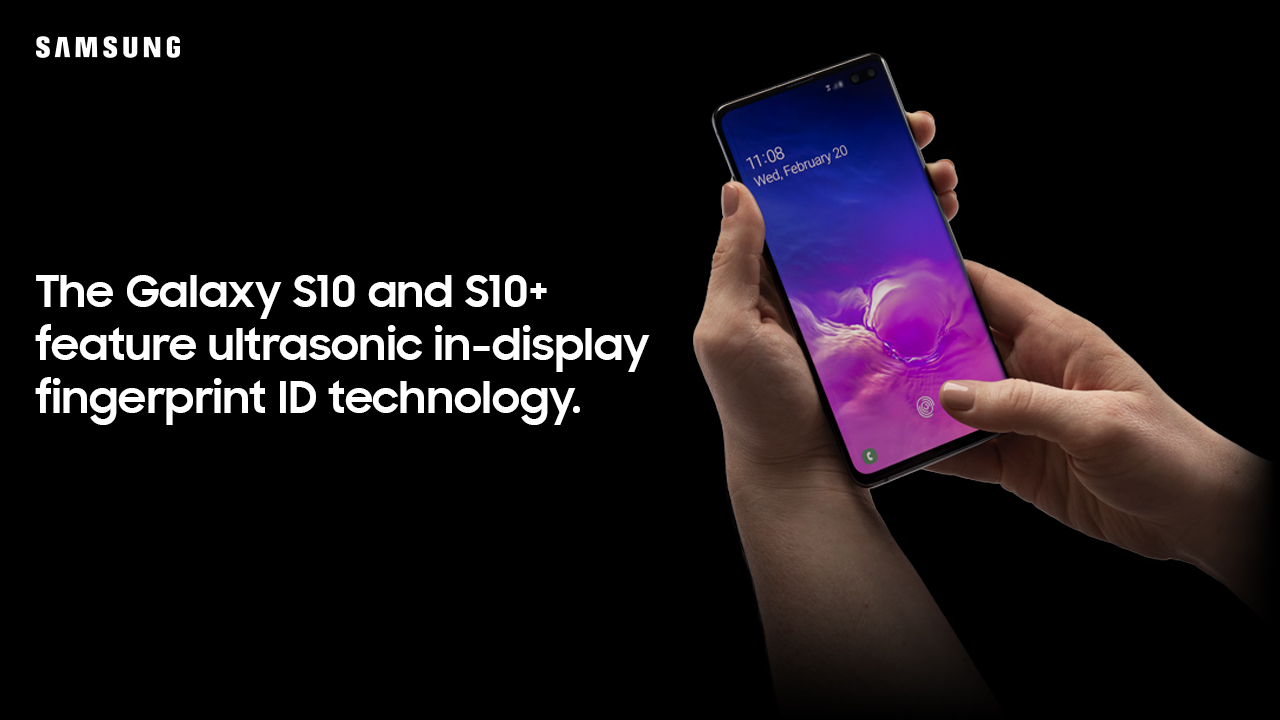 Biometrics
One of the most anticipated features on this 10th iteration of the Galaxy line is the introduction of ultrasonic in-display fingerprint ID technology on the S10 and S10+. Embedded beneath the Infinity display, the fingerprint sensor reads the ridges and valleys of your fingertip in three dimensions through the use of imperceptible ultrasonic waves. You simply press your thumb or finger to the display and unlock with a touch, in almost any light, rain or shine.
The S10e doesn't feature the in-display technology, but instead uses an electrostatic fingerprint reader that is embedded in the power button on the right bezel. It's also fast, convenient and secure. Each S10 model offers facial recognition as an alternative authentication method, as well as tight linkages with the latest version of Samsung Knox.
Storage and Memory
If you store a lot of photos, videos and other data on your smartphone, the S10 range has you covered. All the S10 devices have base models with 6GB of RAM and 128GB of storage, as well as microSD slot to further expand.
You can opt for more, though — much more in the cases of the S10 (8GB RAM and 512GB of onboard storage) and the S10+ (up to 12GB of RAM and 1TB of onboard storage). That rivals or tops most laptops in use today.
A Galaxy of Options
Don't forget that each Galaxy S10 model comes with the same cutting-edge processor, the DeX platform that lets you extend your phone to the desktop and other features optimized for today's growing population of flex and mobile workers.
For ultimate power and future-proofing, a 5G version of the S10 is coming soon. It will have an even larger 6.7-in. screen, a more capacious battery (4,500mAh) and powerful performance.
You and your business are unique. That's why Samsung offers phones such as the S10 in different variations, in order to provide you and your workers exactly what you need to succeed.
Learn more about the next-gen Galaxy S10e, S10 and S10+.