In terms of raw hardware specs, today's smartphones are already as powerful as most laptop PCs. However, continuing to amp up performance, screen size and features while still delivering a sleek form factor and long battery life presents some unique challenges.
With the next-gen Galaxy S10 lineup, our engineers and designers have well and truly risen to that challenge with innovations like the top-to-bottom Infinity display, pro-grade cameras and ultrasonic fingerprint ID. But beyond this incredible engineering, the S10 also introduces some very smart, AI-powered performance and battery management on the inside that helps to transcend the typical trade-offs between power, screen size and battery drain.
Intelligent Performance Management
In the Device Care section of the Galaxy S10's settings are several smart new features. Here, you can monitor the performance of your device, or opt to have it automatically optimize performance for you.
Mobile devices tend to slow down and operate less reliably the longer they run without a restart. You can regain top speed by scheduling regular restarts of your Galaxy S10 smartphone. No need to worry that your device will suddenly reboot while you're using it — the software is smart enough to delay any scheduled restarts until after you're done.
Another way the S10 intelligently manages performance is by closing down apps that are running in the background that have not been actively used for a while. The S10 also deletes unnecessary files — such as cached, residual or advertisement files — while taking care never to delete any personal files. You can manually execute these optimizations, or set them to take place automatically once a day, or whenever you prefer.
All of the S10 models come with plenty of storage and memory, starting at a base of 6GB of RAM and 128GB of storage on the S10e, and going up to 12GB of RAM and 1TB of storage on the highest-end S10+ model. Even so, these smart performance and storage management features will help you to get the absolute most out of your device.
All-Day Intelligent Battery
There's never a good time for your phone's battery to go dead. This is why we've not only increased the size of the batteries powering the S10 range, but are also using machine learning to help maximize battery life.
As with other recent Galaxy smartphones, you can choose one of several power modes:
High performance (maximum screen brightness and resolution)

Optimized (recommended balance for performance and battery life)

Medium power saving (extends battery life by limiting some functions)

Maximum power saving (saves as much battery life as possible)
Choosing a more economical power mode will make a noticeable difference in battery life. For example, an S10 with 85 percent battery life might have an estimated 1d6h (30 hours) left in Optimized mode, and have almost four times that runtime in Maximum power saving mode (4d17hours, or 113 hours). And, it's important to note, the battery life estimates you see are based on your personal usage patterns, which the S10 learns over time.
What's the Best Phone for Your Business?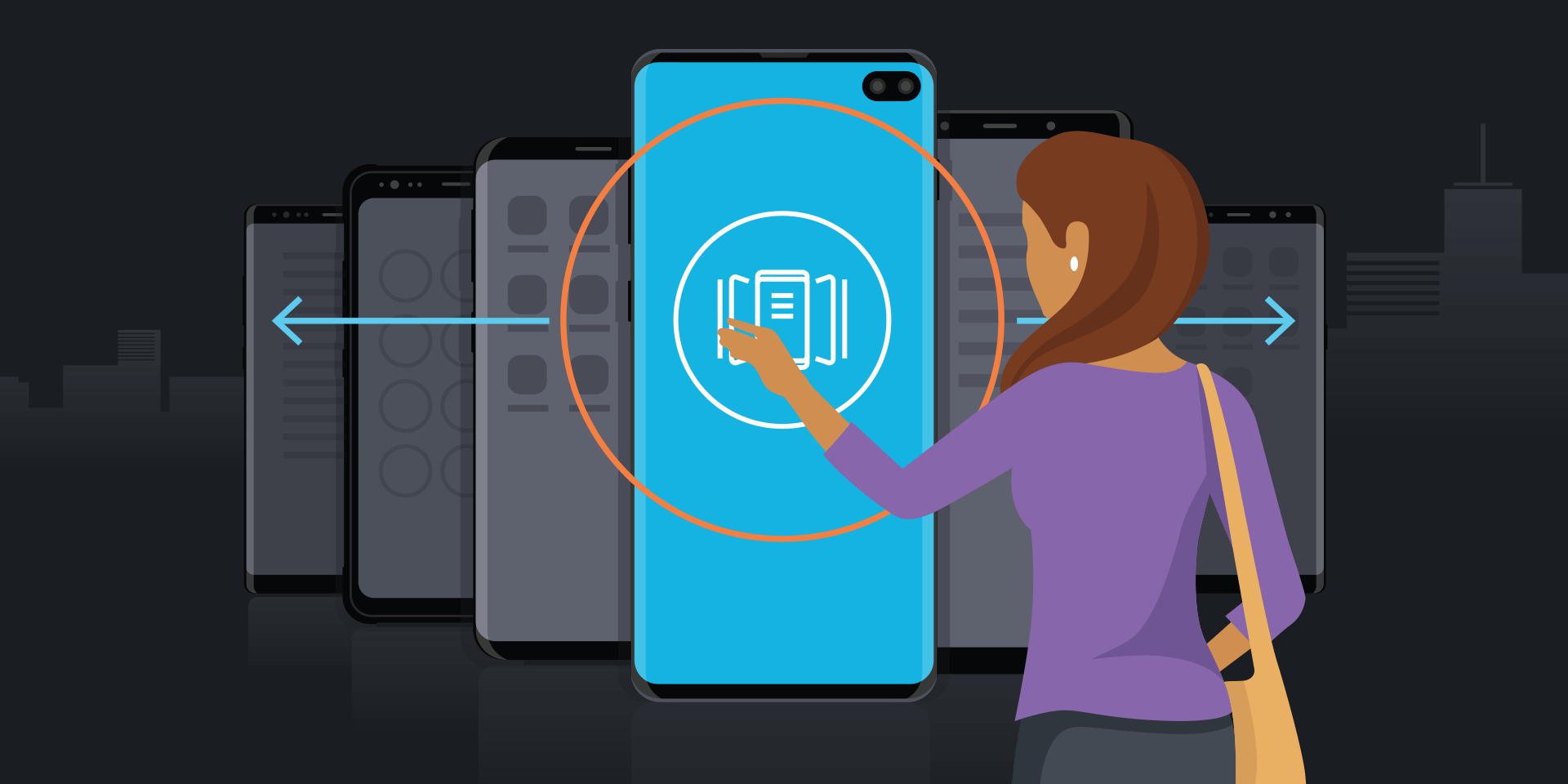 Take this quick assessment to find the smartphone most tailored to your business needs. Download Now
In addition, the Galaxy S10 introduces Adaptive Power Saving, in which the device automatically switches between power modes, based on your usage. After opting into this feature, the device will learn your behavior and save power when it's not needed, while giving you full screen brightness and performance when it is, such as when you are streaming video or using multiple apps in DeX mode.
With all that battery life, you might want to share it now and again, too. With the new Wireless PowerShare feature, you can give a colleague a boost by laying their device against your S10 and transferring some of your charge. This works with other Samsung devices capable of wireless charging, including our Galaxy Watch, as well as some third-party devices.
Bixby Routines to Maximize Your Day
Finally, the Galaxy S10 introduces the new Bixby Routines feature to help you automate tasks and save time. Once turned on in the Advanced Features menu, the phone will begin making recommendations for new Routines based on your usage.
For example, the S10 may suggest creating a "Home" routine on your behalf. Whenever it detects that you've arrived at home, Bixby can automatically turn Wi-Fi back on, mute the sound and turn on the blue light filter. You can tweak each Routine to your preferences, using simple "if this, then that" rules.
The S10 has a number of preprogrammed routines you can opt into, such as "Driving," "Work" and "Meeting." Another nice example is the "Save Battery at Night" routine, which saves you from waking up in the morning to find your battery dead. If the S10 autodetects that you are sleeping but that you've forgotten to set the phone on its charger, it will then automatically turn off Bluetooth, the always-on display, Wi-Fi and mobile data. In the morning, the device will automatically restore all settings so you are ready to go.
As smartphones get sleeker and more powerful, the balance between battery life, performance and design becomes increasingly challenging. That's why we've focused so much attention on imbuing the Galaxy S10 with more smarts, allowing these next-gen devices to transcend the typical trade-offs and be more in sync with you, the user.
Download our free, complete guide to better securing the personal and work data on your mobile phone.