The Challenge
RAM® Mounts, a division of National Products, Inc., noticed systemic process inefficiencies in their ways of doing business. As the company was expanding rapidly, they also recognized that outdated systems would be much more difficult to scale, creating speed bumps along the road to expansion. From human resources functionalities to customer relationship management, paper solutions were no longer working. "On the assembly line, we had a paper-based system where you could lose orders. The paper would get wet or dirty, or workers would run out of ink and it just was not a very elegant way of doing things," said Jake Parker, Director of Business Development at RAM® Mounts. Management decided it was time to move away from paper-driven processes to eliminate inefficiencies across the board.


The Solution
Samsung worked with RAM® Mounts to deliver a comprehensive overhaul of processes and move toward a smart factory. Employees use the ruggedized Samsung Galaxy Tab A 8-in. for various functions: to punch in and out of payroll, to work with a paperless order system, for warehouse management and to schedule meetings in conference rooms. Sales team members also work using Samsung phones to keep ahead of CRM interactions while at conferences and on the road. The switch to a paperless solution has been systematically addressed over the past few years and has been complemented by server upgrades and a proprietary UX/UI-driven app custom made for internal production processes.


It speaks volumes about the Samsung device that it is able to receive the kind of data needed to visually recreate the paper system. It really has been the best partner in the transition to a paperless solution.
The Results
The deployment of Samsung tablets and phones across the factory — from time clock punching to the manufacturing assembly line, warehouse management and CRM functions — has ushered RAM® Mounts firmly into lean manufacturing. Plant personnel now have greater transparency into the production process, and there is no unnecessary duplication of order transactions on paper at the end of the day. While specific measurements for productivity gains have not been conducted, the principals interviewed confirmed that the paperless solution using Samsung mobile technology has led to increased employee productivity.



National Products Inc. (NPI), located in Seattle, employs about 400 workers. The full-cycle manufacturing company serves a few different vertical markets anchored in its core product: a ball-and-socket mounting system that dampens vibration and isolates shock. NPI ruggedizes consumer-facing devices so they can survive harsh environments. The company has recently focused on eliminating waste and process inefficiencies by adopting lean manufacturing principles. The switch to a paperless solution, for which the OEM sought out Samsung as a reliable partner, was a first step in that direction.
The Challenge
Decrease Inefficiencies in Almost Every Business Process
For a while, management at NPI had been noticing systemic inefficiencies in many aspects of the manufacturing process, especially where products and manpower needed to be tracked. "We looked at our record of success in transportation, warehouses and other rugged environments and we thought we should be doing this too, we should be looking at places in our company where we could be more efficient," said Parker. After an exhaustive internal review, a glaring need for paperless tracking especially came to light in the following areas:
Payroll management and time clocks: Employees used to work with paper time clock cards. Sometimes employees would lose their cards or the cards wouldn't scan, leading to time delays and hiccups. In addition, every time employees had to update payroll information or request sick or vacation time, they had to go through a cumbersome process with HR.
Assembly line: The paper-based system for tracking orders meant employees would routinely lose the sheets, or the order forms might get wet on the shop floor or otherwise damaged. Workers wrote down process information on paper and at the end of the day had to enter this same information in their enterprise resource planning software. This duplication of effort also increased the chance of manual errors in data entry.
Warehouse management: "As a manufacturer, we've probably got 4,000 different tools and the locations for all of them are very dynamic, so tracking them was a real challenge," said Parker. Such challenges meant time wasted in hunting down the right products or even losing components because they were so difficult to track.
Conference room scheduling: Scheduling meetings in conference rooms was a challenge because the paper-based system was not easy to follow and often led to conflict. Venues could also not be scheduled on the fly.
CRM for sales: Salespeople on the go would make calls while on the road but still needed to get to a desktop computer at the end of the day to record details about the transaction. Basic CRM functions were not managed well on the road.
Being mired in paperwork for these basic functions predictably led to decreased productivity.
The Solution
A Mobile Paperless Ecosystem Delivered by Samsung Tablets and Phones
RAM® Mounts soon saw that the most elegant way to meet these goals was staring them in the face. They had already been ruggedizing Samsung mobile devices for clients and had developed a strong mutual partnership in delivering comprehensive solutions. Management realized that Samsung was the world-class partner they were looking for. "Internally we see the value propositions for the Samsung tablet and mobile device ecosystem because they're very easy to ruggedize, they have great features such as high IP ratings and are cost-effective," said Andrew DeDonker, Director of Marketing at RAM® Mounts. Parker agreed that arriving at the Samsung solution was a no-brainer. "From a functionality, reliability and performance standpoint, the Samsung phone exceeds any other kind of phone," he said.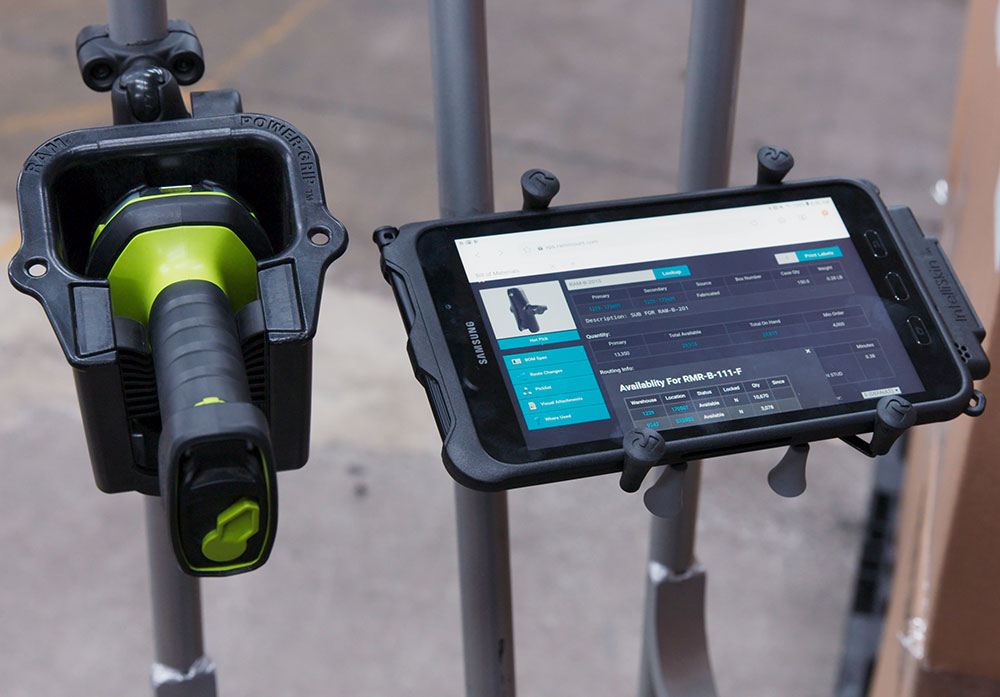 They began the project by zeroing in on various departments and asking them to evaluate processes for improvement. "We really took a step back as a leadership team in our organization and looked at where we could implement technology and make things easier for our employees and more accurate for our customers," DeDonker said. "We challenged different teams to find areas where we were being inefficient." Once these were outlined, each received the Samsung mobile treatment. The solution was a series of tablets where employees could log in every day and punch in when starting their shifts, requesting time off and executing other functions with HR. The tablets are also now used along the assembly line to keep track of orders, customer requests and in-warehouse management. In addition, Samsung mobile devices keep track of conference room schedules and empower sales professionals to complete all CRM functions while on the road, so they don't have to duplicate work done remotely. The tablet computers were just one aspect of a technology overhaul that also involved new server infrastructure to support scaling and improved wireless coverage to ensure strong connectivity throughout offices and production areas. They also developed proprietary in-house user interfaces that essentially replicated the paper design, so the transition to the new digital system was seamless. Here too, the Samsung solution made a big difference, Parker said, because the mobile device is agile and able to house proprietary apps such as this one.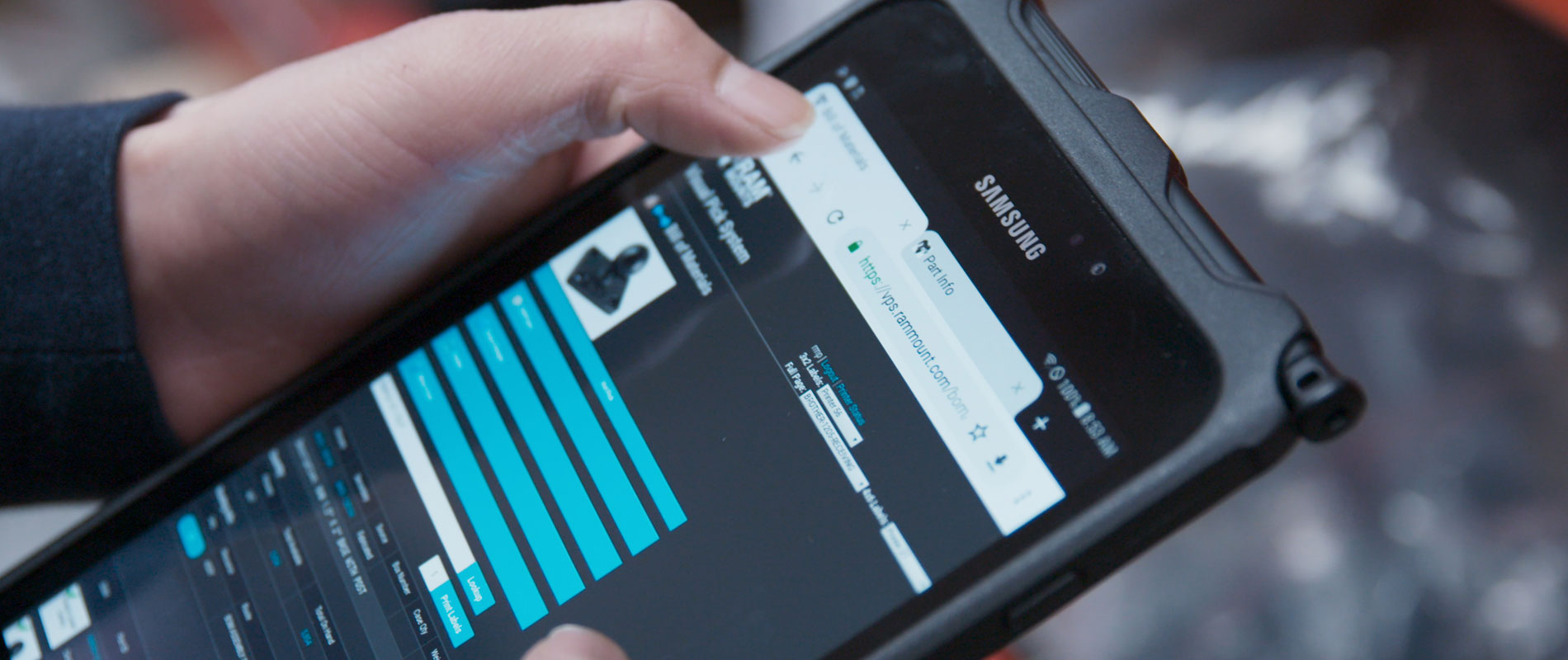 A powerful business tool for improving mobile productivity and workflow efficiencies.
The Results
Enhanced Productivity Across the Board Through Lean Manufacturing
Switching to a Samsung paperless solution has delivered efficiencies and transparency in every aspect of the business process in which it has been tested at RAM® Mounts. Specific outcomes include the following: Better time and HR management: RAM® Mounts used to issue a card to employees to punch in when they showed up, punch out and in when they took lunch, and punch out at the end of the day. Now they use a Samsung tablet that runs a program called Paycom which can be used for a whole host of different HR functions outside of time clock. Employees can now log in to the HR system through the tablet and request time off, update emergency contact info and more right at the tablet. It's a one-stop solution for all HR-related jobs, replacing the older piecemeal approach. A more agile assembly line: When assembly line instructions change, it's easier to now update and receive them electronically, said Parker. Now all orders are queued on the tablet's enterprise management software called Info, so that employees can manually check off when they have finished a particular order. "We can even know what stage a particular order is in based on who is interfacing with the tablet," Parker said. "Having the tablet helps us immensely to be able to track orders and prioritize them. When changes need to be made to an order, we no longer have to track down a piece of paper, we just pull up the order on the tablet and make changes right in the system." Management keeps track of which employees can make changes to orders by turning read-only permissions on and off the files.
RAM® Mounts has developed a proprietary in-house user interface that is accessible to all employees whose first language might not be English. "Having Samsung be our partner in creating such inclusive solutions in our work environment has been amazing," DeDonker said. The production line is more productive, because employees are empowered to enter information quickly, without any language barrier. More dynamic warehouse management: Given that RAM® Mounts employees work with thousands of tools, knowing where each one is at any given time is a must. The Samsung mobile device constantly updates the map for the warehouse floor in real time, making employees that much more productive. "As we transition from paper-based solutions to solutions that are more IT-centric and based in the cloud, these maps can be updated on the fly as opposed to shredding a bunch of paper and then reprinting," Parker said. Easy to schedule conference rooms: NPI now has a conference room app on a Samsung tablet that lives outside all conference rooms. "You can see which meetings are coming up and whether or not the room is free," DeDonker said. "Rather than someone having to go back to their computer to book an impromptu meeting, they can book the meeting right there." The transition to paperless operations via digital mobile solutions has been seamless, Parker and DeDonker report. Team members have been uniformly impressed by the efficiencies that partnering with Samsung has helped achieve. "It speaks volumes about the Samsung device that is able to receive the kind of data needed to visually recreate the paper system," Parker said. "It really has been the best partner in the transition to a paperless solution."