So far in 2019 we have seen that 5G commercial rollouts are in full swing, flagship 5G devices are on the cusp of commercial availability and 5G use cases are being tested, trialed and proven across a host of industries and consumer applications.
5G Powers Unprecedented Connectivity for Consumers and Enterprises
Earlier this year, at Mobile World Congress 2019, Samsung demonstrated the power of 5G through real-world use cases with the help of our ecosystem partners and the broader community of vendors and service providers. These demonstrations clearly indicated the beginning of a new era for Samsung, as they marked the completion of 5G trials and field tests and the start of practical implementations that will improve both consumers' and enterprises' connected experiences.
Improving Industrial Smart Factory Production With 5G
Samsung, together with SK Telecom, has been able to improve productivity in smart factories using 5G in conjunction with AI, robots and connected devices. A South Korea-based auto parts manufacturer used 5G to run video analytics that detected faults in parts of its production line. This 5G solution made use of 12-megapixel cameras that took high resolution, multiangle photos of the auto parts and then transmitted those images over a 5G network to a server, where AI software scanned the images for defects. This demonstrates how 5G can boost productivity at a smart factory.
What's the Best Phone for Your Business?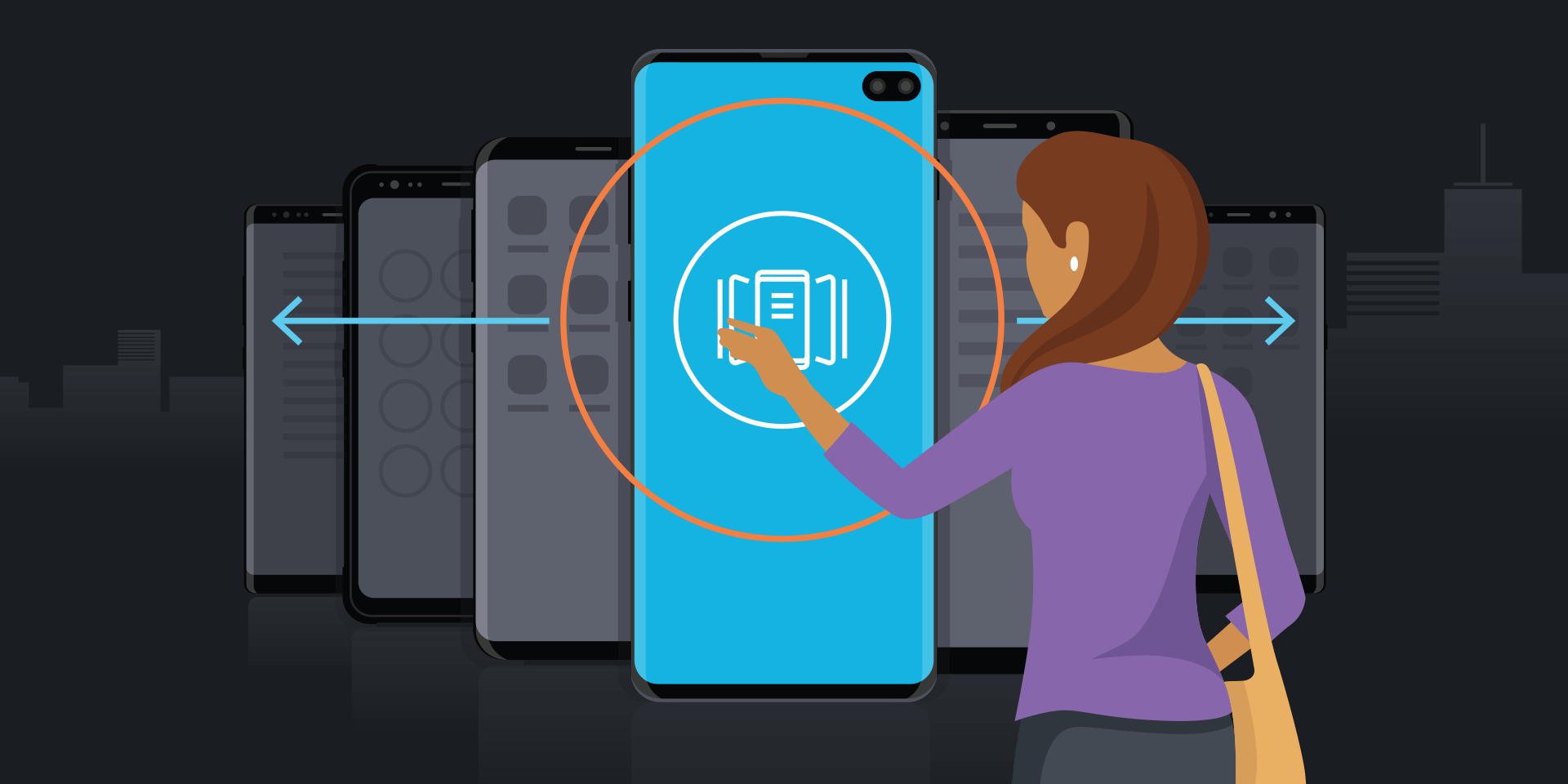 Take this quick assessment to find the smartphone most tailored to your business needs. Download Now
Samsung, in collaboration with Orange and Cisco, has been able to showcase industrial automation use cases involving a drone and an industrial robot, respectively. These demonstrations provided further real-world 5G use cases that can be implemented in smart factories.
Delivering Cost-Effective 5G Live Broadcast Applications
Also at MWC 2019, Samsung partnered with GSMA's Mobile World Live TV, the official media channel of MWC, to broadcast the event live using its 5G network. This solution bypassed the physical limitations of fiber-based networks by offering seamless, high-speed transmission of large media such as video. Samsung supported the broadcast with a live video feed throughout the venue as well as to more than 280 hotels around Barcelona.
Energy-Efficient Chipsets Benefit Carriers and 5G Deployment
Samsung has been focused on 5G development for years. Our leadership has delivered not only on industry-leading innovations like beamforming but has also produced some of the most compact and efficient 5G base stations. Shortening the development cycle again, Samsung recently announced our next-generation multimode chips and RF modules. With these new RF chipsets, Samsung will reduce the size, weight and power consumption of its 5G base stations by approximately 25 percent. Samsung has also expanded their coverage to include Gen-2 spectrum bands of 26GHz and 47GHz, with the initial commercially available RFICs covering 28GHz and 39GHz. With these new chipsets, the smaller more efficient base stations will simplify site access and 5G implementation, thereby accelerating network operators' adoption of 5G.
The Stage Is Set for Commercial 5G Rollouts
Samsung is already at the forefront of global 5G deployment. A major addition to this deployment is Sprint's announcement to launch 5G commercial services in May 2019. This announcement came after the successful field testing of Samsung's 5G New Radio (NR) solution. Samsung's existing Massive MIMO technology enables Sprint's rollout by providing unique split mode capabilities that allow for simultaneous support of 4G LTE and 5G NR. Chicago will be among the first cities to experience the power of Samsung 5G, powered by Sprint.
The Samsung Galaxy S10 5G Phone Was a Focus of Attention
Another hot news item at MWC was the launch of our next-gen smartphone line, the Samsung Galaxy S10, which includes our first 5G-enabled model. The future of 5G mobile innovation has arrived with the Galaxy S10 5G, which brings the action to consumers and business users in real time. The Galaxy S10 5G is one of the most innovative and powerful smartphones offered to date, and it will provide consumers with an entirely new, 5G-enabled mobile experience. Along with the largest screen on a Galaxy S series smartphone yet, this model has four cameras on the rear, including a 3D-depth camera to enable augmented reality experiences.
Samsung conducted two live demonstrations at MWC 2019 to showcase the high throughput of our 5G phone. In the first demo, four Samsung 5G phones operated on a 3.5GHz Massive MIMO solution that supports 100MHz of bandwidth. The phones achieved 3Gbps in aggregate and over 700Mbps per device. In the second demo, a single 5G phone was set up on a 28GHz system that supports 400MHz of bandwidth, achieving between 1.8Gbps and 2Gbps of throughput.
The Possibilities of 5G and the Galaxy S10 Are Limitless
Samsung has been able to demonstrate how the Galaxy S10 5G can enhance the mobile gaming experience. At MWC, visitors saw firsthand how a PC-based cloud game could have a seamless experience — with no lag or jitter — when played on the Galaxy S10 5G smartphone connected to a 28GHz system that uses 400MHz of bandwidth. Another use case at the forefront of 5G service that operators have been testing and trialing is to enhance content or viewing opportunities at live events.
Samsung featured a live 5G demonstration that showcased a 180-degree stop-motion view of a baseball batter. By using Samsung's enhanced 5G-enabled experience, users could access and change their viewing experience while examining in detail the action of a batter attempting to hit a 100-mph fast ball.
The industry continues to advance 5G technology by providing use cases that go beyond fixed wireless access and enhanced mobile broadband. Given the significant progress that we have demonstrated in 2018 and now exiting the first quarter, Samsung has unlocked many new opportunities for automation and innovative experiences for consumers, enterprises and carriers.
5G is real, and it's here now. We believe there is something for everyone with 5G, whether it's a consumer, business or government organization. 5G will be the wireless platform to drive the next wave of innovation.
Discover all the ways the Samsung Galaxy S10 can enhance your productivity at work and at home.