What if there was a video wall option on the market that drastically changed the way your business communicated internally and with customers? Technology that could alter the look and feel of a corporate building or customer-facing location?
In the past, businesses were forced to compromise on quality when increasing size in their pursuit of digital signage solutions. That issue no longer exists.
Samsung's video walls have taken the next step in transforming the display landscape, delivering the best of both solutions, and ending viewing compromises with The Wall.
Built better for outstanding results
Samsung has created yet another milestone of innovative technology. The Wall by Samsung is a new generation of display technology delivering a truly exclusive and game-changing experience. Its visuals and design are unparalleled, giving any space an awe-inspiring edge.
The majority of direct-view LED options available on the video walls market use a manufacturing process that greatly limits how many tiny LED lights can be packed and soldered into a square foot. The result is a line of screens that look great when viewed from a distance, but with visuals that degrade when viewers draw close, because each LED light chip and the gaps between them become visible.
What's the Best Display for Your Videowall Project?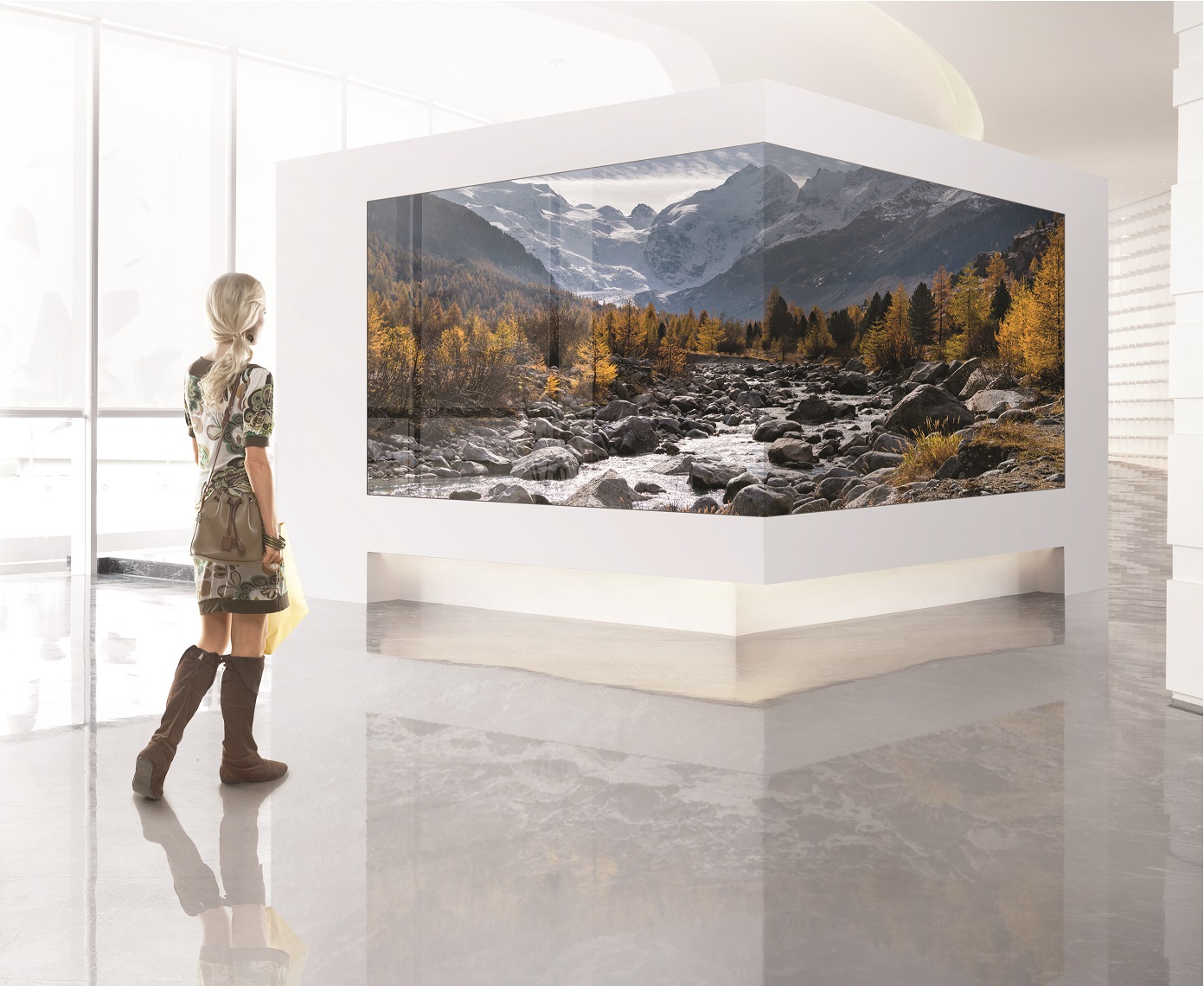 White Paper
Take this quick assessment to find the right display for your lighting, size, resolution and other needs. Download Now
However, The Wall's microLED design delivers visuals that look crisp up close, and have color reproduction and contrast levels rivaling premium LCD displays.
Unlike LCD video wall displays, The Wall doesn't have the seams created when monitor frames — or bezels — are conjoined. While super narrow bezels designed for LCD video walls minimize those resulting grid lines, they're still noticeable, and that can be a problem for brands and their design teams.
The Wall has changed that viewing disruption, creating a truly seamless screen.
The microLED difference
Samsung's microLED manufacturing process mass-transfers micrometer-scale LEDs onto flat, tile-like modules, and those modules can be seamlessly tiled together to create a uniform display canvas that scales up to whatever dimension the video wall job requires. The Wall can be a giant rectangle, or an abstract shape of 90-degree angles — yet another differentiator in the ever-growing display environment.
The base of those modules, or tiles, is pure black, so that the microscopic gaps between the LEDs generate maximum contrast, and amplify fine details. The Wall also uses something called black seal technology to reject ambient light that can cause reflection and make the LED canvas look more gray than black.
The Wall also has a picture-quality engine that delivers High Dynamic Range (HDR) 10+ visuals, which results in optimized brights and the full range of grays to deep blacks. The images pop and viewers can see all the colors a camera captures in a dark, moody scene — visuals that are mushy or lost when HDR technology is not in the mix.
The specifications for The Wall formally say it has a 0.8-mm. pixel pitch, and there are conventionally manufactured LED display products that have the same or even slightly finer pixel pitches. But a common, surface-mounted device (SMD) fine-pitch LED cabinet (the tile-like units that join in arrays to form video walls) contains light pixels counted in the hundreds. The Wall again goes further by offering thousands of light pixels in a similar cabinet.
In practical terms, The Wall's microLED design delivers 4K resolution by putting just three cabinets together in a row. It would typically take a dozen or more SMD LED cabinets, tiled horizontally, to realize 4K resolution — requiring an array that fills a whole wall. So in an SMD cabinet with 390 horizontal light pixels, 10 tiled in a row horizontally would get the aggregate horizontal resolution up to the equivalent of 4K. If each cabinet is 18-in. wide, that's a video wall width of 18-ft.
Samsung debuted The Wall in 2018 as a premium large-format display product for both commercial and consumer applications. A 75-in. version would fit in most living rooms or home theater spaces. That device is aimed at high net-worth individuals, the types of professionals who run hedge funds or have guaranteed contracts from a sports franchise. The commercial version — The Wall Professional — is intended to scale a video wall to whatever spatial dimensions or shape the job requires. Predefined rectangular sizes range from 146-in. to 292-in. diagonally.
Putting The Wall to use
Narrow-pitch LED video walls are being widely adopted by digital signage solutions providers, integrators and media companies.
In retail, major electronics, apparel and luxury goods sellers are putting up branding and experiential walls as the signature piece in store designs. They set a tone for the store that's easily changed as needed.
Hospitality and entertainment venues, like casinos, are replacing LCD video walls that require rear-projection cubes with direct-view LED, attracted by its "wow factor" and design flexibility.
Retail designers love the ability to change the look and mood, as do designers of big physical spaces like building lobbies and public facilities like airports and convention centers. Water features and large sculptural pieces are being replaced by huge dynamic walls that tell stories, relate information or define a mood.
Out-of-home media companies started their conversion from print to digital displays in the last decade, beginning with highway billboards. Costs have dropped and the quality of LEDs — notably tighter pixel pitches that allow relatively close viewing — has compelled media companies to change their large-format, billboard-like ad positions to digital, as well. Fine-pitch LED displays are now increasingly common in settings like mass transit hubs and shopping malls.
Built to last
What has tempered adoption of LED video walls is the brittle nature of SMD LED display modules. The tiny LED chips are easily damaged, and very costly to repair. As a result, these walls are often set back or up, out of reach of things like strollers, shopping carts, luggage or even curious fingers.
Samsung's engineering, however, exemplifies a new generation of direct-view LED displays that respect the need for prominence in public spaces. The Wall has shock-resistant technology that shrugs off bumps and scratches, and is also resistant to water, dust and static shock.
The investment in The Wall is not short-term; in fact, Samsung designed the hardware to last and be part of your business environment for years to come.
The Wall will be featured among the key products at the InfoComm 2019 professional A/V trade show in Orlando, Florida, in mid-June. Reading about The Wall's attributes is one thing; seeing it in person is a completely different experience.
Get your free introduction to digital signage project planning in your organizational space.