Truck driver retention is the key to a healthy fleet, but grueling schedules and poor work conditions can cause drivers to churn. Fleets are turning to secure mobile devices to improve communication and quality of life for truck drivers on the road. By using smartphones, tablets and wearables, drivers can be better connected in their professional and personal lives.
A few years ago, truck driver turnover was approaching 100 percent, but recently driver turnover has declined to around 78 percent.
Still, turnover rates in the trucking industry are much higher compared to most other occupations, as reported in the 2019 Critical Issues in the Trucking Industry survey from the American Transportation Research Institute (ATRI). The survey of trucking executives cited driver retention as one of the industry's top 10 concerns.
Truck driving is a unique occupation because of the long hours spent isolated in the truck cab, and the fact that many truckers are paid by the mile and not by time spent on the job. Using secure mobile devices to address some of the top driver concerns, including improved communications and a focus on health and safety, can improve truck driver retention. Here are three areas that technology can help with driver experience.
1. Culture and Communications
Dispatcher-driver interactions tend to occur in time-sensitive situations that prioritize operational relationships over interpersonal ones. Mobile devices can help foster a company-wide culture that respects drivers as professionals, and helps organizations move beyond an "us versus them" environment.
Perhaps the best way to engage a driver is to keep them moving. Any time a truck is idle, waiting for the next load or a backhaul is wasted time.

With fleet telematics-equipped devices providing a truck's location, planners can confidently predict the truck's workflow and assign a return load before the trailer has finished offloading, or complete relays and interchanges faster.
A secure mobile device can help drivers reduce the time spent on administrative tasks. Of course, ELDs help with that. Mobile devices also reduce burdens for driver inspection vehicle reports, International Fuel Tax Agreement compliance and other duties.
Wearable devices can help drivers communicate more efficiently, delivering information and alerts right to their wrist. Removing unnecessary interruptions and slashing the paperwork load keeps drivers focused on what they do best.
2. Health and Safety
Research from the Federal Motor Carrier Safety Administration revealed that commercial motor vehicle drivers who dial a mobile phone while driving are six times more likely to be involved in a safety-critical event such as a motor vehicle collision, near-collision or an unintentional lane deviation than those who are not distracted by dialing the phone by hand.
Yet in-cab technology can help truckers drive more safely and monitor their health along the way. Voice assistants and hands-free communication devices help address those issues by removing some of the distractions.
The Future of Fleet Management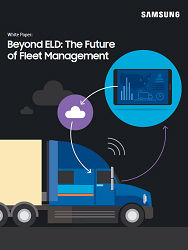 White Paper
Get the facts on the ELD mandate and what it means for trucking fleets. Download Now
By the nature of their jobs, truckers spend many hours sitting behind the steering wheel. Smartwatches provide fitness information, such as physical activity and heart rate monitoring, as well as other data that help drivers stay on top of their health.
Drivers can also use mobile devices to stay connected with other drivers. Online trucker communities provide user-generated information on truck parking, clean restroom facilities and offer travel center discounts. Sharing tips and stories with other drivers can help make life on the road less stressful and decrease feelings of isolation.
3. Secure Mobile Devices and Personal Use
Corporate fleets may balk at giving off-duty drivers access to their mobile devices. But it can be a great perk to help with driver retention. Outfit your fleet with devices that feature a mobile security platform that creates secure containers on a single device with corporate applications, network access and data installed in a secure sandbox. There can be multiple corporate containers for different users, with personal-use applications in separate containers. Drivers can access entertainment applications to stream movies and TV shows, check email and social media and even video chat with their family.
Some fleets control costs by providing cellular network access for corporate use, and switch to Wi-Fi access for personal use, allowing drivers to use free connectivity at truck stops or pay for service plans.
A secure mobile device can help overcome truck driver retention challenges to ensure fleets are equipped to compete in the future. By helping improve communications, help drivers track and monitor their health and even use devices for personal applications, companies can hope to increase the overall driver experience and improve retention within the industry.
See what connected fleet solutions are available to help you meet company and driver needs.