The electronic logging device (ELD) mandate has spurred many transportation and logistics companies to deploy tablet computers in their truck cabs — but the potential rewards for fleet operators extend far beyond avoiding a Department of Transportation penalty.
Fleets can use the connectivity and computing power in their truck cabs to support applications and use cases that will improve business performance and increase customer satisfaction. Mobile devices can also drive down fleet costs in multiple ways, and with U.S. costs per mile averaging $2.44, according to TCI Business Capital, shaving off a few pennies makes a fleet more competitive.
Here's a look at nine ways to benefit from a connected truck using an ELD package with rugged tablets.
1. Save money with optimal routing
Intelligent navigation apps on dashboard-mounted tablets can save time and improve fuel efficiency. You can avoid traffic slowdowns and know the load is on the fastest route to its destination. If the truck has to change course, the navigation system will automatically recalculate to find the next shortest route. Mesilla Valley Transportation is one leading trucking company that has seen significant savings in fuel costs since integrating price-optimized fuel stops into its navigation system.
2. More efficient dispatch
Digital hours of service (HOS) tracking tells dispatchers how much time drivers have, helping improve load planning and service quality. Real-time HOS updates logged and sent by mobile devices ensure drivers and dispatchers can make informed decisions together on whether it's possible to complete a move in the available time.
The definitive guide to warehouse efficiency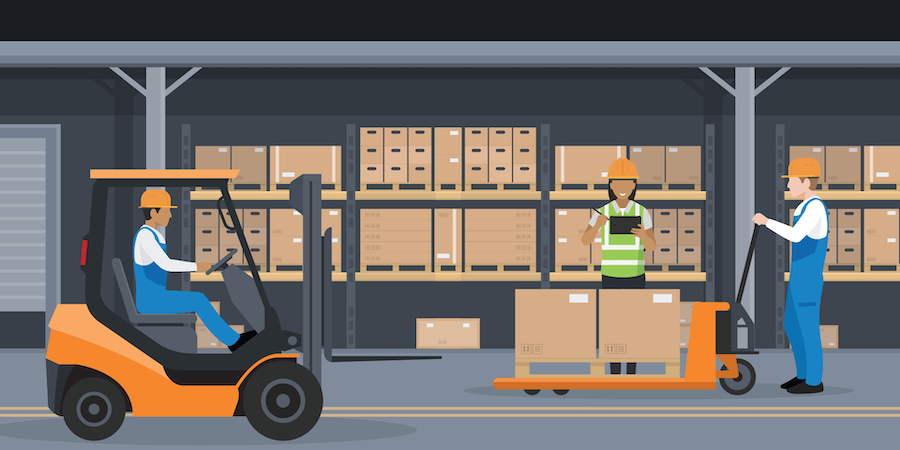 Get your free guide to increasing warehouse efficiencies and cutting costs with mobile processes. Download Now
With this information, operators gain better visibility into their capacity, allowing them to accept loads from customers or brokers that need capacity for short lead-time runs. Better planning also means customers won't be disappointed by a truck that can't make an expected pickup or delivery because the driver ran out of time. Such efficiencies are invaluable since COVID-19 social distancing guidelines have imposed a reduction in warehouse workers on a single shift, limiting their potential output.
3. Conquer the last mile with one device
Wireless devices equipped with purpose-built apps can be carried or mounted to complete a variety of tasks seamlessly. Drivers can capture electronic signatures for proof of delivery and transmit them immediately if necessary. Camera-equipped devices record images to verify product condition at delivery, reducing claims and customer disputes. For white glove deliveries, mobile devices store delivery, setup and assembly instructions for any product without the need for paper instructions.
4. Protect data on lost or stolen equipment
The Samsung Knox platform provides defense-grade security and tools for mobile device management (MDM) to safeguard sensitive fleet data. Any information stored on a device can be locked or wiped remotely, so there's no need to return to the dispatch office. IT teams can manage Samsung mobile devices from anywhere, so drivers can stay on the road while keeping data secure.
5. Multipurpose S Pen
Paired with a rugged tablet, the Samsung S Pen is perfect for capturing delivery signatures and quickly recording and transmitting notes to dispatch. Customers can use it to sign for electronic proof of delivery and for completing condition inspection forms. Drivers can use it to quickly jot down notes on order forms and other documents — particularly handy for gloved use.
6. Enable real-time shipment notifications
Tablets with barcode scanning technology can capture and transmit freight tracking information in real time, replacing a standalone scanning device. It's as simple as taking a picture with the tablet. Customers and other designated parties will receive shipment notifications immediately, and drivers don't need to carry another device to complete their tasks.
7. Enable more proactive maintenance
Avoid breakdowns by scheduling additional maintenance based on truck performance rather than dashboard alerts. With the ELD connected to the engine, the system tracks performance and can sense when engine efficiency may be dropping. Additional sensors can monitor brake and tire performance and other parameters. Trucks can be serviced based on real-time performance rather than a one-size-fits-all maintenance schedule or responding to a dashboard warning light. Proactive maintenance reduces costs and keeps trucks moving rather than being sidelined by a breakdown.
8. Target and improve poor driver habits
Mobile devices can monitor driving behavior like braking and acceleration to inform safety incentive programs and reduce maintenance costs. With an ELD solution, fleets can provide quantitative driver feedback to improve performance. The system tracks driving parameters such as time spent idling, rapid acceleration and hard braking. Managers can work with drivers to highlight best practices that result in reduced driving risks, improved fuel efficiency and lower wear and tear on equipment.
9. Save time on daily DVIRs
Digitizing driver vehicle inspection reports (DVIRs) means vital inspection information and photos can be captured with a few simple taps. Using mobile devices, drivers can conduct pre-trip and post-trip inspections and transmit any items they write up directly to the maintenance department. The system can automatically send reminders when maintenance is coming due. All the maintenance data remains visible to anyone using the system.
Explore the ways that Platform Science is driving the digital transformation in trucking. Then discover how increased mobility can improve warehouse efficiency while reducing costs in this free guide.