Anyone sending a package in the U.S. has three main options: the United States Postal Service (USPS®), UPS® or FedEx®. And now, all three of those options can be easily compared — and coordinated — with a single, first-of-its-kind system. It's called the SendPro® Tablet.
Developed by Pitney Bowes — a U.S. company best known for shipping and mailing technologies — in collaboration with Samsung, the SendPro Tablet is a one-stop mobile solution that simplifies commerce by leveraging the shipping expertise of Pitney Bowes with the technology of the Samsung Galaxy Tab A.
A Compact Solution Wherever You Need It
The SendPro Tablet can help any kind of business simplify package shipping by marrying the convenience of a mobile Samsung tablet with Pitney Bowes' sending solutions. Using a 10.5-in. tablet loaded with the SendPro Online app, a wireless label printer and 70lb scale, packages can be processed anywhere there's an internet connection, not just in a mail room.
21 Tests the Galaxy Tab Active2 Survived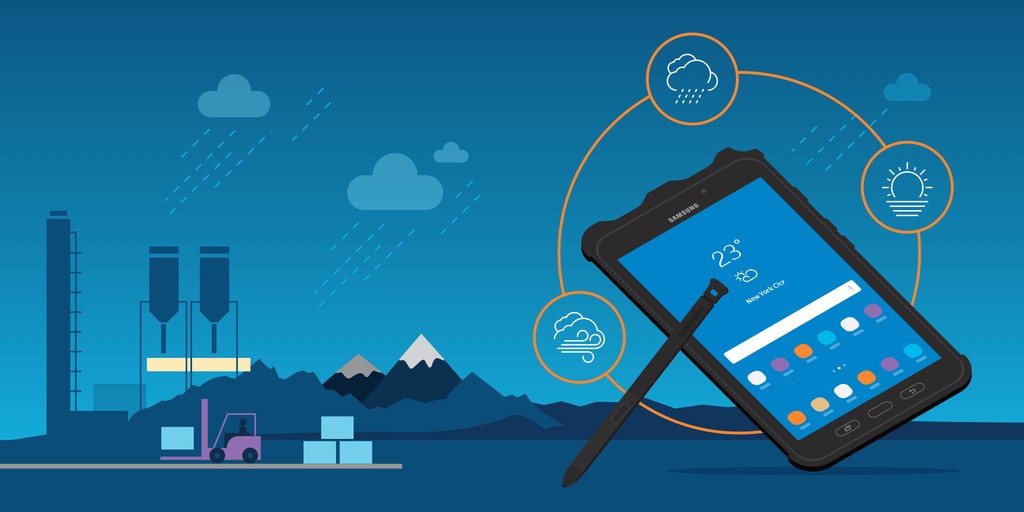 See a full rundown of the MIL-STD-810G testing the Tab Active2 passed in this infographic. Download Now
A compact, end-to-end solution that combines hardware and software in a single system, the SendPro Tablet weighs less than seven pounds, so it's portable. It can go anywhere you need to ship, whether it's a warehouse, sports arena, law office or any other type of small- to medium-sized operation. "The tablet lets you conform your shipping to where you need it to be," said Michael Botti, director of product marketing at Pitney Bowes. "It enables businesses that have pop up locations to bring the solution with them and ship from that location, as opposed to having to collect orders and wait until they're back in the office."
Print Shipping Labels With Ease
The SendPro Tablet lets users print shipping labels for large envelopes and boxes quickly and easily. Its rate selector software enables businesses to compare shipping rates across the three major carriers to choose the right option for their shipping needs, allowing them to get the best price based on how quickly they need the package delivered and where it needs to go. Through the app, they can select the best carrier option and print shipping labels directly to the Bluetooth-enabled printer. Plus, included access to the desktop version of SendPro Online lets businesses schedule pick-ups across carriers, meaning they no longer need to leave the office to drop off packages.
The optical character recognition capabilities of the Galaxy Tab A enable shippers to simply take a picture of an address and have it load into software that verifies it, helping to reduce data input errors that would otherwise cost companies money in address correction fees from the shipping carrier.
Send More, Spend Less
SendPro saves its customers money in other ways as well. By offering rates not available at the post office, businesses can save 10 to 40 percent on USPS Priority Mail® depending on weight, destination and delivery time when shipping through the app. For businesses looking for more carrier options, SendPro provides prenegotiated rates with UPS that allow them to offer discounts on shipping services that wouldn't ordinarily be available to smaller companies operating on their own. Businesses can also link their own FedEx account to the service to be able to ship across the three major carriers in one convenient interface.
A Secure, Seamless Customer Experience
The SendPro Online App on the Galaxy Tab A is enhanced with Samsung Knox — a built-in software security and management system that keeps sensitive customer data safe wherever it is along the delivery route. The platform is also supported by Knox Configure, which makes it easy for IT managers to send out regular software updates that ensure applications consistently function properly. "Knox Configure allows us to control the updates that are being pushed out to our clients and makes sure they have the latest version of our software, providing a seamless customer experience," said Botti.
Once a package leaves the office, SendPro provides complete visibility into where the package is located at any given time, so you're able to provide customers updates about whether it will arrive as promised, or if it's early or will be delayed. "Shipping is an extension of a business's brand," said Botti. "Having reliable technology like SendPro Online and the Samsung Galaxy Tab A utilizing Knox Configure enables us to provide a level of visibility and transparency to package shipping that our clients need when delivering on their customers' expectations."
Shipping can be complicated, but it doesn't have to be. It isn't as simple as sticking a label on a box, putting it outside and hoping it gets there on time and in good condition. SendPro is designed to remove shipping's many complexities, with a seamless, efficient, cost-effective, all-in-one solution.
See what connected fleet solutions are available to help you meet company and driver needs. Get your free guide to increasing warehouse efficiencies and cutting costs with mobile processes.