Omnichannel consumers expect to continue their digital shopping experiences in-store, a factor prompting retailers to adopt a more versatile front end — one that provides functionality, assists shoppers on their path to purchase, meets compliance standards and, most importantly, will scale with future needs. Meeting these expectations requires flexible point of sale (POS) solutions that can tackle all of the challenges of modern commerce, from offering on-the-spot service and checkout to queue-busting to extending the store into sidewalk sales or farmer's markets.
The process of building efficient omnichannel commerce doesn't stop there, though. To truly succeed, enterprises need mobile POS (mPOS) solutions that combine flexibility with a rich feature set and auxiliary services.
The traditional retail store is becoming a hub that merges the virtual and physical elements of the omnichannel model, and traditional POS is often inadequate in this setting. Instead, retailers need an automated front end integrated with all digital customer touch points and systems, including inventory, ecommerce and store operations. A catalyst that drives customer engagement, mPOS is designed to bolster customer service and keep associates abreast of more information than ever before.
Mobile POS systems make use of the computing power and connectivity within a mobile device to connect to store operations, giving associates visibility into every aspect needed to complete a consumer's path to purchase, including viewing merchandise availability, placing orders on out-of-stock items, applying loyalty points or discounts and even tracking shipments — all within one seamless transaction. A great mPOS system also stands up to the rigors of retail, whether that's in-store or out in the elements.
Choosing and Securing Your mPOS
Configurations vary, but many retailers opt for a removable tablet at the cash wrap, supported by a fleet of smartphone-style devices — a model that allows associates to assist shoppers through the entire shopping experience without ever leaving their side. As mPOS solutions are increasingly storing (and accessing) not just payment information, but customer, inventory and other confidential data, it is vital that store and customer data remain secure.
How Mature Is Your In-Store Mobility?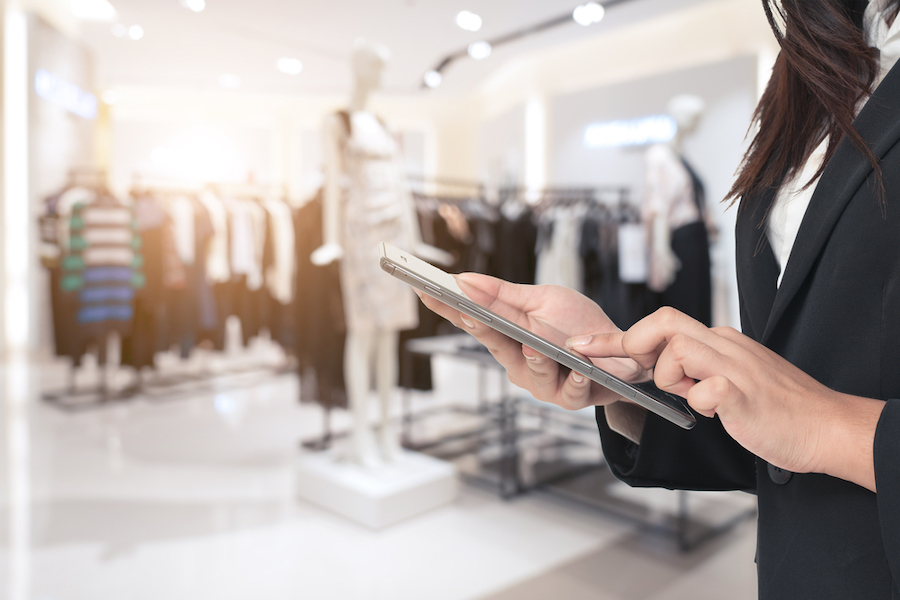 Evaluate your retail mobile initiative to learn how it can better support great customer experiences. Download Now
These risks are very real — research from the Verizon 2018 Data Breach Investigations Report showed that POS terminals (321 incidents) or controllers (320 incidents) were collectively the most-involved assets in data breaches. These costs add up — statistics from The Ponemon Institute and IBM suggest that the average cost of a data breach is $150 per lost record. Security should not be an afterthought for these devices, and so must be safeguarded from the chip up by an advanced security solution such as Samsung Knox — which also makes tablets easier to manage.
A flexible tablet makes for a great mPOS, because it provides all the necessary functionality in a retail-friendly form factor. For a more portable solution, Samsung A series phones offer the processing power for demanding retail and mPOS apps on a budget, while the advanced power and versatility of the Samsung Galaxy S10 or Note10 phones will help you do it all — from processing sales to managing inventory and more — on a single device.
And if the device will go into challenging environments, like garden centers, sidewalk sales or festivals, the Tab Active Pro, with payment-processing hardware built right in, is built to resist water, dust and debris — so nothing gets in the way of closing sales.
Transform Retail Associate Performance
Mobile POS tablets like these can even pair with a keyboard and monitor to create a full desktop environment via Samsung DeX, making it easy to gather sales or inventory data on the floor, then take it to a back office for bookkeeping, or perform more complex tasks like creating special orders or generating daily reports for the sidewalk sale right on the spot.
The flexible nature of mPOS allows retailers to adopt these solutions quickly, a move that responds strategically to consumer demand and streamlines the shopping experience.
Factors to Consider for Your Mobile Upgrade
While hardware is an essential consideration, it's only one piece of the equation. When selecting a solution, retailers must also ensure their mPOS system does the following.
Enables cross-sell and upsell opportunities. With integration with customer profiles and inventory levels, mPOS enables associates to drive shopper engagement — and revenue opportunities — in-aisle, during checkout or even out at a temporary location. By accessing customer preferences and available inventory, associates can customize product recommendations and even locate merchandise that can be shipped to the store or the customer's home.
Provides scalability and flexibility. Work with an open platform that can be used in conjunction with other in-store solutions, including digital signage or self-checkout, or customized to support functionality to help retailers differentiate themselves in the marketplace.
Includes the latest data security and compliance standards. As new payment and peripheral options are introduced, savvy criminals often emerge. Mobile is increasingly an entry point of choice for cybercriminals, as many retailers often fail to safeguard networks or apps, in-store or outside at a special event space. One method of warding off cybercriminals is the Europay, MasterCard and Visa (EMV) mandate, which requires retailers to implement solutions that accept and process microprocessor chip-enabled payment cards. These smart chips authenticate the card, process transactions and are reportedly impossible to duplicate or hack. Retailers that don't meet these benchmarks will be responsible for any credit card fraud committed in their stores, according to a report from RIS News.
Stands up to the environment. Mobile POS enables retailers to process transactions anywhere — including sites like garden centers, sidewalk sales, local festivals, flea markets, farmer's markets, pop-up stores and other locations where it's been tough to take technology along. Look for rugged device features like water and dust resistance, quick contactless charging, the ability to be used while the wearer has gloves on, and easy and secure connectivity even without access to Wi-Fi. And built-in NFC capabilities make it fast and easy to accept customer-friendly contactless payments while ensuring rigorous security.
Leverages industry partners' expertise and support. In their journey toward mPOS, some retailers may lack the insight or expertise to move forward. This is where strategic partnerships become paramount. Technology partners have the knowledge and experience in retail, mobility and payment security that brands need to launch a successful rollout, as well as the ability to scale the retail operation with fewer growing pains. Finally, working together as a team enables technology providers to use partner feedback to update and improve solutions.
Learn more about the paperless workflow solutions that help you save time and money, and keep your business moving, or get your free guide to empowering retail associates with mobile devices and data.